FanDuel Sportsbook Review
Published: Aug 27, 2022
Updated: Oct 31, 2022
Copy Promo Code
BESTPROMOCODE
Copied
Pros
+

Offers a wide variety of sports games and markets
+

Instant payment methods
Cons
⨯

Country and State Restrictions
Screenshots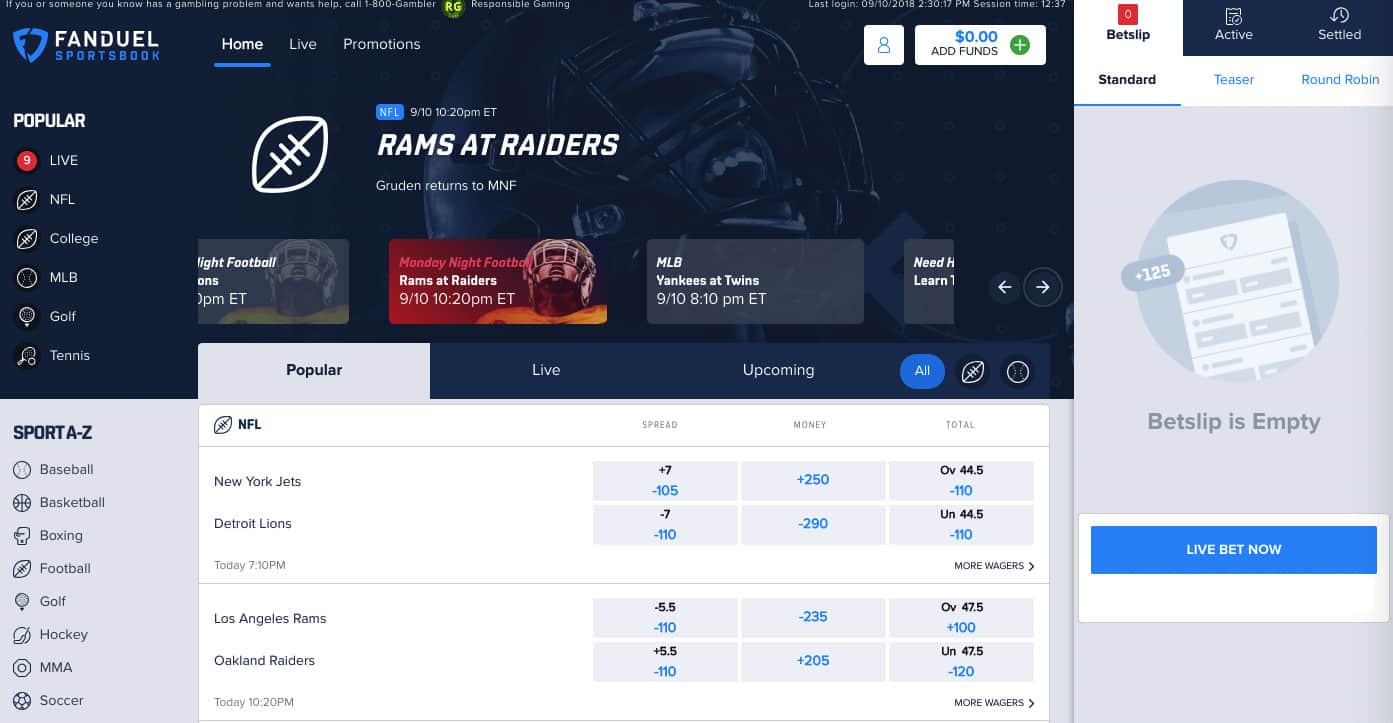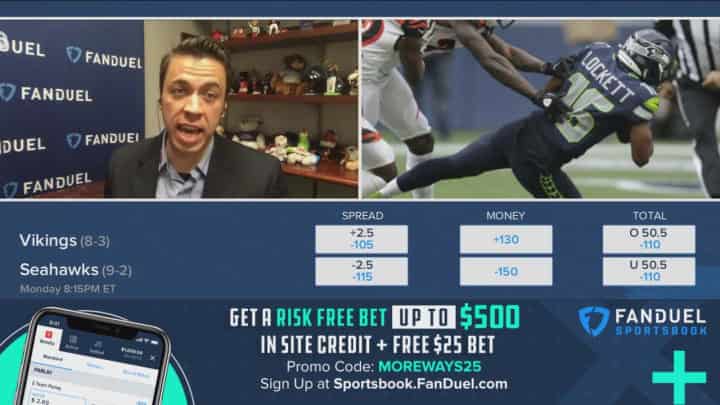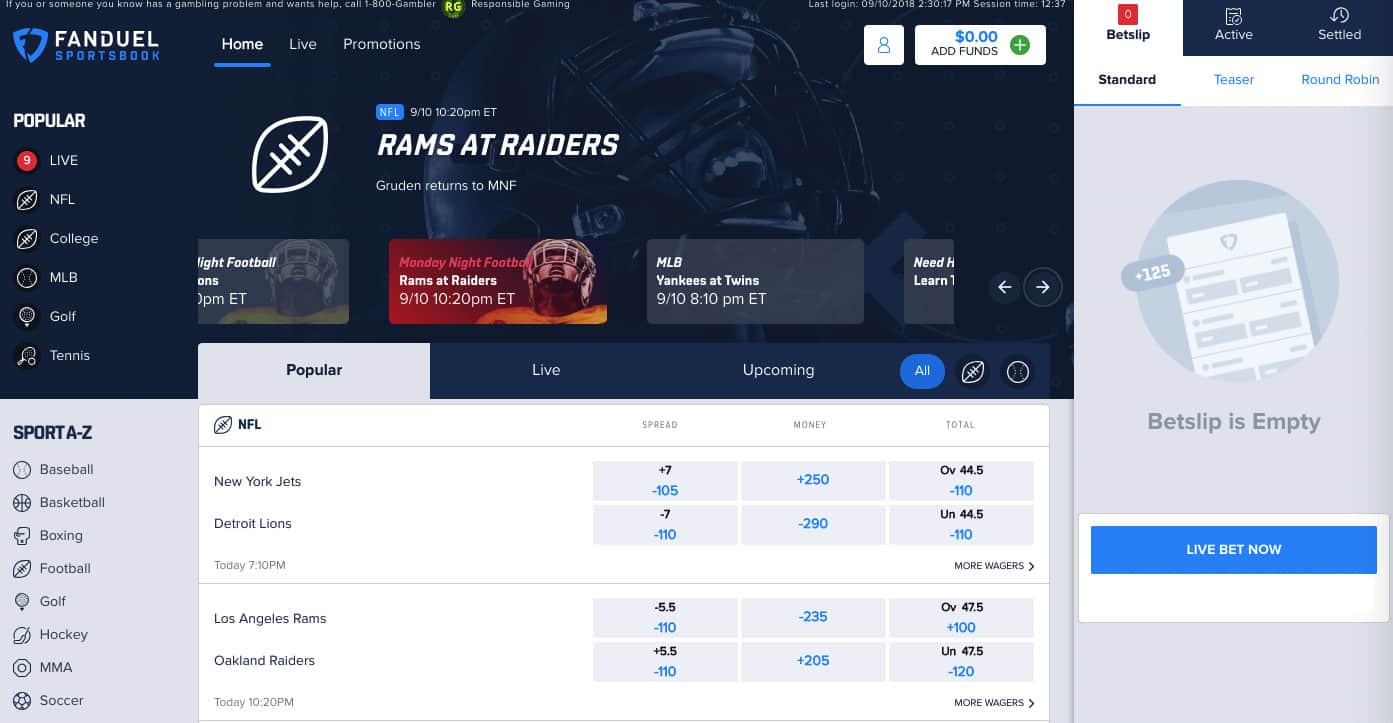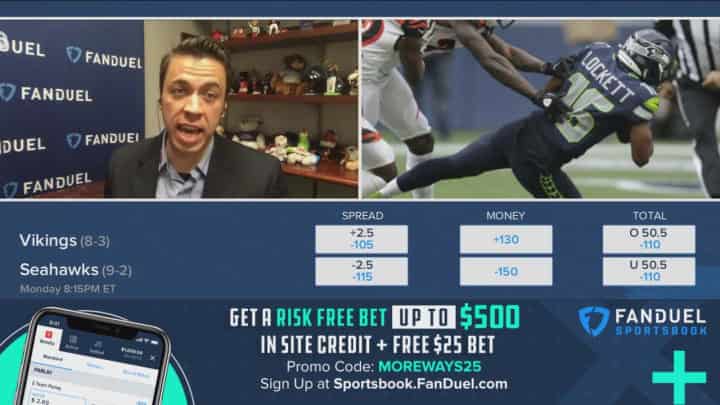 Popularly known for daily fantasy sports, the FanDuel brand branched out into the legal sports betting industry in July 2018 after partnering with the Meadowlands Racetrack in East Rutherford, New Jersey. Fans of DFS who also want to partake in legal sports wagering can do so directly via the FanDuel Sportsbook app. This has made betting even easier for their loyal fans.
States Where FanDuel Sportsbook Can Be Played
The FanDuel Sportsbook sports betting app can be legally used in the following states: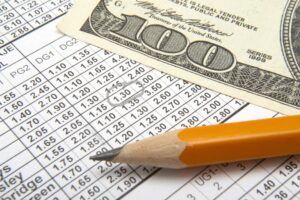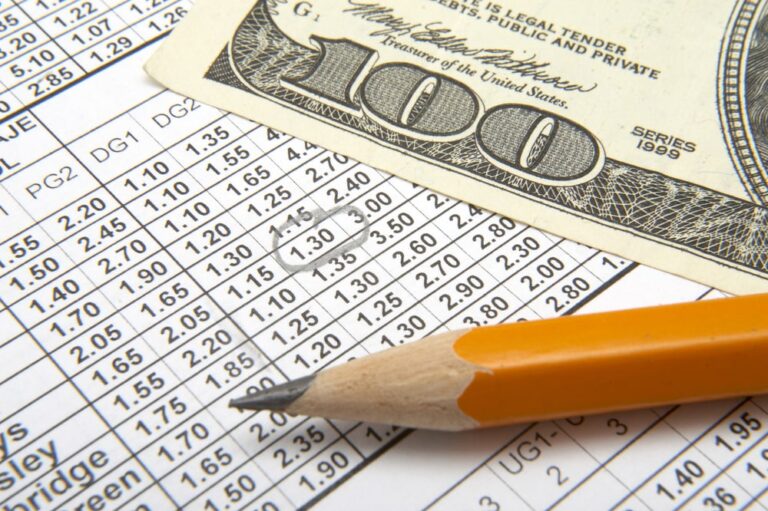 New Jersey
The Garden state won its ten years legal battle against the NCAA and the top professional sports leagues in the Supreme Court which opened the door for sports wagering. Since it led the battle, NJ is one of the largest markets for betting online. FanDuel launched its online Sportsbook for both iOS and Android users in September 2018, and it has become the number one ranking mobile sportsbook operator in NJ in terms of sports betting revenue.
There are not so many differences between the state markets for the Sportsbook except that in NJ, you are not allowed to bet on college teams, and you have the option to make deposits and withdrawals in person at any cashier point of The Meadowlands Racetrack. Once in awhile, there may be different promos that are unique to the local sports teams, and in this state, you are allowed to bet on the Oscars with the FanDuel Sportsbook.
Pennsylvania
When legislators in Pennsylvania included sports betting in the omnibus gambling expansion bill passed in October 2017, it positioned the state for the current increase in the number of legal sports betting sites. The icing on the cake came in May 2018, when the United States Supreme Court struck down the Professional and Amateur Sports Protection Act (PASPA) and in that same month, mobile wagering became available in the state. FanDuel followed the trend and launched in March 2019 in partnership with the Valley Forge Casino Resort in King of Prussia. Its mobile app became available in July 2019 in the Keystone State.
FanDuel offers promos that are unique to Pennsylvania teams. The option for in-person cash deposits and withdrawals at partnering casinos is not yet available in this state, and you can't wager on the Oscars as well. Other than these, the FanDuel experience is pretty much the same as with other states.

FanDuel online betting bonus
Copy Promo Code
BESTPROMOCODE
Copied
West Virginia
Thanks to a senate bill that was passed in March 2018, the state of West Virginia legalized sports wagering though they had a rough start when their first betting app crashed. FanDuel services The Greenbrier and are currently enjoying oligopoly in the state as there are only three online betting apps in the state. Wagering with FanDuel in WV is similar to other states except for some unique promos, the fact that in-person banking at The Greenbrier is not yet available and that you can't wager on the Oscars.
Other state markets where you can find FanDuel currently are Indiana and Colorado. FanDuel is expected to launch in more states where sports betting is already legalized and regulated such as Nevada, New Mexico, Rhode Island and more.
FanDuel Sportsbook Current Bonus For New Players
Currently, the welcome bonus offers in the available states are the same. The current FanDuel online sportsbook bonus code offered  is "BESTPROMOCODE", and you can use it to get a risk-free bet of up to $500 on your first real money bet with them.
There are other promo codes FanDuel Sportsbook has made available via different exclusive partners, though they all offer the same new player welcome bonus value.
FanDuel Loyalty Programs And Special Offers
This US Sportsbook gives its users rewards for sports bets via special offers and deals such as the Return to Sports Promo, Multi-Sport Parlay Insurance, Home Run Challenge, FanDuel Player's Club and more.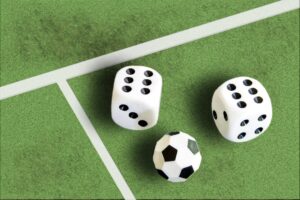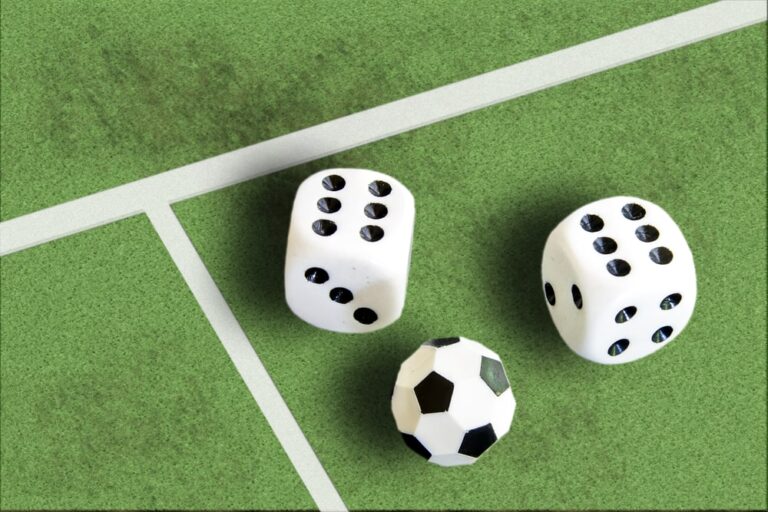 Return to Sports Promo: This promo is available for both new and existing FanDuel bettors between July 22nd and August 2nd, 2020 to celebrate the return of live sports since the Covid-19 saga. This promo enables them to wager up to $100 risk-free if, on the first day of placing their wagers, they end up net-negative.
Multi-Sport Parlay Insurance: This deal also gives cashback to gamblers. If you create four or more legs parlay in any sport of your choice, and just one prediction ends up wrong, you can receive up to $25 back into your FanDuel account.
Home Run Challenge: Unique to baseball fans, this challenge offers players a chance to win daily, weekly and in a grand season finale. All you need to do is to pick three hitters from a single-player pool and wait to see the number of home runs they hit in the game. Every daily winner gets $200. If you have the highest total number of home runs for that week, you get a $1,000 reward. The biggest of all is the prize of $100,000 awarded in September to the player that has the most total home runs at the end of the season. The best part about this challenge is that it is free for anyone to enter.
Free $10 Cash Drop: One ongoing promo offered to all FanDuel customers is a free $10 give-away by the Sportsbook. If you already have a FanDuel account, you can just check your account balance, and you should find $10 in free bets in there.
FanDuel Player's Club: Currently, there is no rewards program available for FanDuel Sportsbook. The only way you can acquire FanDuel Players Club points is by participating in the daily fantasy games offered by the company.
Once NFL season begins, there might be a FanDuel Sportsbook football contest or enhanced odds for teams in specific regions.
For instance, FanDuel NJ could give odds boosts to games involving the Jets or New York Giants. The Sportsbook in PA might offer deals for the Pittsburgh Steelers or Philadelphia Eagles, while the Mountaineers will most likely receive some boosts from FanDuel WV.


Daily FanDuel Sportsbook Odds And Live Betting  
Although there may be some variations in the odds boosts offered every day, they usually include the local teams of the states or any major sporting events happening. It could involve player props, four-team parlays or what have you. But no matter the listed games, this deal offers bettors enhanced odds on all specific lines.
In-game live betting lets you miss the start of a match and still wager on it, and it also allows you to see the way a game starts before committing your money. Live in-play betting is one of the most exciting ways to wager as the unexpected twists and turns that occur in games boost your adrenaline levels and immerse you deeper in action. These unexpected events in games shift the odds constantly, and you can take advantage of these fluctuations to make more money. Odds on the FanDuel app/site are updated continuously to ensure you make the best of every gaming situation.
What Are the Available Sports at FanDuel Sportsbook?
FanDuel offers a variety of professional and college sporting markets that you can place wagers on. These include:
Baseball
Basketball
Boxing
College Basketball
College Football
Cycling
Darts
Football
Golf
Hockey
Mixed Martial Arts
NASCAR
Rugby
Soccer
Table Tennis
Tennis
New Jersey bettors should note that they can't wager on college teams in the state.
FanDuel Online Sportsbook Types of Bets
We'll be taking a look at some of the ways you can place bets with this bookmaker in this FanDuel Sportsbook online review.
Straight
Of all types of sports bets known, this is the most basic. It involves setting a betting line which is commonly known as a point spread, and you have the option to wager on either the favourite or underdog in the match. The points are given up when you select the favourites while choosing the underdogs gives you the points. In order to win the wager, the favourite must win the game by a score higher than the point spread or the underdog must either get an outright victory or lose the game by a score that is less than the setpoint spread. In the event of a tie or push, you won't lose or win any money.
Futures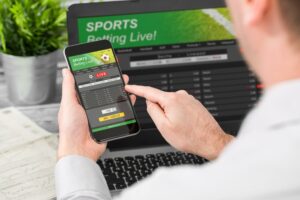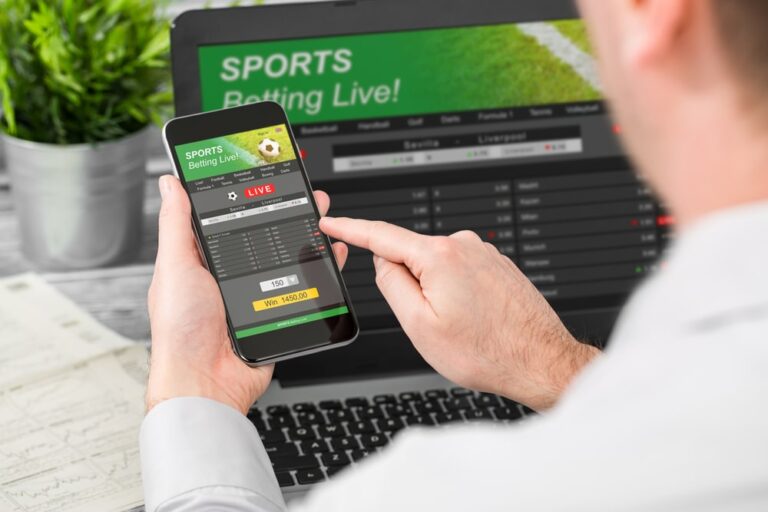 This is a type of betting where you wager on the outcome of a season or an event that will be completed in the future. Futures are different from normal wagers on the outcome of a single match, though they are almost as popular. As a matter of fact, when many new gamblers first try their hands in sports wagering, this is one of the first types of bets they get to play. Because this type of wagering has a long lifespan, many bettors prefer it to regular bets which have their outcomes in a single day or a week at most. If you don't have the time or energy to research and analyze each of the different games, futures wagers are the way to go.
Round robin
In round robins, you usually place wagers on multiple teams (usually between three and ten) which will be used to build as many two-team parlay combos as possible. In this form of wagering, the particular amount that you bet is the same amount of money that you have to wager on each two-team parlay. For you to cash in with round robins, all your combinations must be winners.
Point Spread
Point Spread betting is also referred to as an equalizer, and in this type of wagering, players can bet on both teams in a match. The favourite (which is the stronger team) must win by the setpoints of the bookmaker for the bettor to win. The underdogs (which are the weaker teams) must have straight wins or lose the match by a score that is less than the setpoint for gamblers to win.
Parlay
Here, you will have to combine two games or more in a single bet. The risks are high, but so is the reward as all your parlay combinations must be predicted correctly for you to win, if not you will lose the entire parlay.
Moneyline
Moneylines involves selecting a team to come up with a straight win without point spreads. The risk associated with this bet is the amount of money you have to wager to choose the stronger team as against the amount of money that can be potentially won if you choose the weaker team.
Props
in this type of wagers, you bet on specific aspects, or game plays in matches—for instance, the number of touchdowns, free throws, or home runs.
Teaser
Although you'll have to combine more than one pick in a single bet just like a parlay, teasers allow you to make adjustments to the point spreads in your favor. However, this opportunity comes at a price – your overall payout will be reduced.
Totals
In this type of wagering, a combined final score of both teams in a game is preset. All you have to do is a wager on the total score at the end of the game going "over" or staying "under" that initially set number.
FanDuel Daily Fantasy Sports  
To play DFS on FanDuel, you must be at least 18 years old and a US or Canada resident. If you're from Alabama, you must be at least 19 years old while Massachusetts or Iowa residents must be 21 years of age or older before they can play. You can play DFS in any state except the following jurisdictions:
Arizona
Louisiana
Nevada
Montana
Hawaii
Idaho
Puerto Rico
Washington
There are certain restrictions for residents of New York and Iowa, which make them ineligible to contest in the following:
CS: GO
eNASCAR
Outlaw golf
The Basketball Tournament (TBT)
Bundesliga
Rocket League
Korean Baseball
Call of Duty
To play DFS, simply select a contest from the available contest types and game styles from different sports. Afterwards, create your team with any players you like but ensure you don't go above the salary cap, then you can see how your score rises in real-time when the games start. Daily fantasy sports are considered a great option for players because they are easy to win, easy to deposit and withdraw, they are legal and come with a lot of fun asides the fact that a wide variety of sports are offered on them. With the FanDuel sportsbook app, you can easily play daily fantasy sports while you are wagering on regular sports.
FanDuel Sportsbook App Review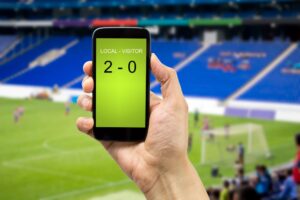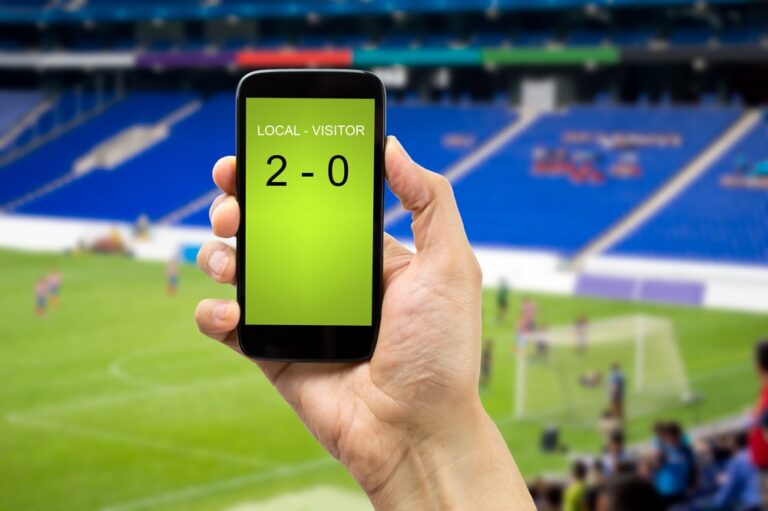 The sportsbook app is available for both iOS and Android users. The layout is well designed, and it closely mirrors the pages of the desktop website. The homepage is very easy to navigate and comes with shortcuts that take users to their sports of choice. Whether you are looking to wager with everyone, see what's going on currently, or check out a future event, the app has got you covered with the "Popular", "Live" and "Upcoming" tabs which are quite easy to find. Users can register directly via the app.
How Can I Download the FanDuel Sportsbook App?
On Android devices: Simply download it on the Play Market or FanDuel website on your browser, locate the FanDuel Android app button, click on it to download the app and start placing action.
On iOS devices : On your iPhone or iPad, you can download the app from App Store, or use your browser to visit FanDuel directly on their website and select the Apple button to download the app and start your mobile gambling journey with the Sportsbook.
FanDuel Deposit and Withdrawal Methods
In this FanDuel sportsbook review, we'll take a look at a variety of secure ways to deposit and withdraw funds for your convenience. The banking methods are similar in all the states the Sportsbook serves.
For deposits, FanDuel users can deposit a minimum of $10 using the following methods:
Credit or Debit card (credit card users should be aware that some credit card companies may impose charges for depositing with online gaming companies or may not even allow you to deposit at all)
Automated Clearing House (ACH) or e-check
Online bank transfers
Wire transfers
Check
PayPal
PayNearMe
FanDuel Prepaid Card
As for withdrawals, the options are a bit limited. The available options include:
Automated Clearing House (ACH) or e-check
Direct Checks
PayPal
FanDuel Prepaid Card
PayPal deposits and withdrawals are usually processed under 48 hours. Also, FanDuel offers SSL security on their website, which ensures the safety of your private information that is entered on their site. For United States users, the available currency is the US Dollars.
FanDuel Sportsbook Reputation and Competitors  
FanDuel has been providing fantasy sports for a long time in the United States and international markets, and their expansion to the sports betting industry has been fruitful. They are the number one online casino in New Jersey, they rank second in West Virginia and are one of the top sportsbooks in Pennsylvania.
FanDuel Latest News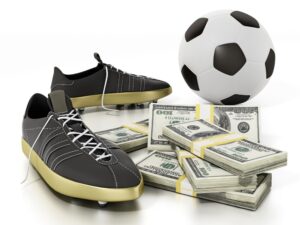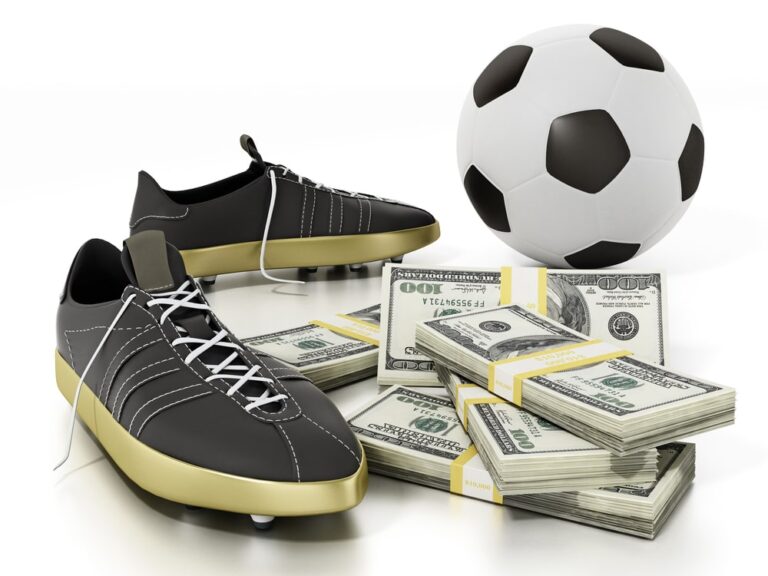 FanDuel has been aggressively striking partnership deals to solidify further their efforts in dominating the US sports betting and DFS market. On July 1, 2020, The Basketball Tournament (TBT) and FanDuel announced a strategic partnership that makes FanDuel the official Daily Fantasy Partner of TBT.
Another partnership deal in the month of July alone is the partnership upgrade between FanDuel and McAfee, which involves gambling category exclusives, content collaboration, distribution and media integration. This was announced on the 8th of July, 2020.
As a welcome back to sporting season (which was put on hold due to the coronavirus pandemic), FanDuel announced that they were giving over $80 million to their Fantasy and Sportsbook customers. All existing customers received a $10 free site credit in their accounts on July 21, 2020.
Bottom Line
FanDuel has been providing daily fantasy sports for its users for a very long time and their branching out into the sports betting market is a very welcome move which has seen them take top positions in the states they are currently operating in. They keep offering various offers and deals to attract new customers and keep their loyal ones too. If you haven't already, this might be a good time to sign up with the sportsbook and take advantage of the many FanDuel Sportsbook bonus offers, promotions, free cash back deals and many more.
Choosing the right sportsbook is a complicated process that requires you to check different platforms before you start playing. Fortunately, we prepared all information in our reviews, so it is highly recommended to read these articles to learn more about other websites in the US and pick up the best one:
FanDuel Sportsbook FAQ
Is FanDuel online sportsbook legal in the US?
Yes. FanDuel online Sportsbook is legal in all states that have licensed and regulated online sports betting. 
What states allow FanDuel Sportsbook? 
Currently, the states where FanDuel is allowed are New Jersey, West Virginia, Pennsylvania, Indiana and Colorado. The Sportsbook is actively seeking entry into other states that allow sports betting as well. 
Who can play at FanDuel? 
Any American physically located at the approved states and who is 18 years of age or older can play at FanDuel except for those in Alabama (who must be 19 years or older) and Massachusetts and Iowa (who must be above 21 years old).
Does FanDuel charge fees? 
FanDuel will charge a $2.99 monthly fee on all inactive accounts until the account is reactivated. The company will give users who are liable to an inactivity fee at least a 30-day notice before fees are deducted.
Are FanDuel winnings taxed? 
Yes. Any winnings over $600 in a year are subject to tax.
How long does it take to withdraw from FanDuel Sportsbook? 
Withdrawals on the Sportsbook usually take between 24 hours and seven working days, depending on your withdrawal method of choice. You can withdraw by ACH/e-Check, direct checks, FanDuel prepaid card, credit/debit cards or PayPal.
Written by: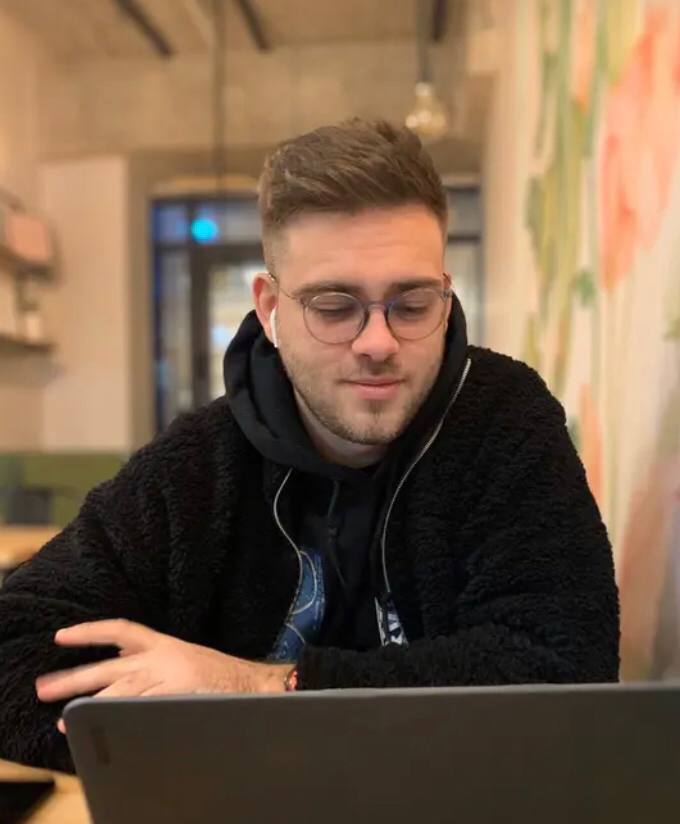 Stewart is an advantage gambler, author of reviews, and contributor at Gamblerzz.com. Reviews and guides written by Stewart are the perfect answer to all your questions.