Full Review on Illinois Online Sports Betting Apps And Sites
Following the lawsuit going on the Illinois Supreme Court involving the fantasy NBA League in 2016, the government passed the landmark judgment by legalizing contests involving placing bets on sports in April 2020. Governor JB Pritzker was the driving force behind the passing of this executive order, nullifying the requirement for in-person registration for licenses due to the Covid-19 Pandemic.
The history of sports wagering in Illinois is pretty recent as in June 2019, the first bill was drafted to legalize it. Until recently, it was not accepted that Supreme Court has declared online sports wagering as a skill and not merely a game of chance. In the following review of online sports betting in the state of Illinois, you will discover more about:
The legalities involved in the executive order
Where and how to bet on sports in Illinois
What should you look for in online platforms
The future of mobile betting in IL
Best Sports Betting Sites
Legalities Involved in The Executive Order by Government of Illinois

Before June 4, 2020, only individuals who got themselves registered in-person could gain access to wagering on games. But another executive order was put in place, allowing the eligible state population to register online due to the Covid-19 Pandemic. As for the licensing requirements for the sports betting platform providers, they were granted Master Sports Wagering Licenses. 7 Illinois-based casinos could obtain licenses, one of the qualifications made mandatory by the Gaming Commission of Illinois to operate as Online Sports Betting Providers. Of the seven license holders, BetRivers Casino became the first establishment to bring sports betting online in the form of BetRivers.com, falling within the legal framework of the state. Illinois is not the first American state to legalize online sports betting as 14 other states allow casinos, race tracks, and sports venues that hold over 17,000 people to operate a sportsbook. As per the official state website:
Sports wagering has been legalized under Senate Bill 690.
Once the Illinois Gaming Board grants the license, the license holders can go online.
The Gaming Board will only accept three more applications for the license once the first licensee has been operating for 540 days.
The operators can use data from official leagues.
The ban on betting on college sports teams will be imposed.
A lottery wagering for sports will be created to allow the master license holders to establish 2,500 lottery betting terminals in the first year and another 2,500 in the second.
15% of taxes will be levied upon the wagering receipts with an additional 2% for Cook County. The receipts from wagering taxes will be used for the much-needed infrastructural development in the state.
Online Sports Betting Illinois: Where And How to Gamble

Concerning the legal sports betting in Illinois, if you are located within the state's geographical boundaries, you can place your bets on professional and international, and college-level sporting events. You may or may not be a permanent resident of the state, you should be over 21 years of age, located within the state borders, and should not be on the self-exclusion list. The restrictions you should know about are:
Only bets on sporting events are legal, and one cannot use the liberty to bet on non-sporting events, for instance, the Oscars or elections.
The officials, coaches, and players cannot place bets on their own sports.
The collegiate teams that play within the state cannot be subjugated to betting.
If you fulfill all the above requirements but have betted on an offshore website that is not licensed by the state of Illinois, the state holds no responsibility for your monetary loss. For legal sportsbooks, you will have to register with the platform and transfer funds into your account.
The funding methods you can use include online banking, Credit and Debit cards, Cash at 7-11, PayPal, Cash at Cage, Wire Transfers, buy Prepaid Cards. The most-trusted methods here can be PayPal and online banking, as they allow you to easily transfer money in and out of your account. The sportsbooks use similar methods for facilitating withdrawals as well. You can potentially place various bets: in-game bets, game props, player props, totals, teasers, futures, money lines, totals, and spreads in Illinois.
Out of the ten licensed riverboat casinos in Illinois, only seven have successfully obtained licenses to carry sports betting online. Amongst them, River Casinos is the first one to go live with BetRivers.com.
Registration For Online Sports Betting in IL
Since SB 690 has legalized online sports betting in IL, all adults (over 21 years of age) in the state boundaries can register for online betting by signing up on the mobile platforms offered by operators. The in-person registration was cancelled with an Executive Order due to the Coronavirus Pandemic. If one decides to get registered in-person, the registration will only hold validation for the specific sportsbook operator. Online registration will ask bettors to fill out a form with their name, address, DOB, and last four digits of Social Security number. This will help the website verify their age.
Aspects to Consider Before Choosing an Online Betting Site in IL
With several online betting sites available on the web, it can become difficult for the bettors to decide which one they should place their wager upon. Hence, here are a few aspects that help determine a trusted site.
Safe banking methods
Security
Promotions and Welcome Bonuses
Reputation and Legal Recognition
Loyalty Programs
Customer Support
Choice of sports
Availability of mobile apps
Software
BetRivers: The First Legal Mobile Sports Betting Platform in Illinois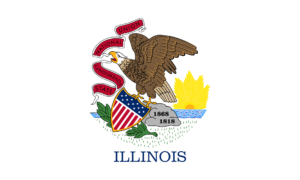 BetRivers is a popular casino brand operating its online sportsbook in several other states, and now they have launched their mobile betting app in Illinois as well. They have taken the first-mover advantage of the legalization of sports betting in April 2020. Theirs is the only app that went LIVE and is now laden with individuals trying their luck on sports betting.
App
The BetRivers App was launched last month for iOS and Android. The Android users can download the app from the official website directly, whereas the casino app for iOS can only be downloaded after location verification. Since the lockdown, there are not many sports activities to bet on. Then again, the platform has taken the Illinois residents by storm, and many have signed up.
Software
The mobile app is user-friendly, allowing even individuals with no tech history can use the app. Plus, each kind of sport is separated by tabs, so one can click on them to access their favorite sport. The in-built geo-location software and age verification process ensures that only individuals in Illinois can register themselves over 21 years of age.
Promotions and Bonuses
On signing up for the first time, bettors will receive a $250 bonus. Even when the bonus is lesser than that offered by other platforms, one has to only wager $250 on making withdrawals.
Choice of Sports
The sportsbook of BetRivers allows you to bet on various sports, including Hockey, MMA, Football, Baseball, Tennis, Golf, Motorsports, Soccer, Basketball, and Baseball. They can be local, collegiate, and inter-state leagues. In-city collegiate and high-school sports are not a part of it. Apart from a plethora of sports, you can choose from various types of bets as well – Spread, Total, Moneyline, Futures Betting, Live In-Playing Betting, Parlays, Teasers, Round Robins, and many more.
Safe Banking Methods
The deposit and withdrawal methods used by BetRivers include eChecks, Cash at Rivers Casinos, Rivers Prepaid Cards, Visa or Mastercards, Pay NearMe. All of these methods are trusted and safe so that you are aware of where your money is going.
Customer Support
As for the customer support offered by BetRivers, it is at the disposal of the users 24/7. They can be contacted via live chat, chatting on the phone, and email address.
Reputation and Legal Recognition
As discussed earlier, the BetRivers app is operating successfully in various other states including New Jersey, Pennsylvania, Indiana, and more. The app was developed by Rush Street Interactive, operating in various states and launched its first platform – SugarHouse Casino4Fun in July 2005. They call it a social gaming site. As for the loyalties programs, BetRiver is still new to the Illinois market and might come up with a loyalties program in the future, but there are none active for now.
The Future of Mobile Betting in IL
As discussed earlier, seven casinos have obtained the master licenses for operating sports betting in Illinois. Only Rivers Casino has entered Mobile IL sports betting for now after Governor JB Pritzker's executive order. Now, the applicants who have already received the license will be vetted by Illinois Gaming Board before they can also benefit from Pritzker's move. The Board will only give out three licenses for mobile online betting platforms that would be available for a mind-numbing $20 million. IGB has time till Spring 2022 to decide upon the casinos that will receive mobile sports betting licenses apart from BetRivers. Currently, everything is shut because of the pandemic, giving BetRivers the perfect opportunity to expand its customer base even when no major leagues or tournaments are taking place.
 Deposits and Withdrawals Methods For Illinois' Gamblers
Since most services are going online because of the global lockdown, online payment gateways will be the only way in which deposits and withdrawals will take place. Finally, mobile betting's success depends upon whether the pandemic will subside enough to let sports league take place in the near future. If not, mobile sports betting platforms might take over a year to establish themselves.
How to be careful while using online betting platforms
Sports and betting promote a surge of adrenaline in the human body, and one can only imagine the situation when the two are brought together. However, one should protect themselves from falling prey to fraudulent sports betting portals. Here are some ways one can safely bet on sports online.
One must go through the license of the sportsbook website to check whether they are operating legally or not. It is also important to check if the website has been established over the years and has positive feedback from the consumers. Once the website is found legit, then only bettors should register themselves.
One should make sure that the website uses no other means than international KYC (Know Your Customers) and AML (Anti-Money Laundering) to verify its consumers' identities. This saves the users from falling prey to online frauds, but it also discourages illicit platforms that are not compliant with regulations.
The data between the website and user should also remain private, and for this, one should check if the website is offering SSL protection. If not, we would advise against registering on them.
One must ensure that the platform has a dedicated customer service department that is at their disposal 24/7. This comes in handy when one faces trouble with the transfer of funds or discovers someone using unfair means on the platform.
Apart from the above pointers, one must keep their personal information as confidential as possible on such platforms as some malicious minds are waiting to rip others' of their money.
Sports That You Can Bet on in Illinois
Thanks to its active population and promotion of sports and physical activity at an early age, Illinois has several successful teams in various major sports in the US. All of them have faithful fan bases that support them even when they lose.
NFL 
Chicago Bears is the National Football League team from the state. But, they have been able to qualify only for the playoffs once in the past decade. This doesn't get the spirits of fans to die as they worship their beloved Da Bears as much as before.
MLB 
The Chicago Cubs broke the 100-year old curse on the sport in the state by bringing in the winning trophy in the 2016 World Series. This is why Illinois residents can never hate their MBL team. Their unexpected victory prompted over 5 million fans to attend the winners' parade. Now, watching a baseball match at the Wrigley field has become a dream of every fan. Chicago White Sox follow the Chicago Cubs in popularity as they brought the World Series Title home in 2005, first in 88 years.
NBA
The 6 NBA titles during the 80s and 90s are the only claim to fame for the Chicago Bulls, which were bagged by the team with the superstar player Michael Jordan in their team. After his glorifying 13 years, the team has barely made it to the conference semifinals once.
Illinois Daily Fantasy Sports
Even if a bit obscure, the Daily Fantasy Sports in Illinois are popular too. DraftKings, FanDuel, Yahoo!, and Fantasy Draft are platforms that allow registered users to create their teams online and gain from speculation. In April 2020, with the legalization of online sports betting in Illinois, the state validated the DFS websites. The grounds of validation provided by the Illinois Supreme Court were that DFS is more skill-based and cannot be categorized as illegal gaming.
The Legality of Horse Racing in Illinois

Since the state has recently legalized online sports betting, it might be a surprise to you that betting on horse races has been legal in Illinois for over a century. Three racetracks in Illinois – Arlington International Racecourse, Fairmount Park, and Hawthorne Race Course hold races every year and invite people to place their bets. Apart from wagering on the tracks, there is provision for off-track betting, allowing individuals to place their bets from far away. Some famous platforms for online horse race betting are TwinSpires, TVG, and BetAmerica.
Want to play online casino games and bet on sports with your mobile legally and safely, but not sure if it's allowed in your state? We got what you need:
FAQ
Is sports betting legal in Illinois?

Yes, with effect from April 2020, the state legislature passed Senate Bill 690, making sports betting legal.
Do I have to live in Illinois to bet?

Yes, while you do not have to be the resident of Illinois when placing the bet, you have to be within the state's state borders.
Do I have to register in-person to bet online in IL?

Earlier, the regulation was to register oneself for online betting in person. Since the coronavirus pandemic has taken a toll on daily movements, you can register online by signing up on the online betting app.
Should I be 21 years old to have the right to bet?

Yes, no one below 21 years of age is allowed to bet in the state of Illinois.
What companies will offer mobile sports betting in IL soon?

Out of the ten riverboat casinos in Illinois, seven have obtained the license to offer mobile sports betting in IL, namely: Rivers Casino, Des Plaines, Argosy Casino Alton, Grand Victoria Casino, Hollywood Casino Aurora, Hollywood Casino Joliet, Casino Queen, Inc., Par-A-Dice Hotel Casino. Amongst them, only Rivers Casino and Argosy were able to launch their operations relating to sports betting before the pandemic, of which Rivers was able to go online recently with their BetRivers platform.