Best Tennessee Online Sports Betting Sites And Apps
Published: Aug 30, 2022
Updated: Oct 31, 2022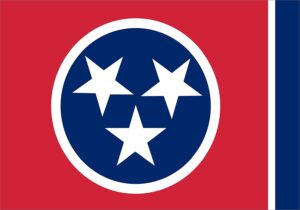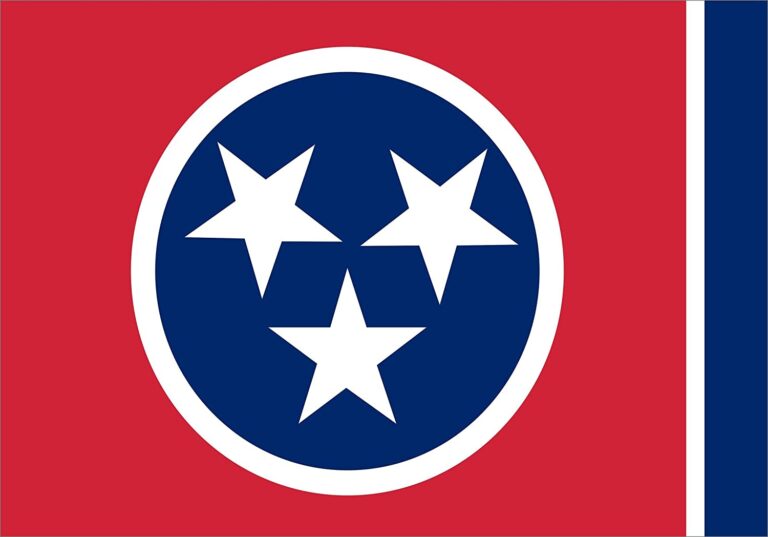 If you want to start betting in Tennessee, this online betting review is the perfect solution, Our team of professional and experienced bettors collected all information that you need. With our help you will know if it is legal to bet on college sports in TN, where to find best risk free bets in the state, and how to register on Tennessee sports betting site. Read on to learn everything about best Tennessee sportsbooks and TN betting apps.
Tennessee sports betting was legalized in the early spring of 2019 by the Tennessee State Legislature. On May 25, 2019, Tennessee Sports Gaming Act became law without Gov. Bill Lee signing it. The law allows for online and mobile betting without physical sportsbooks. As a result, the Volunteer State became the 4th US state in 2019 to legalize sports betting. Since the state doesn't feature any casinos, it became the first state to institute online-only law. That's the opposite of what the majority of the states have passed on the newly-legal US gambling market.
Best Tennessee Online Sports Betting Sites
Tennessee Sports Betting License History
Online sports betting in Tennessee became legal in 2020, and the law allows wagering through mobile and online sites. Presently, this state has no plans of launching physical sportsbooks as the law only regulates online sites. In April 2019, the bill got approval. After that, Gov. Bill Lee hinted it would become law eventually. Fortunately, this is what happened, which allowed legal sports betting in this state. With that, it became one of the southern states to legalize sports betting.
In the first week of July 2020, it was announced that the state has 4 licensed vendors for their legal TN online sports betting sites. On the other hand, TEL (Tennessee Education Lottery) has 3 more sportsbooks awaiting approval. As per TEL's official website, the newly licensed vendors who are approved to operate mobile sports betting in Tennessee include, dba Wedge Traffic Inc, Wedge Traffic Limited, Sports Betting ST, LLC, dba, SBST, Media Players US LLC, and Mark Knight. If you are a gambling enthusiast and interested in online gambling sites, keep on reading as we will explore the scenario of TN sports betting online. Let's get started.
Process of Legalizing Tennessee Sports Betting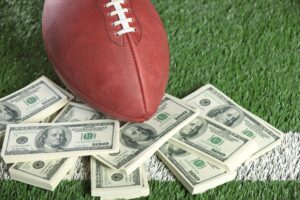 Online sports betting sites are completely legal in the state of Tennessee. Even though the bill was signed in 2019, the regulatory bodies were finally established and activated in November 2020. Operators like FanDuel, DraftKings and BetMGM were the first to arrive on scene. Since the state does not have any land-based casinos, TN is one of the first states in the US to have an online-only infrastructure. Despite the steep $50,000 application fee, these three vendors were among the first to get their applications filed and approved by the state body.
Despite legalizing online betting, TN also has a very steep annual license renewal free of $750,000. On top of this, the operators will also have to turn over 20% of their total revenue to the state in the form of taxes. However, it is promising to note that all of the funds received by the state in the form of license fees and taxes will go towards funding education, scholarships and infrastructure projects in the state. So, it must be noted that the legalization of online gambling has become a financial boon for TN. It must be noted that these high licensing fees will make it difficult for smaller competitors to thrive in TN.
Moreover, Tennessee restricts people from certain groups to participate in gambling activities. They include:
Any individual who holds power to influence the outcome of the sporting event directly
Individuals who are employees or members of the governing bodies of any association, league, or sports team
A player or a coach of a professional sports team or a college team
Vendor or a licensee, supervisory employee or an officer, member of the board of directors, a partner, or a principal owner of a professional sports team
An employee or a member of the gambling commission
And individuals who are specifically categorized by the commission stating that their indulgence in sports bets could influence the integrity of online betting in Tennessee
Wagering commissioners allow for betting on professional sporting events, such as e-sports and motor sports, along with any athletic event, the Olympics, or college sports, which is sanctioned by an international or national organization. Nevertheless, the state of Tennessee has prohibited people from gambling on any individual events or actions during a collegiate sporting event.
With that said, the state doesn't allow college side wagering or prop betting that could happen during the course of a game. Prop bets are related to team performance, including betting opportunities that are related to individual player output. So, in conclusion, there is no cap on the betting licenses in the state. If you are 21 or older, you are eligible to place a bet. And the in-play bets on collegiate sports events will not be allowed.
Choosing the Best TN Sportsbooks

Once real money betting sites get established to operate in Tennessee, you will see a hoard of them offering a selection of options. However, there are certain aspects that make an online gambling platform stand out from the rest. If you want to play at the best online casino, here are some factors to keep in mind:
Banking Methods
The first thing you need to consider is the banking options, or the deposits and withdrawals method. In the majority of the cases, sites that offer variable payment options like credit cards, debit cards, e-wallets, mobile wallets, internet banking, direct transfer, etc. are preferred. The more options you have, the more you can gamble without any worries. Withdrawals, on the other hand, is a different ball game. In most cases, once you have deposited the amount, you will have to spend it gambling for sure. You cannot withdraw the deposited funds. But there are certain sites that offer withdrawal options as well. It will depend on the casino provider altogether. Even if a site allows you to withdraw the deposit amount, it will take some time. Reputed sites with withdrawal options perform it within three business days.
Security
It is the primary concern for many beginner gamblers playing online. Since a player will be sharing his/her personal information as well as financial details, the site must abide by the rules and regulations ordered by its regulatory authorities. On top of that, the website must be developed baseing on the highest levels of security standards. And when it comes to the safety of personal information, the site needs to be SSL-encrypted. SSL-encryption means the website cannot leverage the user data in any manner like to sell it to third parties or use it for personal gain.
Promotions and Bonuses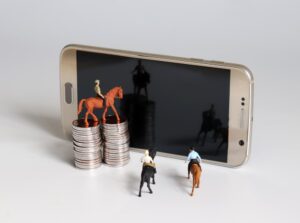 Tennessee sports bettings lure new players with bonuses and try to retain the existing ones with promotional offers. For example, if a new player signs up at the sportsbook, it will provide him/her with a welcome bonus (up to $500 or more).
Reputation and Legalization
The trustworthiness of the site is all that matters. It can be determined by the regulatory bodies governing the site. Moreover, online reviews also play a crucial role in figuring out the reputation of the gambling site. Look for how the website is in operation, how many users actively use it, what are the pay-out options available, what about the payment system, and more like that.
Loyalty Programs
When you become a regular member of the site, it is important that it offers loyalty programs. This helps sportsbooks in strengthening their bond towards the players. It can be anything from free bets to cashback offers, and more.
Customer Support
Although a good gambling website implies a lower probability for players to use their customer support, it still has its uses. One can have issues regarding anything, like payment options, how to create an account, how to make deposits through e-wallet, etc. To answer all the potential questions a player might ask, the casino has to be prompt with their customer support.
A good site will offer 24/7 customer service via phone, email, or live chat.
Choice of Games
It is not just the payment options and customer support, among other things that lure a player to the betting site. The choice of games available is also quite important. One may not show interest in a site that only offers a couple of games to bet on. A good company will offer bets on numerous sporting events, including live betting. This includes NBA, horse racing, NFL, baseball leagues, and more.
Tennessee Sportsbook Apps
Players nowadays like to bet on their favorite sports from the comfort of their homes. While they can switch on their PCs and open the website, mobile sports betting seems like a great option. To expand their reach, reputed companies have introduced mobile applications that make sports betting a hassle-free job.
Software
Last but not least, it is also important to determine who are the software providers for all the betting games available on the platform. Some of the reputed software companies include Microgaming, NetEnt, etc.
How To Register At Tennessee Sportsbooks?
Signing up at the Tennessee online sports betting sites is simple and does not consume much time. However, you have to keep in mind that the state currently allows online gambling only. The process starts as follows:
Pick any legal sportsbooks offering a big bonus on registration with many payment options.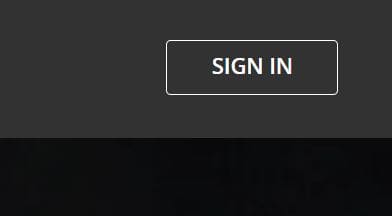 Go to the signup section and fill in all the details asked by the site.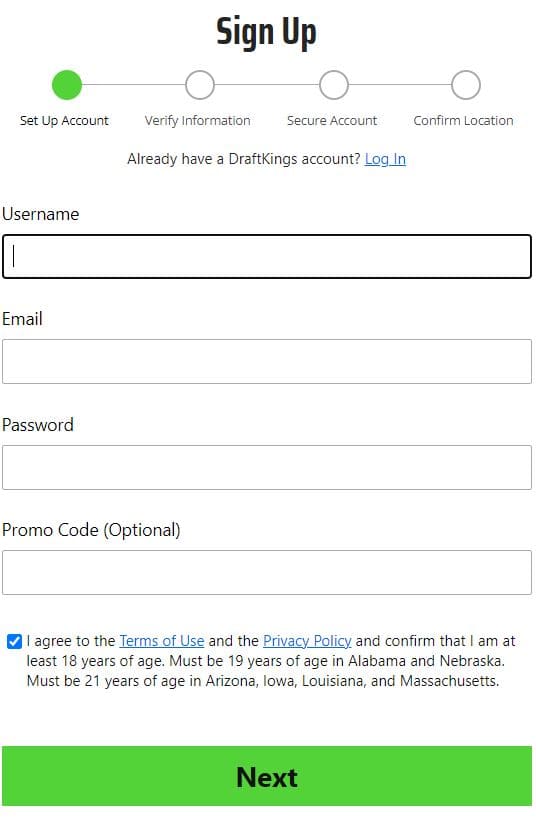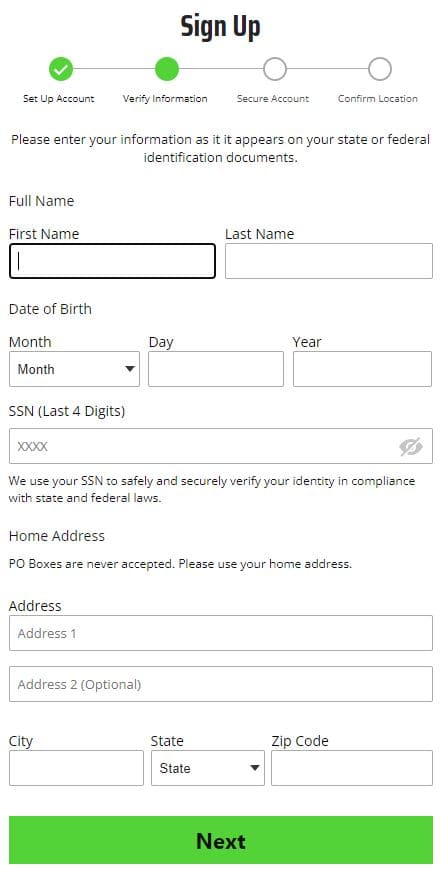 Make sure all particulars are correct, or else you cannot create your account.
Once you complete entering all details, you must go ahead to deposit and place bets. You will get a username and password to sign in every time for playing.
What Best Tennessee Betting Sites Have Gone Live?
DraftKings, BetMGM and FanDuel were among the first national sportsbooks to get their applications in. In fact, their submission and approval was complete by March 1 2020. Here is a list of the best sportsbooks that are currently operational in TN. If you are a TN resident 21 years of old and above, then you can play at these websites.
DraftKings Sportsbook — When you make your first bet, you will be able to enjoy a $50 free bet as well as a $1000 deposit match.
FanDuel Sportsbook — They have an attractive $1000 risk-free bet that you will be able to take advantage of.
BetMGM — They have a $600 risk-free bet if you use the code "PLAYBONUS". They also have really good security.
William Hill — This is one of the most recognizable names in the business and they are offering more than $2000 in the form of deposit matches and risk-free bets.
Sportsbooks To Place Legal Sports Bets In Tennessee
As per the reports, on the 25th of August 2021, the operators will launch two more sites to place bets on sports in Tennessee. However, the Tennessee Education Lottery has a decision to make on this particular aspect, following which we can hear some good news in the coming times. One is Penn National's Barstool sportsbook, and it is the fifth state that will go live. The name of the other brand is yet to be revealed by the operators.
What Sports Can I Bet On in TN?
The state offers a selection of sports betting options, including numerous Division I colleges and some major professional leagues. PRO Leagues:
Nashville Soccer Club (MLS): This Major League Soccer was founded on the 20th of December 2017. They played the first season in 2020, and the home events were played at Nissan Stadium. Before the arrival of this team, several other teams were there that played in the American soccer lower division.
Nashville Predators (NHL): The team was introduced in 1998 as a professional ice hockey team. They are based in Nashville, Tennessee, and compete in the NHL. They are a member of the Western Conference in the Central Division. Nashville Predators play their home games at Bridgestone Arena. After playing five seasons, they qualified for the Stanley Cup playoffs in the 2003-04 season.
Memphis Grizzlies (NBA): The American professional basketball team was founded in 1995. Memphis Grizzlies are a member of the Western Conference in the Southwest Division and compete in the NBA. The team plays their home games at FedExForum, and they are the only one in the major professional North American sports league from Memphis.
Tennessee Titans (NFL): This American professional team was founded on the 3rd of August 1959. The Tennessee Titans played their first season in 1960 and competed in the NFL. They are a member of the South division AFC. Earlier, Tennessee Titans were known by the Houston Oilers. They made their playoff appearances from 1987 to 1993 and 1978 to 1980.
College Division I
Vanderbilt University
The University of Tennessee at Martin
Tennessee Tech University
Tennessee State University
University of Tennessee
Middle Tennessee State University
University of Memphis
East Tennessee State University
Austin Peay State University
College Sports
Wagering on NCAA is accepted by Tennessee sports betting apps. But in-play bets on college games are prohibited. However, the College Football Playoff and March Madness are open for wagering and players can place their bets even on the regular-season games.
Horse Betting In Tennessee
Online horse betting is legal in TN, and players can wager by signing on a licensed site. But no off-track betting facilities and racetracks are present. Betting can only be done online through regulated websites, so be careful while choosing a website.
Sports Events To Place Bets Through Tennessee Online Sportsbooks
National Football League: Compared to all other professional sports, the NFL always tops the list in terms of popularity. In this state, college football receives a strong fanbase with pro football. The Tennessee Titans attract a massive share of the fans. In 2019, this team enjoyed a thrilling and unexpected run to the AFC Championship game.
National Basketball Association: The NBA comprises of 30 teams, one from Canada and 29 from the United States. It was founded in NY City and was earlier named the Basketball Association of America. NBA is an active member of the USAB, now recognized as the FIBA (International Basketball Federation).
Major League Soccer: The highest United States professional soccer has recently arrived in the Volunteer State. In 2020, they started a franchise known as Nashville SC. 27 teams are there, out of which three are from Canada, and 24 are from the US. In 2023, it will increase to 30 teams.
Live Betting Options At The Best Sportsbooks In Tennessee
The sports betting site provides a wide variety of live betting options. These wagers are to be placed on events that are in progress. In-game bets come and go, change as the event proceeds. But one to remember is the law does not permit live betting on college sports.
Daily Fantasy Sports In Tennessee
This is the third state to legalize Daily Fantasy Sports in 2016 after Indiana and Virginia. Players who are 18 years old can place bets on the sites by signing up. But an important parameter is winnings are subjected to 25% taxation as per the Federal laws.
Types of Sports Bets TN Offer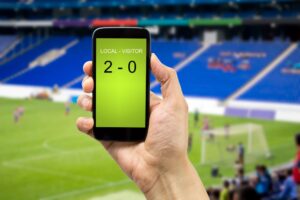 TN sports betting online offers the following sports bets to the players:
Parlay bets: In this wagering type, more than one bet is combined, which you can place on several players and teams. It is a risky wager and involves a huge amount of money. To get the rewards while playing at Tennessee online gambling, you must win all of them.
Totals: In this type, you will see that the top operator will specify a number which is a combined score of both the teams. Punters placing bets have to decide whether the score would be higher or lower than what's specified. If it is lower, they must choose Under, and for higher, it is Over.
Moneyline: It is a simple bet where you must find out who will win the match and the money is yours. Moneyline wager is not easy as predicting the winner is not easy. But getting it correct can give you a big amount. For example, who will make the first goal, the time of the first corner, etc.
Props: Many players find that these types of wagers are special and a place for fun. They might not be related to the outcome of the game. To win these bets, you have to do more guesswork.
Futures Bets: These bets are placed now, but the outcomes are declared in the future. For example, who will win the Super Bowl, win the English Premier League, etc.
Spread Bets: These bets are extremely popular in football matches. Many times, it is referred to as straight bets and is different from a win bet. This type of wagering is done to cover the spread.
Private Information Use at Best TN Sportsbooks
You are required to provide the gambling operators, your Name, Age, Phone Number, Physical Address, and an Active Email Account. On top of that, you may also have to ping your payment options.
You are advised to create a separate email account for this purpose and not provide your official email. Always check with the website regarding their security aspect before adding your card, wallet, or banking details to the site.
Land-Based Sportsbooks At Casinos
As there are no casinos in this state, so no retail sportsbooks. It is one of those states without any physical gambling facility. The law allows for online betting only, so there is no way for physical sportsbooks.
Tennessee Sports Betting Revenue
This state offers an intriguing market in terms of sports betting. The online-only model is surrounded by states that do not allow betting. In addition, the state has numerous sports fans along with many college and pro teams. That's why the market receives a huge amount of revenue from sports betting. As per the reports, the revenue for May 2021 was $15,500,000, for June 2021 it was $18,300,000 and for July 2021, it was around $15,172,000.
Future Development Of Sports Betting In Tennessee
Once the sports betting market in this state reaches maturity, it will start receiving billions of dollars annually. The tax collection will also go up, and many sportsbooks will be launched. Legal sports betting will receive a more positive response from punters in the long run.
Tennessee sports betting faq
Is online sports betting legal in Tennessee?
Yes, TN sports gambling is completely legal. The law allows for online and mobile bets without physical sports books. 
Who can bet on sports in Tennessee?
Any individual who is 21 or older can bet on sports in TN. 
Will TN sports betting market be competitive?
Yes, it is going to be extremely competitive, given its online-only operation.
Is horse racing legal in TN?
Yes, horse racing, among other lucrative sports, is legal in Tennessee. 
When will TN sports betting go live?
All registered TN online sports betting sites are slated to go live in September 2020. 
What companies will enter the online sports betting market in TN?
Given that they can pay the annual $750,000 licensing fee, anyone can apply to enter the TN betting market. 
How can I start placing bets in Tennessee?
To place sports bets on different events, you can look for a Tennessee sportsbook and sign up. Do not forget to check out the offers before gambling.
Who oversees sports betting in Tennessee?
The Tennessee Education Lottery Corporation looks after all the parameters concerning sports betting.
Can I bet on sports with my smartphone in Tennessee?
Definitely, you can wager on sports using smartphones in this state.
Are offshore sportsbooks legal to use in TN?
No, offshore sportsbooks are not legal to use in TN.
How do I get started with sports betting in Tennessee?
By signing up on sports betting sites like DraftKings, FanDuel, you can consider placing wagers.
Is Daily Fantasy Sports betting allowed in Tennessee?
Yes, DFS betting is allowed in this state.
Is eSports betting allowed in Tennessee?
eSports betting is permitted in this state, and players can gamble through online sports betting sites.
How much revenue does sports betting generate in Tennessee?
In July, the revenue collection was $15,172,000, which is pretty high, and in the coming times, the revenue is expected to increase.
Are FanDuel and DraftKings legal in TN?
Yes, these brands are operating legally in the state.
How do I download a sportsbook app?
To download the sportsbook app, you have to check which device to use, Apple or Android. Based on that, you can proceed to the Google or Apple Play Store and download the application.
Do I have to be Tennessee state's resident to play?
No, you do not have to be a state resident to play legally in this state.
Do I have to be inside the Tennessee state to play?
Yes, you have to be inside the state while gambling; otherwise, you cannot gamble.
What are the age details to bet on sports?
Punters signing up on the site should be 21 years old, or else they cannot play.