Empire City Bets
Published: Jan 30, 2022
Updated: Aug 5, 2022
Screenshots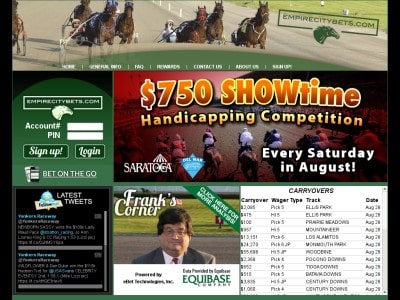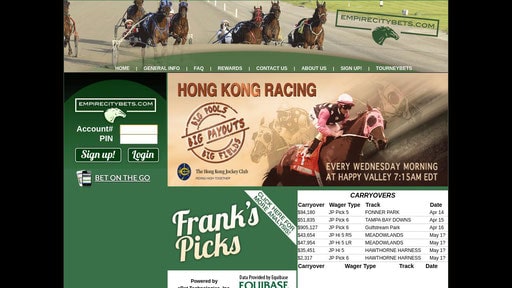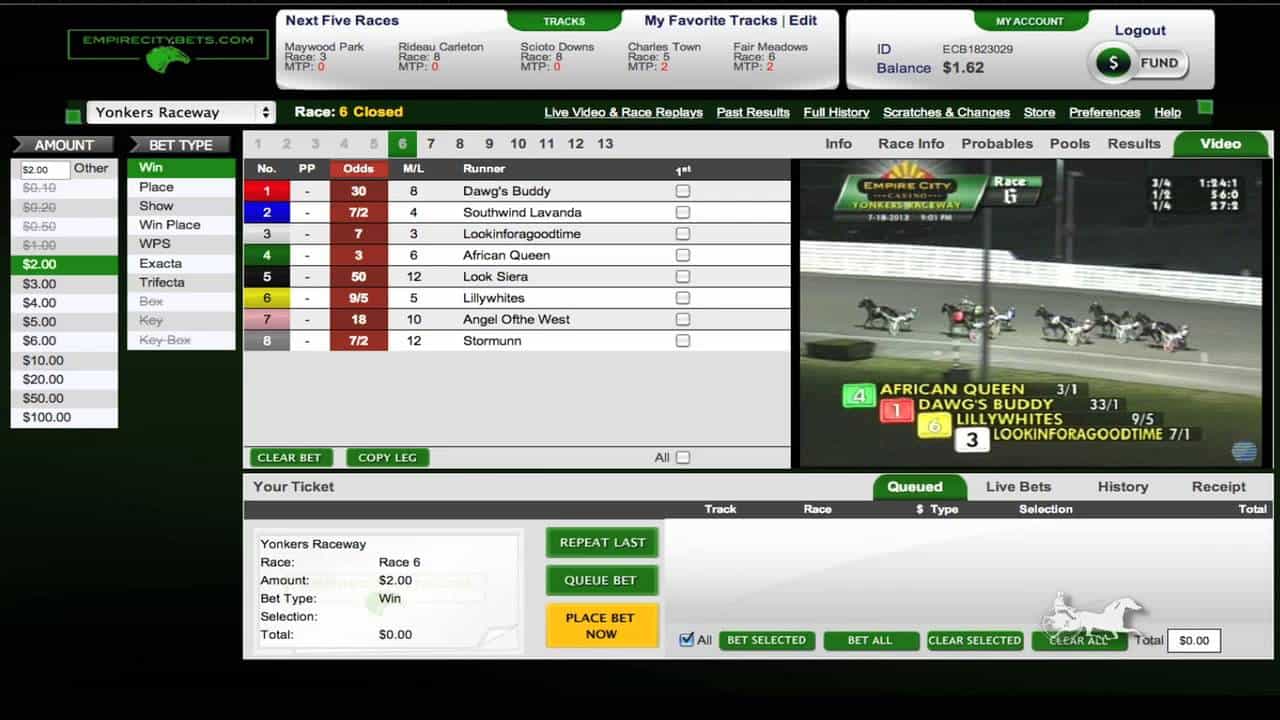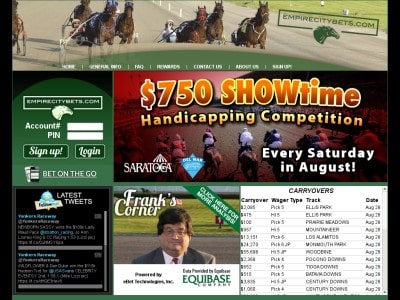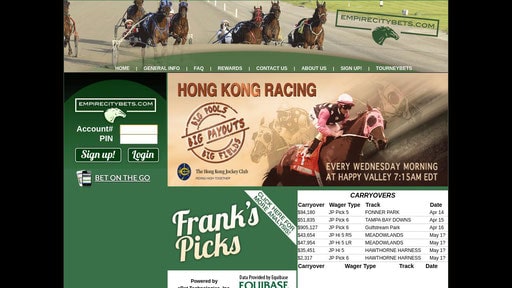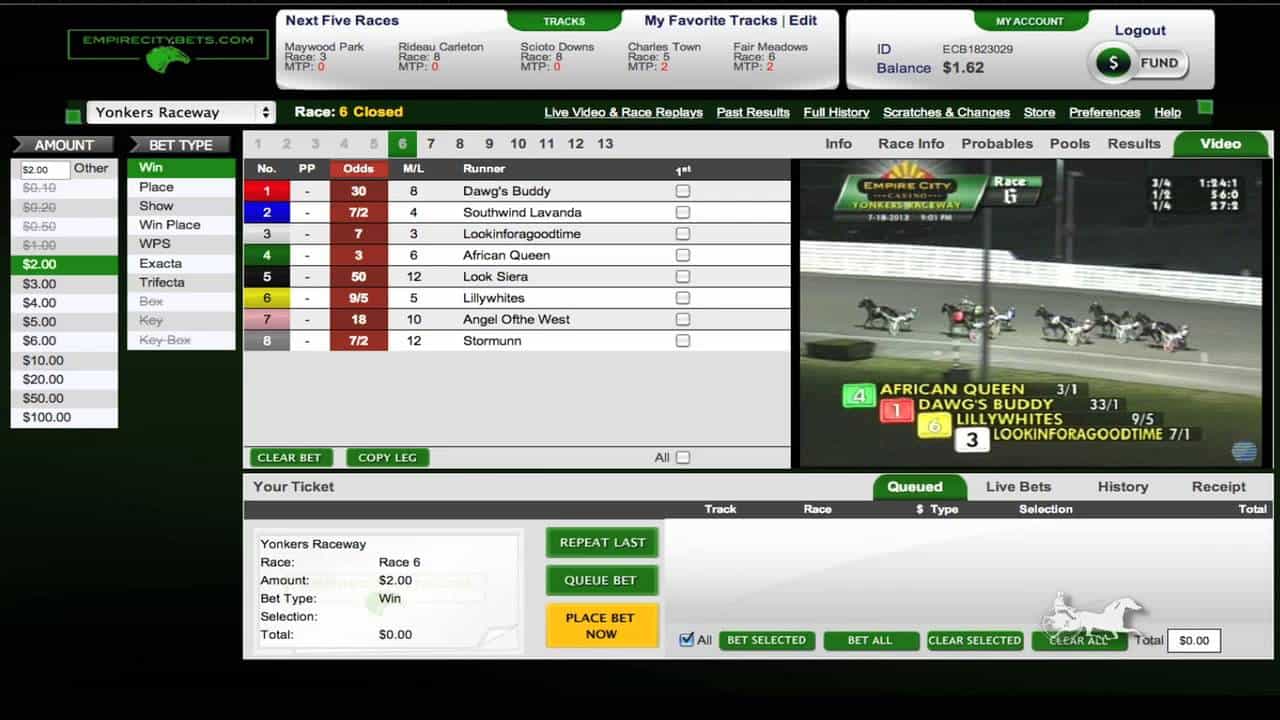 You can find plenty of legal sportsbooks that are legal for wagering on different sports. One such successful running sportsbook catering to the players' diverse betting requirements is Empire City Bets. New York City has a long history of nurturing racebooks and casino establishment. Empire City is one such popular racebook and casino in New York. Later, the Empire City app was also introduced to promote playing as well.
Empire City Bets is a pari-mutuel edition, which is owned by the Empire City Casino establishment at Yonkers. The major aim of Empire City Bets is to provide better with secure, legal, and use friendly wagering experience. The platform is licensed and powered by eBet Technologies. All the wagering happening at the platform is conducted through the Host Track pari-mutuel pool. Another important point regarding Empire City Bets is that it is tailor made for the horse racing events, and the platform has been making all the efforts to enhance its services. In this Empire City Bets review, you will get to know the details of these racebooks and why it is worth your investment.
Empire City Bets: What To Consider While Choosing Racebooks?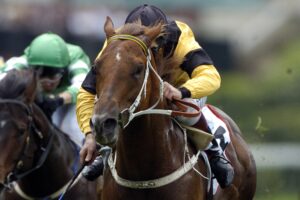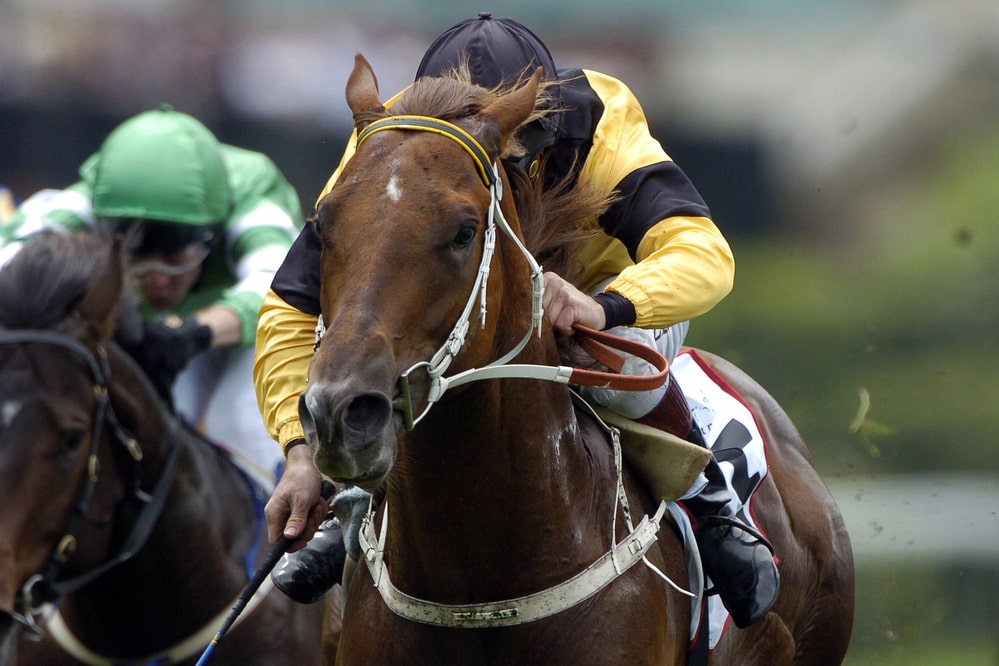 The first thing that you need to look in a racebook is its legality. Check their license and certificate that will determine their credibility. Next, check whether they have enough bonuses and promotions to keep you entertained. It is also essential to check up the different banking methods used by a certain racebook to ensure whether you are comfortable with it or not. Always check for the reviews that will give you a better understanding of the platform. Customer support is another important criterion that speaks a lot about their concern towards their customers. Make sure to keep all these points in your mind when you are searching for that ideal racebook.
Empire City Bets Bonuses & Promotions
Empire City is quite a stickler to enhancing the wagering experience of the players. When you sign up for the platform, you will receive a 100% bonus of up to $100. To avail of this bonus, you need to deposit to your wagering account within 7 days. Those who get the sign-up bonus cannot withdraw that; you have to wager it within the platform. This sign up promotion is available for all those who have recently signed up to the platform. Those who are already a part of the platform will have loyalty programs for their consistency on the platform.
Empire City Sportsbook: Types of Bets
When You are engaging with a racebook, it is important to understand the different types of bets they are offering to the players. Here is the list of bets you can place at this site-
Win-Place-Show
It is a type of horse race betting, which is also known as the across the boards. As a bettor, you need to wager on a single horse and predict how it will win, place, or show in a particular race. It is the most straightforward wagering you can engage in.
Exacta
Exacta is more of a specific wager where you need to predict which two horses will come first or second in the race. You need to give an exact criterion for winning. It is important to pick two horses from the race to finish first and second.
Trifecta
Trifecta is a variant of the exacta. Here you need to pick three different horses to come first, second, and third. The complexity lies when you have to predict the exact order of the horses. It is best preferred by professional bettors who are experienced in it.

Quinella
Quinella is quite straightforward. You just need to pick two horses to come first and second without any order. Unlike exacta, you don't need to predict the exact order; you will win as far as both the horses are the first two to finish.
Superfecta
It is the most complex type of bet that you will come across. In this bet, you need to select the first four finishers in the race that are in the right order. Even if one horse fails to reach the desired spot, you will lose. So, you need to be extra sure about it.
Pentafecta
Also known as the super high-5. You need to predict the winner, runner up, third, fourth, and even fifth finishers in the race in this bet. You need to be so sure while placing this type of bet.
Daily Doubles
It is a type of bet where you need to choose winners from two consecutive races. Daily Double is a part of pari-mutuel wager that is offered on horse racing. It is important to make your decision wisely as one wrong move can make things worse.
Make sure to choose the right type of bet that can increase your winning chances. Never choose a bet that can put you in a dangerous situation.
Empire City Casino Online & Land-based Casino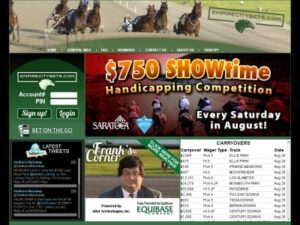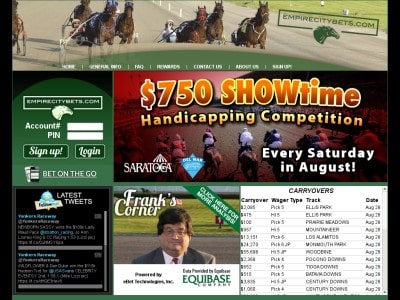 The land-based casino of Empire City is the much popular establishment that has been in existence for quite a while, situated in Yonkers, New York City. It has a large selection of casino games with over 5000 slot games and electronic gaming terminals. You can play varied table games and card games at the land-based casino, including roulette, blackjack, baccarat, poker, etc.
Address: 810 Yonkers Avenue, Yonkers NY 10704
Age Limit: 21 years
Payment options: Credit cards, debit cards, cash

Empire City Bets Mobile App
There is no dedicated Android or iOS app. But users can enjoy the web browser version as usual, as the casino is 100% available via your computer or phone's web browser. It looks and works great, plus they have a "Bet on the go" version of the website for convenient betting from your smartphone.
Banking at Empire City Racebook
Another plus point of this platform is their flexible banking methods; you can make deposits and withdrawals with ease. The platform uses different payment methods that include wire transfer, credit/debit cards, and eWallets. You can exercise any of these methods to make deposits and withdrawals. Make sure that you are comfortable with the payment option.
Customer Support
Customer support is certainly the backbone of any company. It is important to pay heed to the customers and respond to their queries and feedback. If you are facing any trouble regarding the platform, you can always trust the Empirecitybets customer support team that will always be at your service.
Conclusion
There are no evident reasons to turn down this sportsbook but you with ample reason to choose it again and again. Whether it is promotions, secure banking methods, or the intuitive mobile games, the Empire City sportsbook can certainly enhance your wagering experience. If you remain consistent on the platform, you will also get to relish the loyalty program that can increase your rewards and winning probabilities. In a nutshell, Empire City Bets is worth a shot; who knows when your luck can shine.
Choosing the right racebook is a complicated process that requires you to check different platforms before you start playing. Fortunately, we prepared all information in our reviews, so it is highly recommended to read these articles to learn more about other websites in the US and pick up the best one:
Frequently Asked Questions
Is Empire City Bets online sportsbook legal in the US?
Yes, the Empire City Bets is a legal online sportsbook that you can enjoy in the country. To bet on horse racing events, you need to be at least 21 years old.
How can I win real money on the Empire City Bets site?
First, you need to sign up at the platform and deposit an amount to wager on different racing events. Now select the type of bet you need to play and wager a certain amount on the event. According to the winning criteria, you will receive your rewards in the respective payment method.
Is there an app on Empire City Bets?
Yes, the platform has its dedicated app. You can either visit Empire City Bets directly or go to the operating systems' respected app stores to download the app.
Are there free bets promotions on Empire City Bets site?
The sportsbook never deserts an opportunity to surprise its players with promotions and offers. There is a free bet promotion on the platform that you can avail of.
Writen by: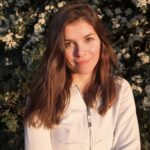 Aria works hard to make sure that residents from different states have access to honest reviews and credible information about the best legal gambling sites. She has a rich experience as a writer, SEO specialist and expert in sports betting. Sports Editor at Gamblerzz.com.