Best Review on Legal Indiana Online Sports Betting
Published: Aug 30, 2022
Updated: Oct 31, 2022
Gamblerzz.com was created to deliver the most reliable and credible information on online betting sites to US players. If you want to know everything about online sports betting in Indiana, how to choose the site to bet or to fund your account, and which Indiana sportsbooks offer the most generous bonuses for risk free bet, here we collected all necessary information for your consideration. Only top and safest betting sites are presented here to help you in winning real money and having fun.
History of IN Legal Sports Betting 
Ever since the launch of licensed and regulated legal sports wagering in 2019, Indiana has become one of the best states to bet on sports. Today, a constantly expanding network of local sportsbook websites and mobile applications has many opportunities to offer for bettors, and sports betting is developing actively here.
From mainstream to non-traditional sports, the market provides opportunities for profit and entertainment statewide. Sports betting was made possible by a legislation passed in 2018. Indiana was the seventh state to join the legal sports betting in the United States. It established its first legal brick-and-mortar casinos in September 2019 and went online statewide a month later, and now people can bet on sports in Indiana online.
Indiana Sports Betting Law
All the other American states have different laws, IN has its own set of regulations on sports wagering as well. Below is a brief breakdown of the law that all Indiana betting sites have to follow. 
The limits on in-playing wagering, along with the constraints on a data sources, are left in a care of the Indiana Gambling Commission.
Statewide mobile wagering is allowed.
You can easily register on sportsbooks anywhere from the state.
Individuals who want to bet must be 21 years old or older and should be located within the state.
You need to be a land-based facility or partner with one to provide sport betting services.
The tax rate for the gross gaming of Indiana sports betting revenue is 9.5%.
Legal Indiana Online Sports Betting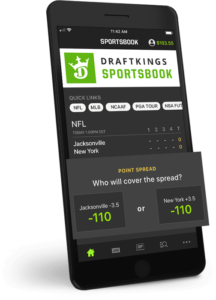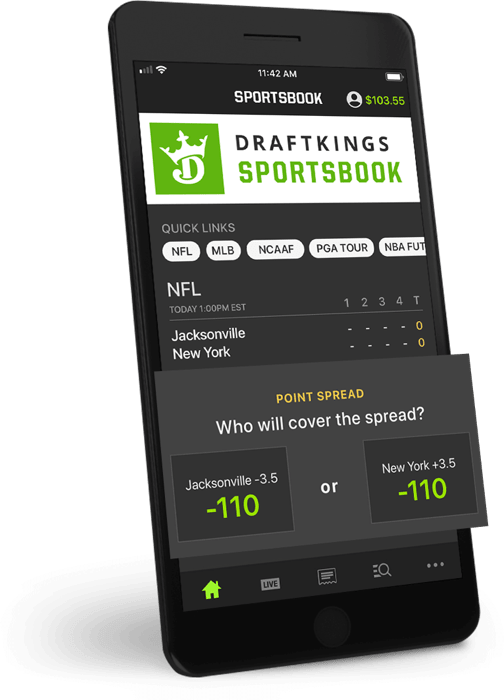 Whichever service you decide to choose, registration process is always fast and efficient. Most mobile sportsbooks do not require going through a complicated identification upon registration. Still, there are certain restrictions based on age and location of bettors. You have to be 21 years old and more to gamble legally.
You should either be a resident or a visitor of this state to place bets. Keep in mind that you won't be able to wager if you are not currently located in the state. You can still withdraw your winnings in another state. Most sportsbooks offer many options to choose from as well as various means of depositing and withdrawing funds. Most bettors prefer to use PayPal or credit card transfers. These and other payment methods are available in most legal gambling sites and apps.
Both beginner and more proficient bettors should calculate the risks of bets they make. It is recommended for new bettors to start with smaller bets and build up their knowledge and experience gradually. Most sportsbooks offer reasonable conditions and minimum bets to accommodate less experienced users.
It is also preferable not to wager based on personal preferences for a team or place too many wagers at a time, hoping to increase chances of winning.
Picking the Best Indiana Online Sports Betting Site
Each day, the gambling industry attracts more and more people willing to try their luck and placing bets on favorite sports. With a variety of sportsbooks to choose from.
Banking Methods
Banking options are important to bettors since they define how quickly, safely, and efficiently they can receive their payouts. Sports betting sites and apps also offer various deposit and withdrawal options so that bettors can choose the banking method of preference. Most reputable sites and apps support PayPal and bank card transfers which are to-date the most useful methods of deposit. When signing up for an account with a sportsbook, you should learn about their funds withdrawal methods as they may not suit your preferences.
Security
Your security is essential. Licensed and regulated sports betting sites offer high measures of web security to its users.
Promotions and bonuses
With such high competition, different sports betting sites are willing to offer specific benefits to bettors. These include special offers on promotions and bonuses. Pay special attention to sportsbooks' welcome bonuses as different services offer 100% deposit matches and risk free bet for first time users.
Sportsbook apps reputation and legalization
Reputation and legalization of a sportsbook is a definite priority to bettors. Use only the reputable providers that are licensed by Indiana Gaming Commission providers. Avoid non-licensed betting sites to protect your private information.
Loyalty programs
Highly rewarding loyalty programs are a definite plus when signing up for a sportsbook account. As the competition is high, you will frequently find betting sites and apps offering special benefits for regular users.
Customer support
Quality customer support means that a sportsbook cares about its clients and constantly aims to improve the service. In this case, the betting site will always guide you through the betting process and help you with any problems that may arise.
Choice of sports
A site should offer a variety of sports to bet on. You may have a preference for less popular sports and in that case, you will be looking for a wagering service with the most number of choices.
Apps
Most people are thrilled to have the opportunity to gamble without having to visit a brick-and-mortar casino. A site that offers a niche app for its users' more comfortable experiences is more up-to-date.
Software
Sleek and efficient software is a boon for any sports betting site. It allows the service to make the betting process an easy and pleasant experience for the bettors. Solid software is offered by Evolution Gaming, NetEnt AB, NYX Gaming Group Limited.
Betting Choices at Indiana Online Sportsbook

Online betting websites and mobile apps offer many sports to wager on. Bettors will be satisfied to find that both mainstream and niche sports are available. Popular major sports like football, baseball, basketball, soccer, and many more are available on all websites.
NFL and NBA leagues are included in a list of available categories. Wagering on horse racing in Indiana is also 100% free and is even available to persons 18 years old and more. Alternatively, there are many alternative choices including auto racing, boxing, golf, hockey, tennis, and mixed martial arts. Several other less popular niche sports are represented with a small selection of teams and games to bet on.
Indiana Land-Based Sportsbook 
The state of Indiana has some of the most trusted and reputed land-based casinos that have sportsbooks. Some of them are mentioned below. Have a look!
 Ameristar Casino Sportsbook
When it comes to land-based sportsbooks, Ameristar Casino Resort stands out as the most popular one in Indiana. Ameristar provides Super Bowl betting opportunities for all the players out there. Even though the casino offers NHL betting options and it's available throughout the whole season. 
But for Super Bowl Sunday, it's a bit different. Why? Well, it's because all the odds are placed on every portion of the game. Ameristar also provides live betting options as it's the new additions to their betting category. 
 Belterra Casino Sportsbook
The Belterra Casino is located in Florence, Indiana. The casino was the first gambling facility that included new activities, such as the Sportsbook. You will find the Sportsbook located at the casino's main entrance and has ten self-service betting kiosks where you can easily place bets on your favorite teams or sport. 
Hollywood Casino Lawrenceburg
Hollywood Casino provides 16 types of kiosks, which will help in easing up the crowd. The casino's Sportsbook has teams, such as the Indiana Hoosiers and Indianapolis Colts, and the bettors can easily place their bets on it. It provides complete service on sports wagering, and you can easily bet on sports like basketball, hockey, football, baseball, MMA, and many more.
How To Start Betting in IN?
When you have decided to do some wagering on a sportsbook, there are several which you need to follow. Please check the information below. 
Downloading And Registering For A Sportsbook App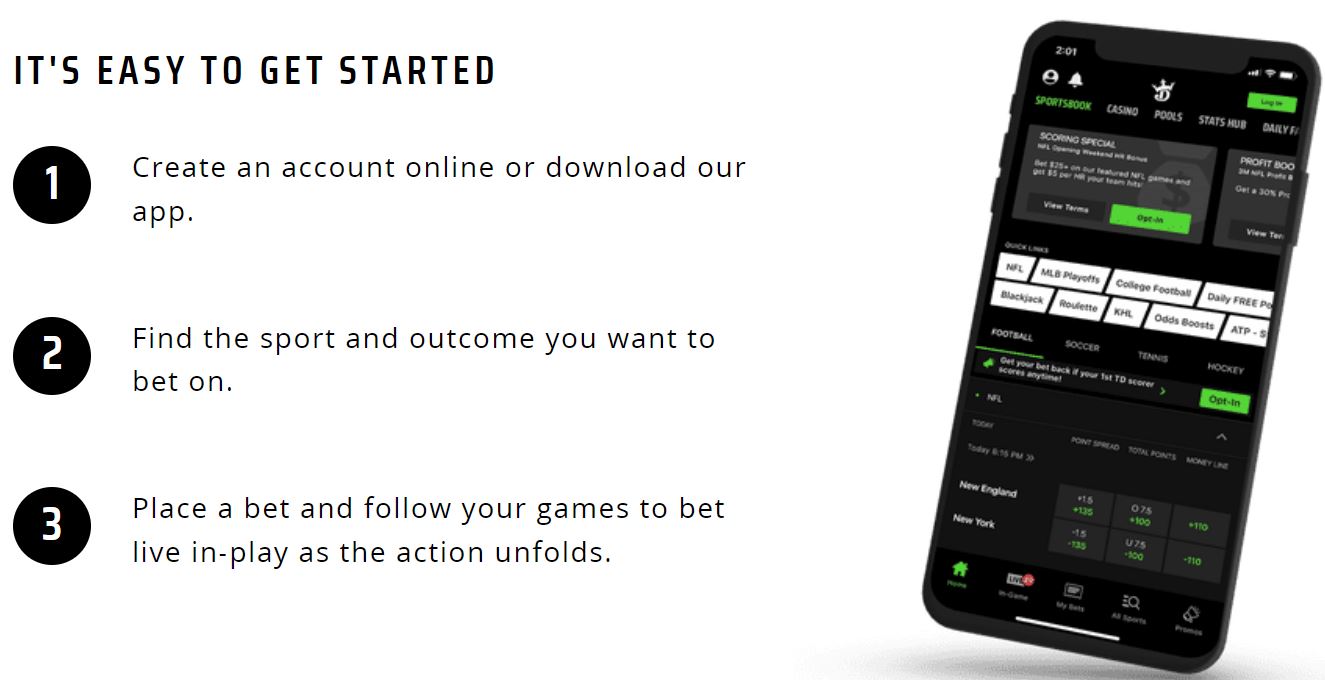 To begin your sports betting activity, you need to choose a reliable and trusted sports betting app. Finding the download links is easy because they are always available on the official website. Even though you can easily download and sign in to the app from anywhere, you will not get the chance to bet unless you are in Indiana. 
Best Indiana Sportsbook Apps For iPhone
When it comes to sports betting, most sportsbooks will surely have an iOS application, which will work iPads and iPhones. You will easily find them on Apps Store, and a link will be provided on sportsbook's website. After downloading the app, you need to complete the registration process. This method will help verify that you are an actual individual and can conduct sports betting in Indiana.
Sportsbook Apps For Android 
The method of obtaining the sports betting apps on Android smartphones like Samsung is similar to iPhones. The only discrepancy is that the application is not noticeable on Google Play Store. So, you need to download them from the actual website. Allow your smartphone to download an application, which is not present within the play store. After the download is completed, finish up the registration process as well. 
Depositing And Withdrawing 
All the apps have a simple withdrawing and depositing method. But remember, all sportsbooks do not have the same depositing and withdrawing options. But you will undoubtedly encounter methods, such as PayPal, prepaid cards, debit/credit cards, and bank transfers. 
Placing Bets
When you have funds within your sportsbook account, you can easily place your bets. If you are well aware of how the Indiana sportsbooks apps work, it will become easier for you to discover what you wish to wager on. Since all the applications are organized through sports, you will get the chance to see all the live and upcoming games. 
Indiana Sports Betting Apps
As of now, seven best sportsbooks in Indiana offer opportunities to wager on favorite local and international sports.
What these sites and apps have in common is the simple and efficient registration process. Each sportsbook has a partnership with a land-based casino and offers opportunity to wager on almost any major and minor sport. Below, you will find special benefits that each service has over the others including bonuses, special offers, and technical advantages.
DraftKings Sportsbook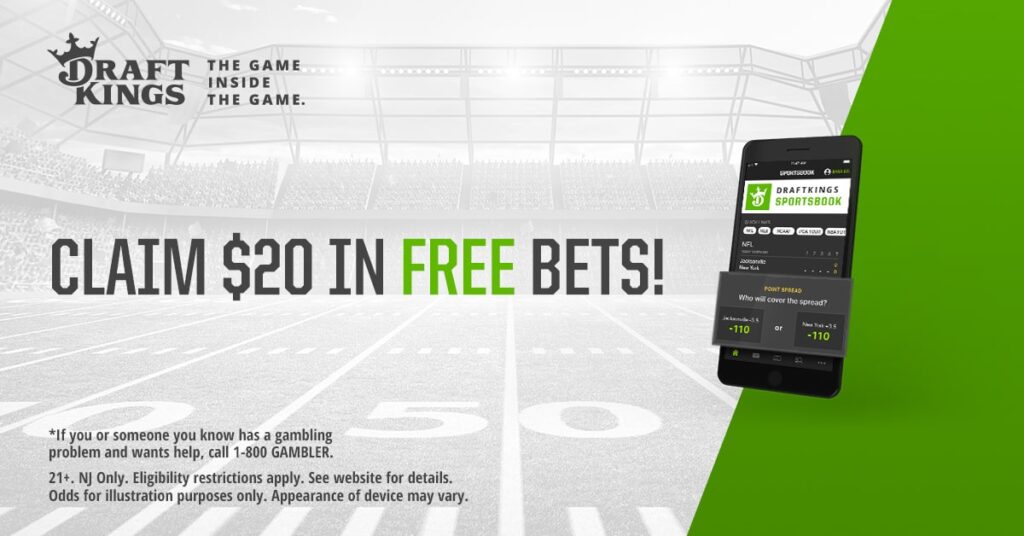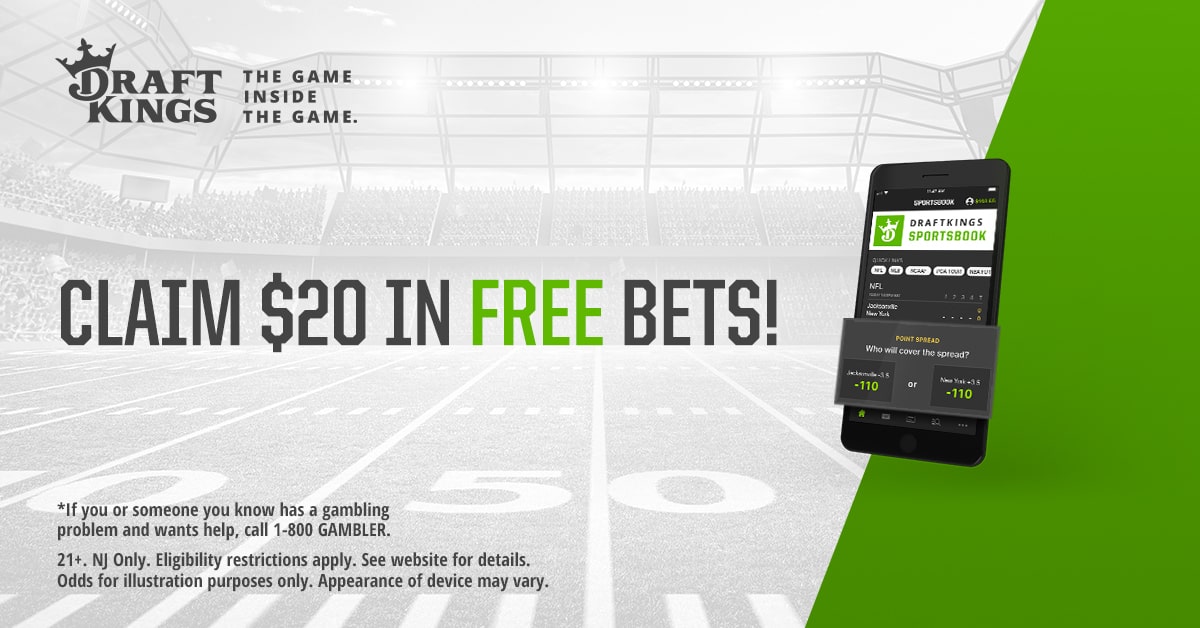 DraftKings is a reputable sportsbook with a top sports betting app Indiana can offer to you. The service earned the trust of bettors with reliable banking system, wide range of sports to wager on, and appealing bonuses. New users get to use an up-to-$500 risk free bet. If you lose this wager, the service will refund it by giving you more free bets. DraftKings offers practically every bettable sport, including NFL, NBA, college football and basketball, NHL, MMA, boxing, motor racing, and many more options. The app allows both pregame and live bets for many of the sports offered, to download the app you should go to the official website first to find links to Apple Store or Google Play.
PointsBet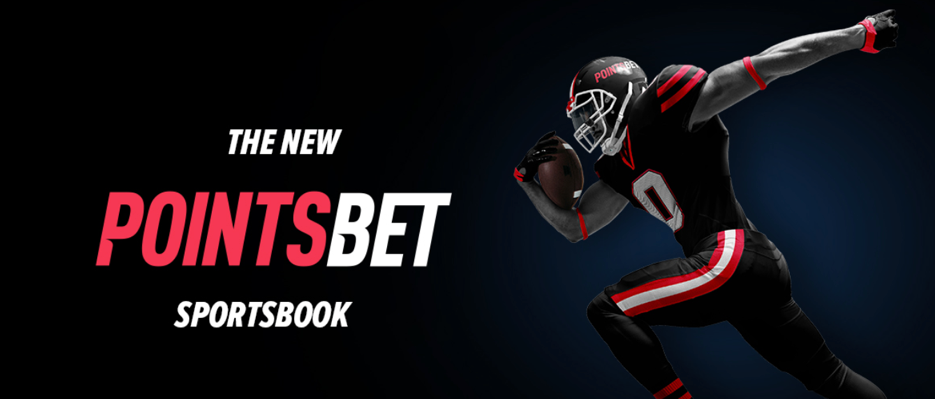 PointsBet was only launched in Indiana in 2020, but it has already gained much popularity from the bettors in the Hoosier state. PointsBet's selection of sports does not differ much from other sports betting apps, but the service is known to give its users frequent bonus bets and reduced juice bets. As a new user, you can deposit up to $250 to your account and receive an equal amount in bonuses. PointsBet is popular for its quick and simple deposit and withdrawal system, generous benefits and rewards, and even refunds on parlay bets. Alternatively, the app's payment options are limited. You cannot deposit or withdraw funds with the help of PayPal.
BetMGM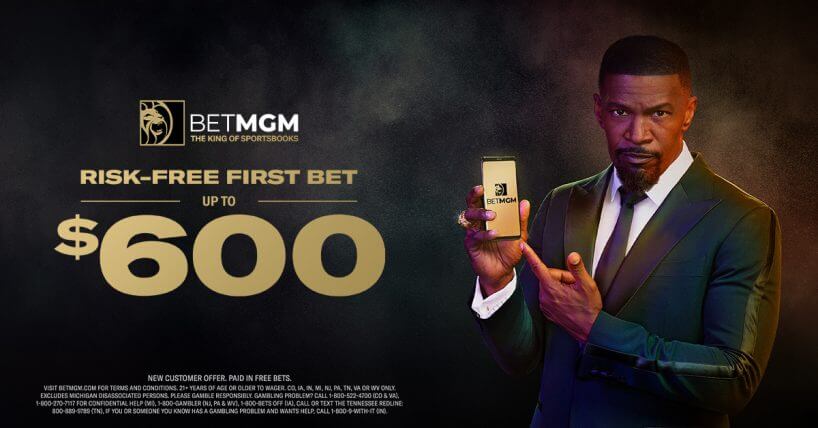 BetMGM is another trusted sports wagering app that easily attracts bettors with tempting bonuses, 100% deposit matches, and full payout opportunities. Like most other apps, BetMGM requires you to set up an account and make a deposit to start placing bets. The app offers a nice introductory bonus – a deposit match of up to $500 bonus. With a minimum bet of only $0.50, BetMGM is a great option for beginners.
FanDuel Sportsbook


FanDuel Sportsbook is one of the biggest names in a gambling scene. Both the website and the app are very user-friendly and efficient when it comes to placing bets and withdrawing winnings. To place risk free bet on FanDuel, only a 1x rollover is required, which means that you can access your winnings at a faster rate. FanDuel offers standard banking options including PayPal and money transfers from and to a bank account, which is very efficient. Additionally, on FanDuel, you can bet responsibly and control your gambling activity by setting in place deposit and spending limits. Also, this sportsbook is available at land-based location in Michigan City at Blue Chip casino.
BetRivers


Along with DraftKings Sportsbook, BetRivers was the earliest available sports wagering service in Indiana. The website and the app may lose some points for their interface, but the welcome bonuses and the loyalty programs make BetRivers an extremely appealing option to bettors.
BetRivers offers a $250 initial deposit match. There are also promo codes you can use to access bonus offers from the service. BetRivers supports PayPal, Mastercard, and several other deposit methods. You can only withdraw by online banking, PayPal, and check.
Caesars Online Sportsbook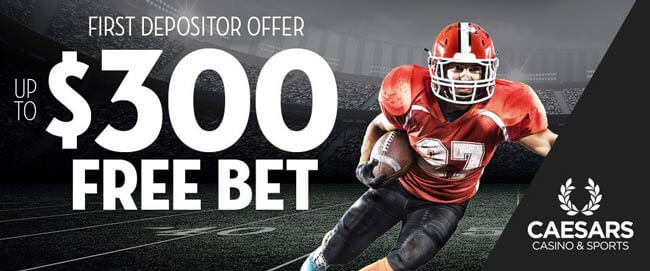 Caesars Sportsbook is the latest addition to sports betting sites in IN. First deposit on this website can give you up to $300 of free bets. The sportsbook offers a Caesar Rewards loyalty program, as well as a strong support for responsible betting.
BetAmerica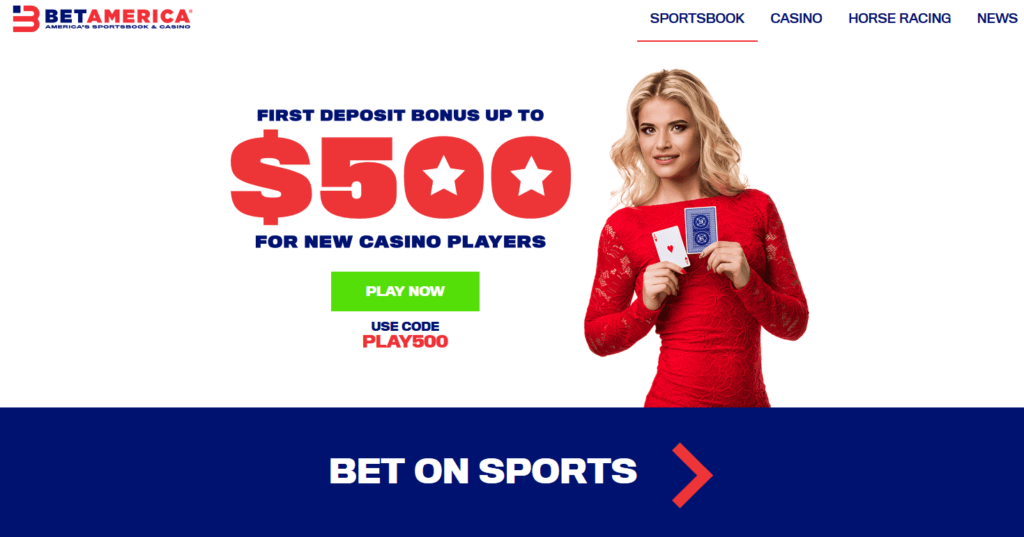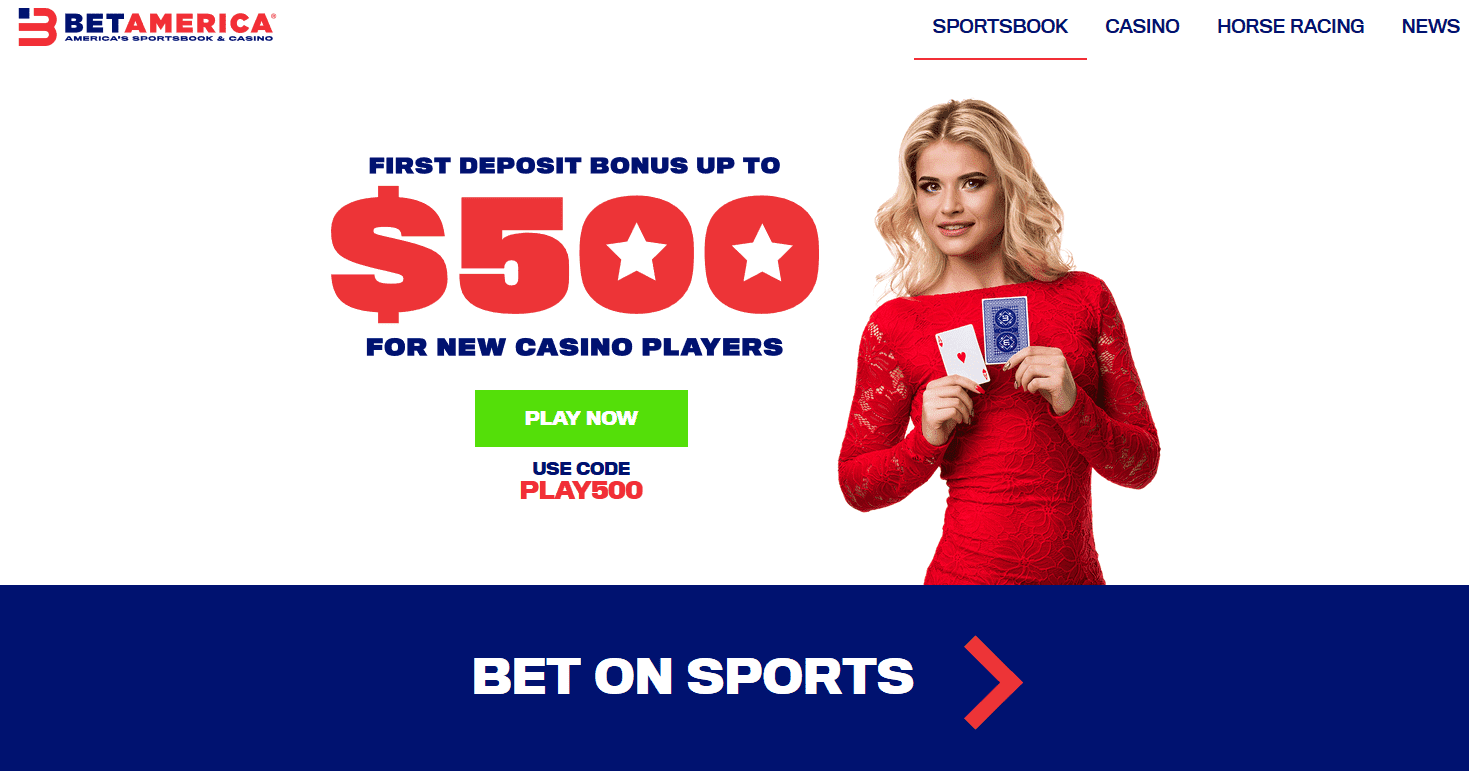 Originally a horse racing site, BetAmerica has been in operation for a long time. As a sports betting app, it offers a $25 free bet to any new user as well as up to $100 bonus in free bets. There are also special offers like "Bet $5 Get $20" as well as "Bet $20 Get $20" for in-play betting. Such offers are constantly changed and updated. Also, BetAmerica sportsbook at Rising Star casino is available for IN players.
Safe IN Online Betting and Sharing Personal Information

To gamble legally in Indiana, you need to register on a local sportsbook. The registration process is simple but requires you to share personal information with the sportsbook. Typically, you will need to provide your name and address.
To let the sportsbook confirm that you have achieved the legal age to place bets, the site or the app will ask you for the last four digits of your Social Security number. The information you share with the site is necessary to ensure that you are eligible to participate in sports betting legally.
Keep in mind that wagering sites and apps need to use geo-location software to make sure that you're on a territory of this state. Otherwise, you cannot place wagers if you hide your location. All licensed and regulated sportsbooks require such information as your name, address, phone number, and last four digits of SSN. These are to ensure that you have the legal right to wager in the United States. Use only the reputable and licensed wagering sites to avoid risking your private information. Although your safety on legal sites mentioned above is ensured, consider using a separate email to register for sportsbooks.
Registration Steps
Step 1

Step 2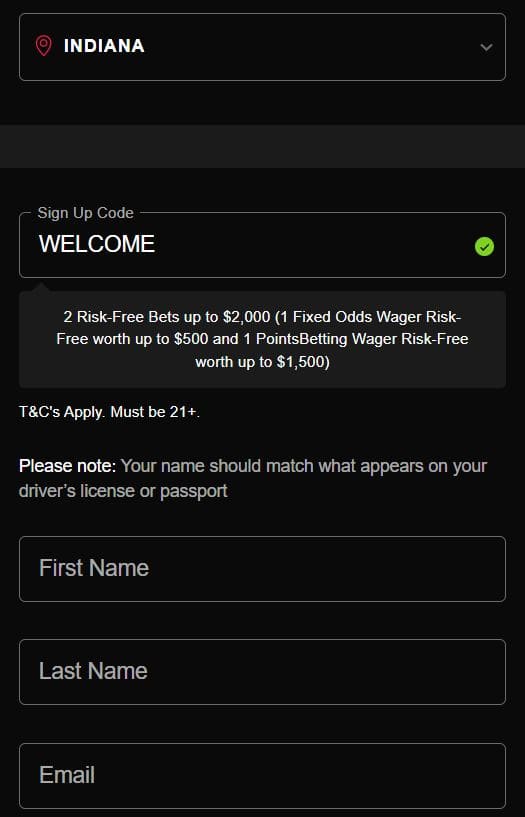 Step 3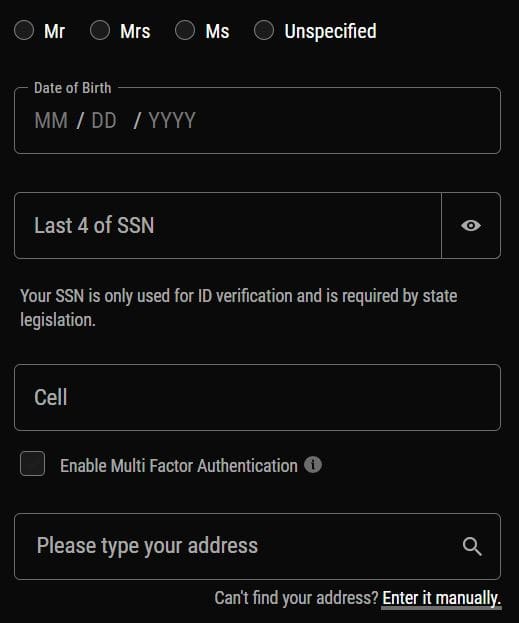 Step 4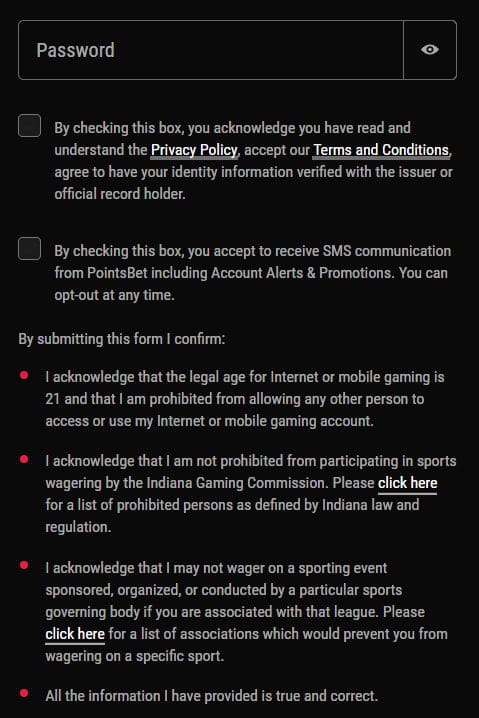 Licensing of Indiana Sportsbook Apps


Regulation and licensing of sportsbook websites are duties that belong to Indiana Gaming Commission (IGC). The sports wagering statute and all rules and regulations for legal sports betting can be found on this state's official website under the IGC's section. You can check a site or app's license in the list of wagering licensees where all legal land-based casinos and their online sportsbook partners are indicated. Additionally, you can find information on approved sports for betting in Indiana. To get the license, a gambling site needs to have a partnership with a land-based casino, racino, or an off-track betting facility. Therefore, only a licensed casino  has the legal right to receive a license to operate a sportsbook and partner with a wagering provider. Licensing requirements are determined by IGC. To apply for a license, a betting website will need to send an application to the Indiana Gaming commission and pay a nonrefundable application fee.
Types of Sports Bets Available in Indiana Betting Sites


All types of sports wagers are available to bettors on various betting sites. You can choose a wager according to your preferences in a sportsbook of your choice. All wagering providers in Indiana offer the most common bets – moneyline and parlay bets.
Spread, total, over-unders, teaser, and Round Robin bets are also available for bettors in different sportsbooks. You can place future bets, but only up until the votes are collected. Finally, local betting law allows in-game betting with minor restrictions on college sports wagers.
IN Sports Betting Revenue 
The betting opportunity in this state will be highly beneficial. With over 6 million people, the market alone can give birth to vigorous and massive possibilities. If the revenues on sports betting are adequately managed, it might reach over $6 billion annually, depending on how the market is emerging.
Local mobile sports betting apps along with the websites make up to 8 out of all the ten wagers, which are placed within the state. Sports wagering within the Hoosier State is regulated by the Gambling Commission of Indiana.
Most Popular IN Teams 
You can wager on sports which the state has in-store, such as hockey, soccer, football, baseball, basketball, and boxing. Apart from that, you can also place your wagers on international sports, which are not common in the US, such as rugby or cricket. You can check out the sports available on sportsbook you choose and get to place your bets accordingly.
Here are some of popular teams you can wager on. Have a look!
NFL 
Indianapolis Colts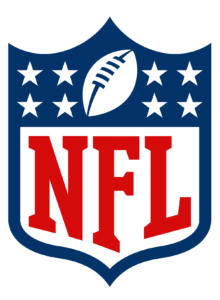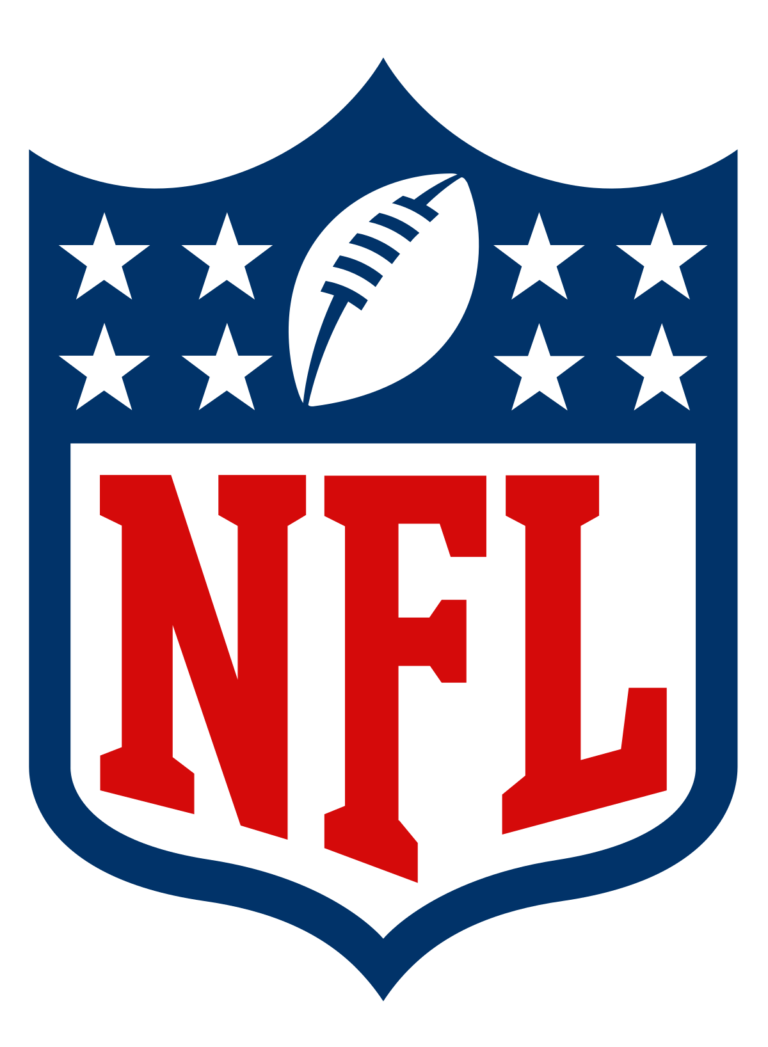 Being the founding members of the NHL, the Indianapolis Colts started playing in Baltimore back in 1953. In 1984, the team relocated to Indianapolis. The Colts had won three NHL tournaments in 1958, 1959, and 1968 right before they merged with AFL. They are also two-time super bowl champions, which they won in 1970 and 2006.
NBA  
Indiana Pacers

Indiana Pacers are known for being the best team of this state. They won three ABA championships before becoming a part of the NBA back in 1976. Indiana Pacers stand out as one of the small-market teams of the NBA, and they have made it through the playoffs in 25 out of 31 seasons. 
WNBA  
Indiana Fever
The Indiana Fever is said to share the Bankers Life Fieldhouse along with the Pacers. They have made it through playoffs for 12 seasons right from 2005 to 2016 and carry a WBNA title, which they won in 2012. Tamika Catchings, who has spent over a decade with the team, has become its general manager. Fever did have a coaching change in 2020, and Marianne Stanley took up the role.
MLB  
This state does not have a pro baseball team. But the baseball wagering market will still be available.
NHL  
The state does have a hockey or an NHL team, but the hockey market will be open. 
College Sports Teams
Now, let's check out some college teams on which you can do a bit of wagering. 
College Football  
Notre Dame Fighting Irish Football:

From the touchdown Jesus mural to the legendary golden-dome helmets, the university is filled with football history and rich traditions. They usually play five games each year against their ACC opponents. 

Indiana Hoosiers Football:

Indiana Hoosiers play within the big tent where they have won the conference championships two times in 1945 and 1967. The Hoosiers have played 11 bowl games, including the 1968 Rose Bowl.

Purdue Boilermakers Football:

Purdue Boilermakers plays within the big ten and has ranked in the 50th position for most wins through the NCAA FBS program. Boilermakers have 12 conference championships, out of which 8 of them are from the big ten. 

Ball State Cardinals Football:

The Cardinals play their home game at the Scheumann Stadium at the Muncie campus in Indiana. They competed in MAC [

Mid-American Conference

] and FBS level football in 1981.'
College Basketball  
Notre Dame Fighting Irish Men's Basketball:

Fighting Irish play their home game in South Bend, Indiana. They also play in ACC or Atlantic Coast Conference and have also made their appearance at the NCCA competitions.

Notre Dame Fighting Irish Women's Basketball:

The women's basketball team has risen to the highest level of national prominence. They have made around nine final fours along with seven. The women's team also won the national tournaments in 2001 and 2018.

Indiana Hoosiers Men's Basketball:

The Hoosiers are elite college basketball programs. They have five national championships and won their first two tournaments back in 1940 and 1953 under the guidance of Branch McCracken. They won the other three with Bob Knight in 1976, 1981, and 1987.

Purdue Boilermakers Men's Basketball:

Boilermakers play in the Big 10 and carry the most championship wins. They appeared in 31 NCAA competitions and made two final fours in 1980 and 1969.

Butler Bulldogs Men's Basketball:

Bulldogs is a program that is currently on the rise. They have competed in all three seasons of the NCAA since 1997.

Ball State Cardinals Men's Basketball:

The Cardinals play in the Mid-American Conference and have won the conference seven times. They appeared in the NCAA competitions, and one of their recent appearances was in 2000

.
 NCAA Division I Football & Basketball
 Teams that fall under the NCAA Division I are:
Ball State Cardinals

Indiana Hoosiers

Notre Dame Fighting Irish

Purdue Boilermakers
NCAA Division I Basketball Only
Teams that appear under NCAA Division I are:
IPFW Mastodons

Butler Bulldogs

Evansville Purple Aces

Indiana State Sycamores

IUPUI Jaguars

Valparaiso Crusaders
Other Events
The Lucas Oil Stadium in Indiana has an indoor setting and hosts numerous sports events. The stadium hosted the 2021 Men's Final Four and hosted the College Football Playoff in 2022. They also host other types of events, such as the Big Ten Champion Game and Indianapolis 500.
Want to play online casino games and bet on sports with your mobile legally and safely, but not sure if it's allowed in your state? We got what you need:
Indiana Sports Betting FAQ
Is sports betting legal in Indiana?
Yes. Sports betting has been completely legal in IN since 2019 as a result of the H 1015 betting bill. Residents of the state are welcome to place bets on their favorite teams.
Do I have to be located in Indiana to bet?
Yes. To bet in Indiana, you have to be a resident or a visitor of the state. Online sportsbooks use web security technologies to ensure that bettors come from Indiana. If you live outside of Indiana and use a VPN service to access a sportsbook, you will not be able to place wagers.
Can I bet online on my phone in Indiana?
Yes. Mobile betting is available in Indiana. You only need to choose a sports betting app that suits your preferences to play for real money without having to visit a land-based casino. 
Should I be 21 years old to have the right to bet?
Yes. Betting is only available to residents and visitors of the state that are 21 years old and more.
What sports can't I bet on in Indiana?
Local sportsbooks offer a wide selection of sports to bet on. Whether it is a mainstream or a more rare sport, bettors definitely have a wide range of choices. However, it is illegal to wager on high school sports that include minors as participants in Indiana. Moreover, while some states with legalized sports betting allow it, Indiana chose not to add esports to the list of sports to legally wager on. Therefore, you cannot place wagers on video gaming. Finally, those looking for legal online poker will find that poker sites and online casino games are not legalized in Indiana. You can only play poker and other casino games in local brick-and-mortar casinos.
Can I wager on college sports in Indiana?
Yes. While it is illegal to bet on high school sports in Indiana, you can definitely take part in wagering on college sports in Indiana. College football and basketball are popular sports to bet on in Indiana as the state is represented by a number of college teams.
Can I wager on sports in Indiana if I am from Chicago?
Of course, you can, but you need to be in Indiana to place your bets.
Who oversees sports betting in Indiana?
The Indiana Gaming Commission is responsible for betting in this state.
What are Indiana's tax rates and licensing fees on sports betting?
The tax rates are 9.5%, and the licensing fees are $10,000.
Who is eligible to apply for an IN sports betting license?
Sportsbooks have to partner up with licensed land-based casinos.
Can I use DraftKings Sportsbook in Indiana?
Is Bovada Legal In Indiana?
Bovada is not legal in Indiana.
Written by: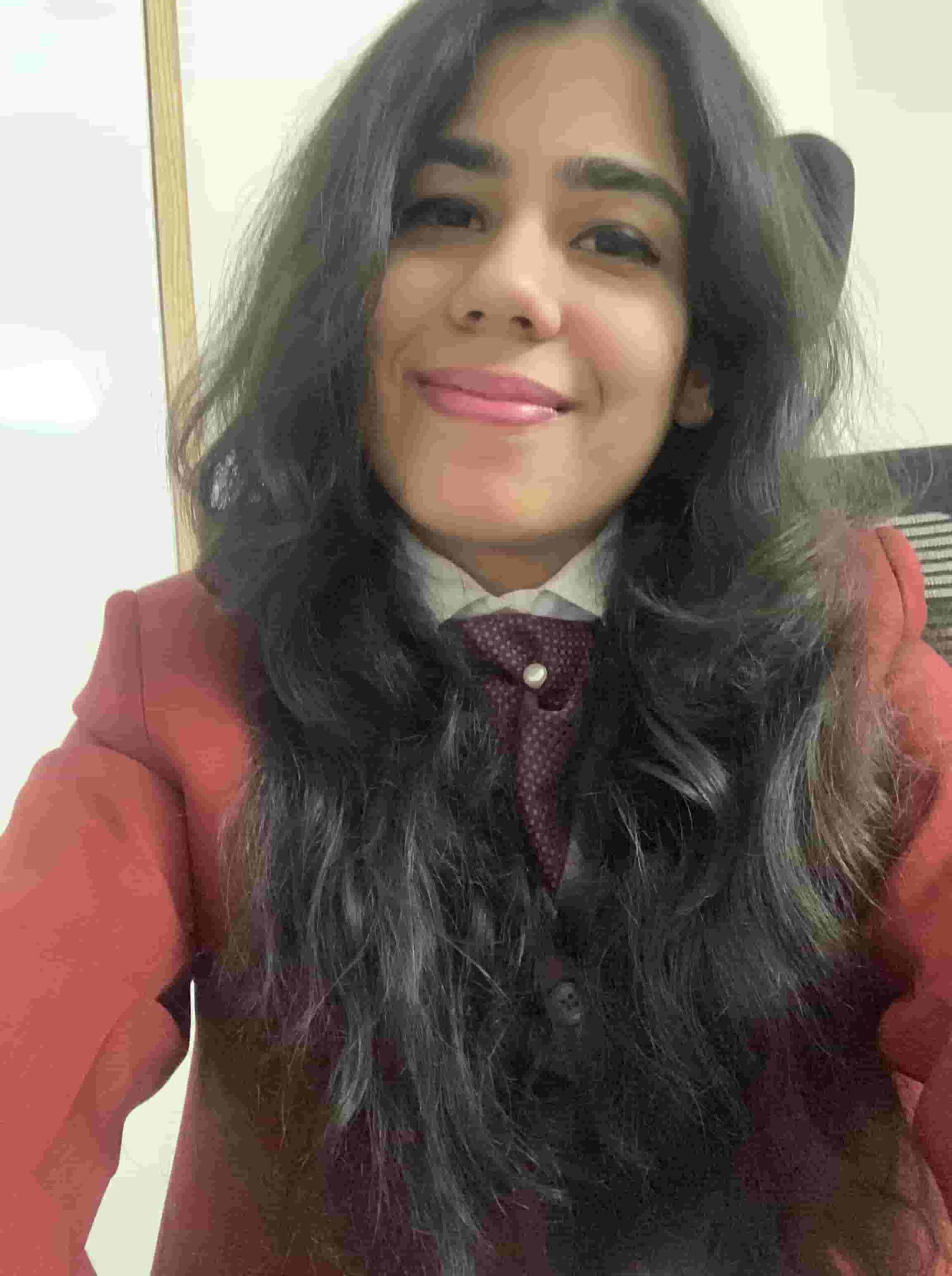 Divya is a content research and analytics enthusiast who loves curating premium content in a diverse niche. Particularly adept in creating gambling and betting reviews to offer our users the best gambling guides in the US.