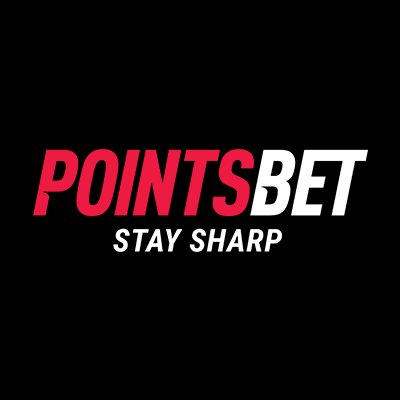 Pointsbet Sportsbook Review
Published: Aug 27, 2022
Updated: Oct 31, 2022
Copy Promo Code
PLAYNJ
Copied
Pros
+

You can place bets at any time and anywhere via app
Cons
⨯

Winnings can take up to 10 days to be received because it is dependent on the bank.
Screenshots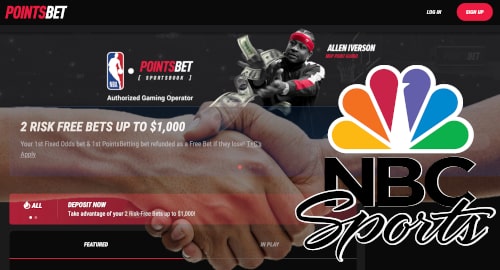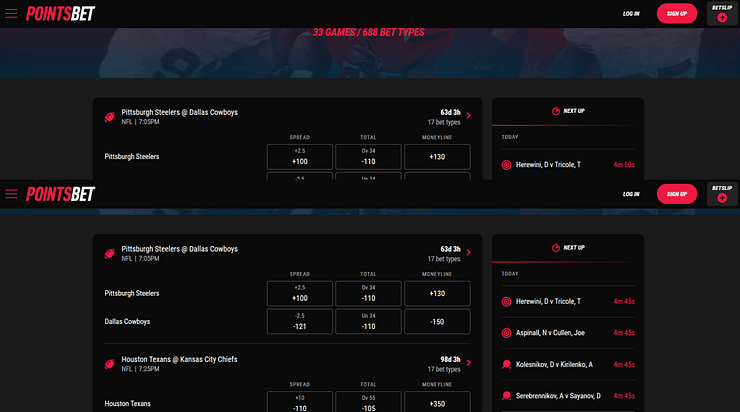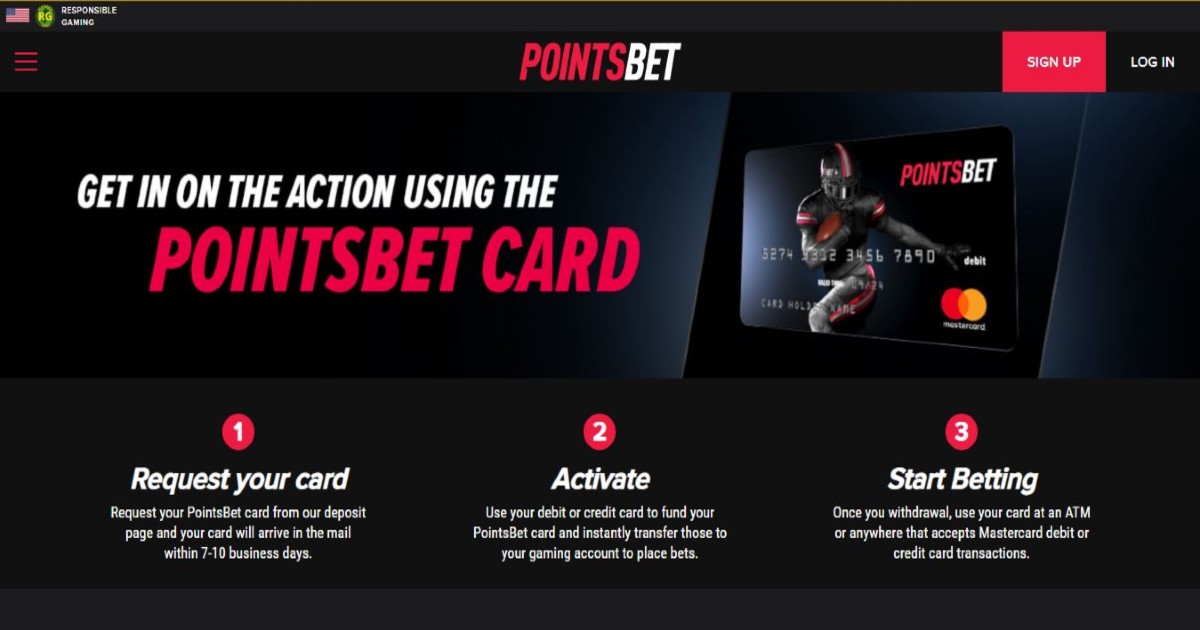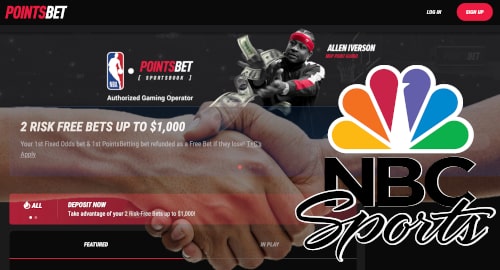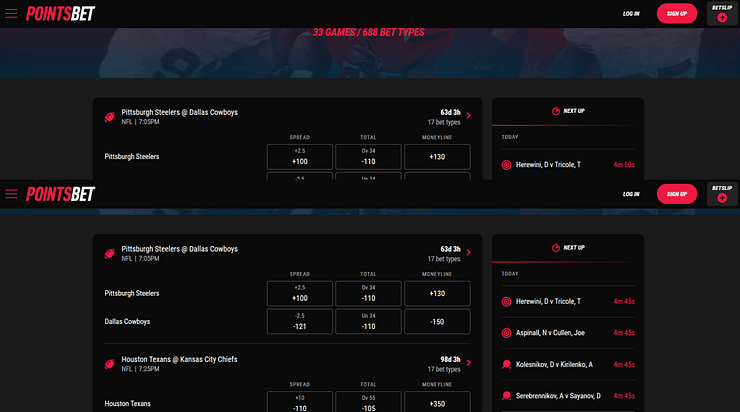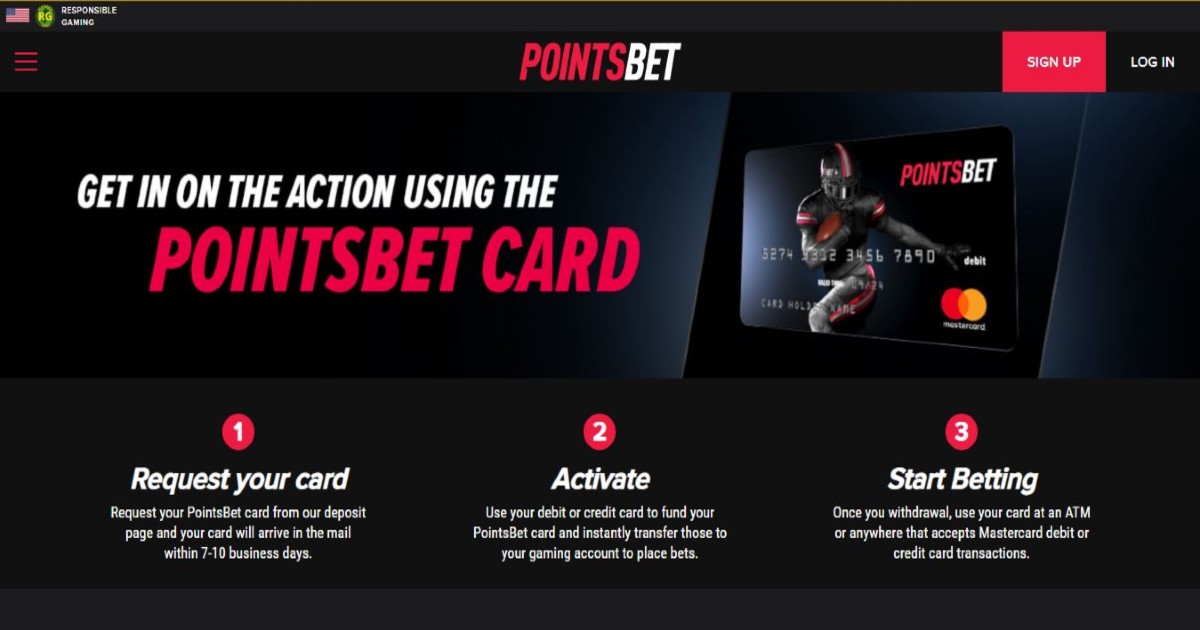 PointsBet is an Australian sportsbook founded in 2017. The company expanded to the American market in 2019 by entering the state of New Jersey. The New Jersey gambling regulations are pretty tough, but PointsBet Sportsbook managed to squeeze into the market and acquire a license. It was a matter of time before PointsBet became one of the top sportsbooks on the American market, much due to its perfect reputation, effective partnerships with sports stars, and quality of service in general.
Darrelle Revis and Allen Iverson are brand ambassadors of PointsBet, so they got a decent partnership behind their reputation. For this PointsBet Sportsbook review, information on the availability, usability, and functionality of the service are explored and presented in an easy-to-understand form.
States, Where Pointsbet Sportsbook Is Available
New Jersey, IOWA, and Indiana are the three current states PointsBet is legally available in. Soon, Pointsbet will be available in Colorado, as it has acquired a license in April 2020. New York, Denver, and Western United States are the next goals for PointsBet in terms of market expansion. Each state has restrictions on the betting process, mainly on the age of the bettor (21+) and the geographical location (has to be in the state to bet).
PointsBet Promo Code & Bonuses
New Jersey
You can get PointsBet sportsbook bonus by entering promo codes that can be found online. Bonus code PLAYNJ adds to the amount of money you can bet with depending on how much you deposited.
Deposit $50, bet with $150 ($100 extra).
Deposit $150, bet with $300 ($150 extra).
Deposit $250, bet with $500 ($250 extra).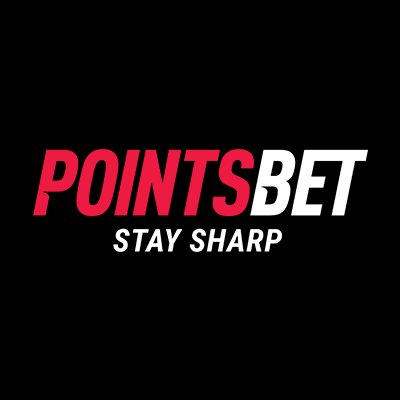 Pointsbet online betting bonus
Copy Promo Code
PLAYNJ
Copied
As can be seen, it makes sense to deposit $250 to extract the maximum value out of the new player welcome bonus. You can enter the PointsBet promo code in your account panel as soon as you register.
Colorado
AMGAMBLER is the promo code for Colorado: you will be able to use it as soon as PointsBet goes live in the state, which is speculated to happen not later than 2020. The deposit bonus is the same as New Jersey, and the players are given $25 in free bets on signup. You can consider it a risk-free first bet.
You can always search for new promo codes PointsBet Sportsbook supports, for there will be more of them in the future. Promo codes are designed to incentivize players to choose a particular sportsbook, and if PointsBet feels their welcome bonus offers are not as appealing, they will design more lucrative ones. A new promo code might appear seconds after you read this article, so feel free to check the best welcome bonus yourself.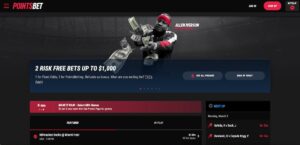 Loyalty Rewards And Special Offers
PointsBetting – the Ace in the Hole
PointsBetting, as can be evident from the name of PointsBet, is a feature supported and promoted by the sportsbook. Whereas standard betting is about guessing the right number of an outcome of a game or choosing a bracket of acceptable values, PointsBetting is a more flexible type. The core principle of PointsBetting is that you get rewarded for how right you are, and get punished for how far you are from the actual result. Say, you bet Cleveland Cavaliers to score 90 points in a game, and they end up scoring 88. You are pretty close, so you get rewarded. However, the further you are from the actual result, the more losses you get.
Loyalty Points Program
PointsBet also offers a loyalty program that earns players reward points per $1 fixed odds wagers. Parlay earns 5 times as many points per every $1 wagered. Every $1 lost or won on PointsBetting also leads to bonuses earned for the player. Every 100 points is a $1 bet award.
Special Offers
Lunchtime booster odds on Monday through Friday, from noon to 3 pm, are there to incentivize people to bet on this unpopular time bracket.
No Juice NFL spreadlines with no reduced limits, as well as occasional similar special offers for various events. Watch over PointsBet's "promotions" section to find out when the next special offer comes online.
Random booster odds is also a working system at PointsBet. It implies that a wager is chosen randomly every day, and bettors who would normally get X amount for a win, will get X*1.5, or every other booster coefficient chosen by the sportsbook. It is a great way to make the betting process more diverse and fun on a daily basis since odds for each team become more lucrative.
Name Your Bet is a promotion that takes place on Twitter. People can tweet at @PointBetUSA and request a wager that is not listed on the website. #nameabet is a hashtag that enables a comment to participate in this promotion not later than two hours before the start of the event in question.
Early payouts are available for NHL and NBA moneyline wagers.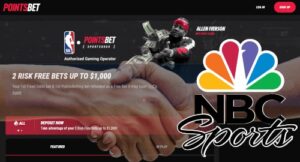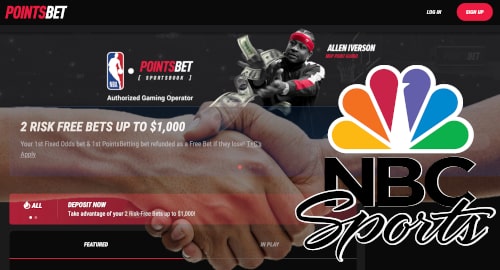 In-game Betting And Odds

For most games, live betting is available. Interactive website and apps give a wide range of fixed and non-fixed odds (horse racing as an example) for any player out there. It is best to use the app to get seamless and smooth experience with minimal lags and delays. However, if you are a PC-only user, you will not be severely disadvantaged compared to mobile bettors.
Sports to Bet on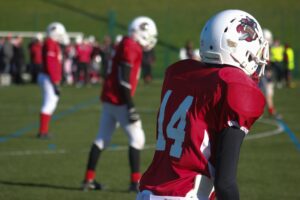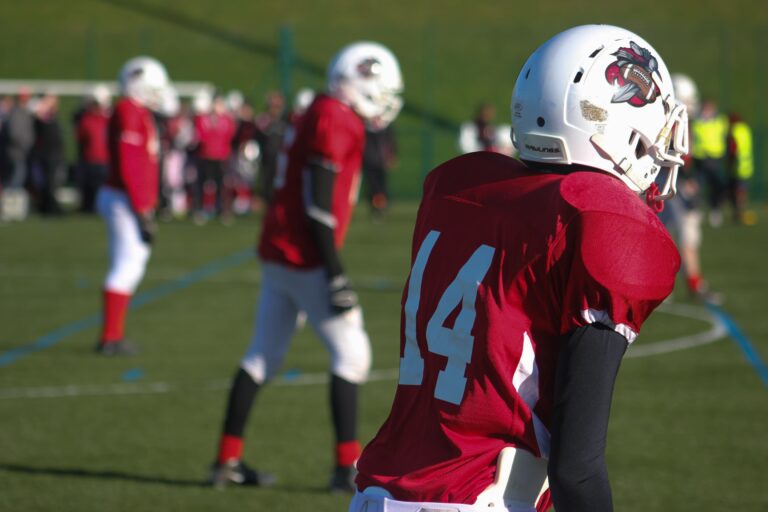 The list of available sports at PointsBet is vast. If you are not into overly exotic and unpopular sports, you will likely find games you find suitable for betting. NFL, MLB, NBA, NHL, UF, football, horse racing, MMA, motorsports, soccer, and tennis are among the sports you can choose. It is impossible to hire enough people to manage all the sports that exist and monitor all the new types of sports that appear every day. Therefore, limitations exist, and no feasible ways to solve the problem exist. If you are into exotic sports, you should look at PointsBet, and there is a high chance it is represented there.
Points Bet Type
Moneyline, point spread, halftime lines, future betting (futures), parlays, teasers, in-play, props, and total are the available types of bets punters can enjoy.
Moneyline is the simplest of them, implying betting on a team or a player to win: as simple as that.
Point spread divides two teams into the favorite and the underdog. The bettor who counted on the underdog wins if the underdog wins or loses by not more than a certain amount of allowed points.

Halftime lines are self-explanatory, as they imply new lines after the first half of the game. It is an interesting betting type because it adds another layer of analysis and adrenaline to the process.
Future betting is considered more risky by many people because it is done weeks, months, or even years before an event occurs. An example of such bet would be the Presidential elections in the US, where future bet operators thrive. A prop bet is slightly different from future betting because it is a wager on a specific event or a player, whereas future betting is usually less specific.
Parlays Imply choosing two or more teams to win, which is a more risky yet more rewarding type of betting. The ability to change point spreads is what differs teasers from parleys, as a teaser increases the odds by lowering the risks.
In-play betting occurs during a particular game, so it is happening in real time, with odds and rewards changing potentially every second.
There are games that are unique to PointsBet sportsbook, such as quarterback completion percentage, player points, assists, and rebounds; player shooting percentages, time to pass a certain number of points per player; time of the first touchdown, and more in the NFL and NBA games.
Can I play Daily Fantasy Sports?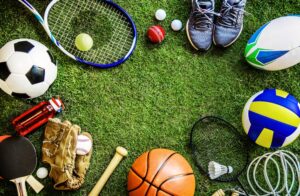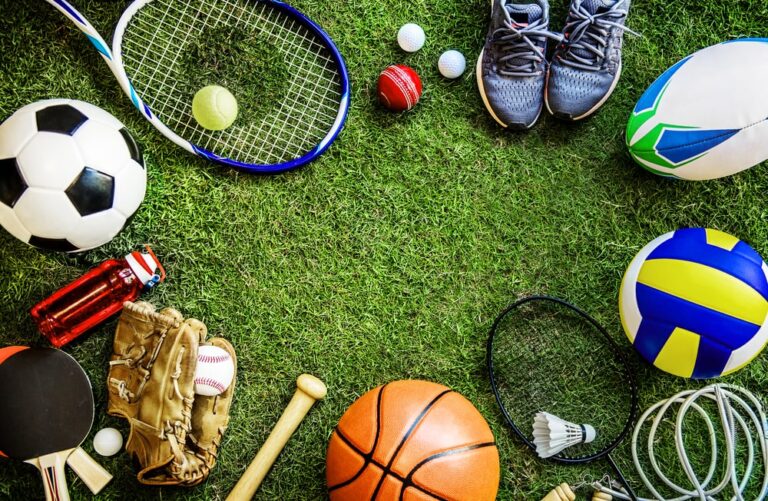 Fanduel and DraftKings were traditionally the two players controlling the market of daily fantasy sports in the US. DFS is the type of betting that implies choosing a rooster of players from different teams, and try your luck on a daily basis, unlike classic fantasy sports that occur on the seasonal basis. It is a great way of betting on performance of individual players instead of teams, so if you want to test your expertise in this field — you have DFS to do it.
PointsBet does not offer DFS yet, but the situation might change in the future. The status of the DFS is complicated, as not all states even make it clear whether it is legal or illegal. This way, Washington, Idaho, Montana, Nevada, Arizona, and Hawaii explicitly stated DFS are illegal. Colorado, Kansas, Iowa, Missouri, Arkansas, Louisiana, Mississippi, Alabama, Tennessee, Indiana, Ohio, Pennsylvania, New York, Delaware, Maryland, Maine, New Hampshire, Vermont, Massachusetts, New Jersey have legalized DFS. The rest of the states have not explicitly stated it is illegal, so it is offered by operators until banned (which might not happen at all).
PointsBet App
You can visit PointsBet directly from your browser, be it a mobile browser or a desktop one (Windows, Mac, Linux, etc.). As long as your browser is up-to-date, you should encounter no issues using the website. If you are an iOS or Android user – you can take advantage of apps created specifically to enhance user experience on those platforms. More on that in the next sections.
Downloading the PointsBet Sportsbook app
on iOS: If you are an iOS user, then you should just open App Store, type "PointsBet" in search, and download the PointsBet Sportsbook app distributed by PointsBet USA Inc. Make sure you do not have a jailbreak on your phone, otherwise you risk downloading a third-party clone of the app that might steal your data.
on Android: The same process goes for the PointsBet Android app, except you should visit Play Store instead. For Android, pay attention to have no root rights on your phone if you do not know what you are doing. Root (super user rights) makes your phone vulnerable on the lowest levels of software, so keep that in mind. The above concerns might seem like over exaggeration, but betting apps deal with money, and historically, such fields have been magnets for scammers and other bad faith actors. A sportsbook mobile app should be downloaded with attention in mind, so take a few extra minutes when doing it the first time — there is a chance you will save you a ton of money and nerves.
Banking Methods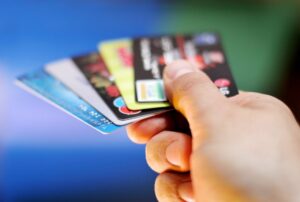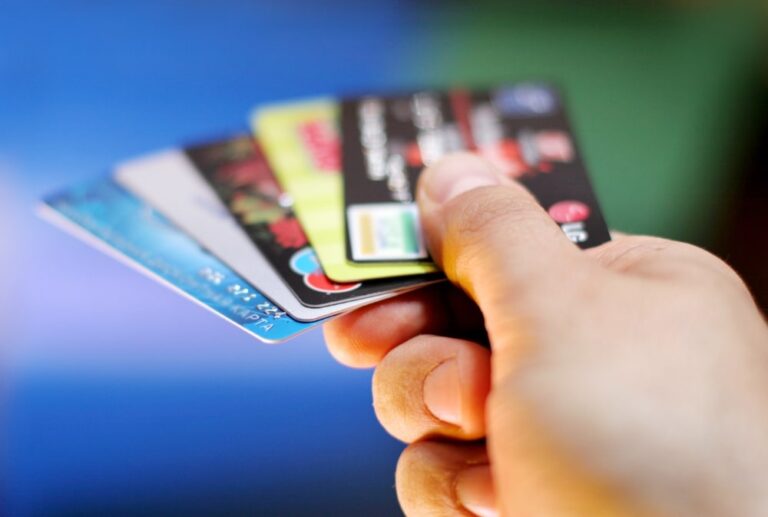 You are offered a variety of depositing/withdrawing options in PointsBet sportsbook. VISA, MasterCard, PayNearMe operate as deposit-only methods for New Jersey. Online banking, ACH/eCheck, PointsBet Mastercard (24-36 hours payout time frame), and Cash at Cage (up to 24 hours payout time) are available as both deposit and withdrawal methods in NJ.
Credit cards have a $5 minimum and $50,000 maximum deposit, and for ACH transactions there is a $50,000 per-transaction limit. Keep in mind that the minimum bet is $1.
Iowa has a scarce number of banking methods, with Online Banking and ACH/eCheck available as deposit and withdrawal options and PayNearMe as a deposit only method.
Indiana only has online banking as a way to deposit and withdraw.
What About Currencies?
Bitcoin is not yet available as the payment method, as well as other cryptocurrencies. Although it is arguably the most secure and private payment method, cryptocurrencies do not allow the government to control the taxation as much as traditional banking methods do, so they have not been adopted by US betting sportsbooks yet. Worry not, the available methods are secure too, for they are used internationally and are worked on by thousands of people. Skrill, Neteller, and Paypal are not yet available.
The currency you will have to use on PointsBet is the US Dollar, which is to be expected from a service that is tied geographically to some of the states of the country.
PointsBet Sportsbook Competitive Landscape And Reputation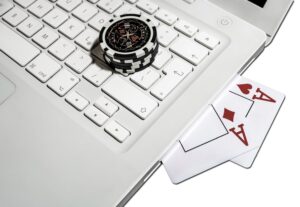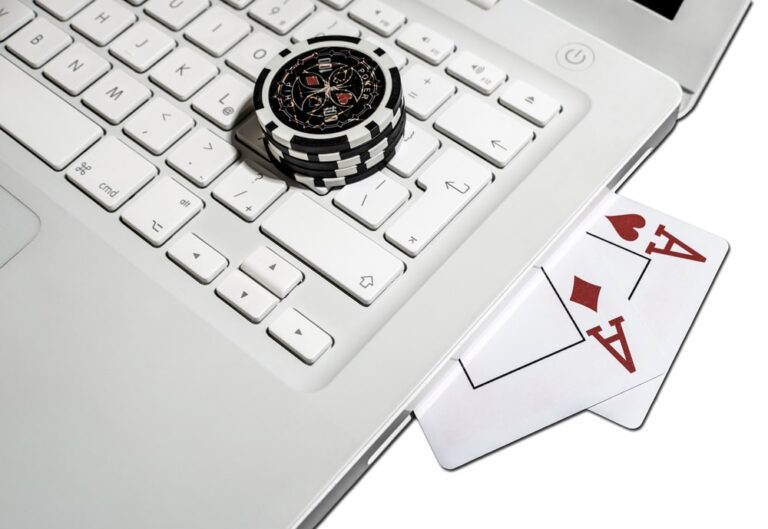 FanDuel, DraftKings, BetAmerica, BetMGM, Fox Bet, BetRivers, and Parx are the main competitors of PointsBet in the United States. The biggest two of them are FanDuel and DraftKings that have been on the market for over a decade. PointsBet holds strong positions on the Australian market and is confidently moving upwards on the US market. However, FanDuel and DraftKings are very hard to reach, for they have over billion in turnover, which is the scale not yet reached by any of their competitors. The reputation of PointsBet, however, makes it realistic to assume that the operator might overrun them in the future. PointsBet has innovative practices behind its back, adding diversification and a motivation to choose them over the mastodons of the industry. Nobody knew FanDuel and DraftKings would become so successful until major breakpoints in their history, so it is too early to give predictions. If PointsBet manages to introduce innovations akin to its PointsBetting, they might win even more market share in the US and other countries in the world. For now, they work their way from the middle tier of scale of betting sites with good prospects for the future.
The Latest News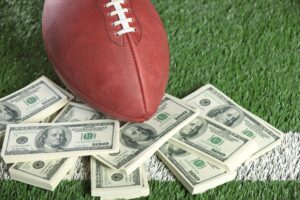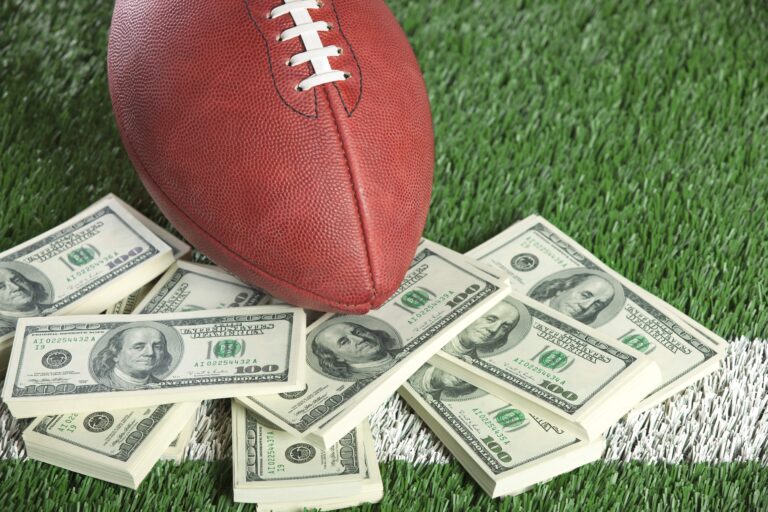 Just as any betting sportsbook, PointsBet has suffered losses from the coronavirus pandemic. It is hard to imagine a business that relies heavily on gatherings to feel comfortable during the time almost all mass gatherings are banned worldwide. If bans on mass gatherings were not enough, the world entered a deep economic crisis that approaches the Great Depression in impact on society and economy. Therefore, necessity goods and services started taking bigger portions of people's revenues around the globe, leaving less for betting and gambling. In an unfortunate spiral of events, however, PointsBet sportsbook endured and is now enjoying the so desired financial comeback in sports betting revenue. It is estimated that PointsBet sportsbook operated at a loss of over $10 million in the first quarter of 2020, and the recovery numbers are in the triple-digit territory. So, do not worry about the reliability of PointsBet — if it did not collapse during the first half of 2020, the chances of that happening in the second are slim. Soon, the company will expand to Illinois, Colorado, New York, and go further to the American West. With its innovative PointsBetting it has been successful in finding a place on any market they expanded to.
Conclusion
Among legal sports betting sites in NJ, IA, and IN, PointsBet is a great online sportsbook. It offers almost everything the competition does, and has unique features that make it worth checking out. PointsBetting alone is an exotic innovation that has not been around before, at least not to the same scale as it is on this site. We always recommend to play PointsBet if you are a resident of one of the mentioned states where sports betting is legalized and where PointsBet acquired a license from the states' governments. Hopefully, this PointsBet Sportsbook review was useful for you, as you should now know enough to make an informed decision as to what sportsbook to choose based on your preferences. PointsBet Sportsbook sports betting is a wise choice if you weigh all the factors today.
Also, we recommend you to read more about:
PointsBet Sportsbook FAQ 
Is PointsBet online sportsbook legal in the US?
Yes, it is legal in the US. Professional and Amateur Sports Protection Act (PASPA) has been overturned in 2018 as unconstitutional, so it is up to states to decide whether betting should be legal. 
What states allow PointsBet Sportsbook?
New Jersey, Iowa, and Indiana. Colorado is going to allow PointsBet before the end of 2020.
Who can play at PointsBet?
A person physically located in New Jersey, Indiana, or Iowa. Also, the person needs to be older than 21.
What betting markets does PointsBet offer?
PointsBetting is a high-risk high-reward betting market PointsBet offers aside from the more traditional ones (over 200 for NHL games, over 30 for college basketball sports, and more).
Are multi-bet options available at PointsBet? 
Yes, but do not expect the top-of-the-market features from them.
Is PointsBet Sportsbook legit?
Absolutely. US betting laws prohibit non-legit sportsbooks from acquiring licenses.
Written by: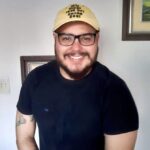 Andy is a skilled recreational gambler for more than 11 years. His primary focus is on the regulated US online casino and poker markets. Editor-In-Chief at Gamblerzz.com.