Which Is Better Draftkings Or Fanduel?
Published: Sep 16, 2022
Updated: Oct 31, 2022
The battle between the two Daily Fantasy Sports leaders, DraftKings and FanDuel, has been emerging since their existence. The two dominant brands are competing against one another to gain a considerable amount of traction in the betting industry. Both of them took a little time stepping into the sports wagering market but still have achieved a massive fan base.
DraftKings, a Boston-based firm, made its existence in the United States as one of the reputed fantasy sports betting websites. It came with the sportsbook the same year after the withdrawal of the Professional and Amateur Sports Protection Act (PASPA). It has become the world's best DFS site, offering casino games, sports betting, daily fantasy contests, etc. The site is home to nine million customers across the US.
FanDuel, on the other hand, is an original Daily Fantasy Sports Platform that introduced sports betting in 2018. It has launched online sports betting after earning authorization from the New Jersey Division of Gaming Enforcement (NJDGE). The site has three major sections: an online casino, a sportsbook, a daily fantasy site, and Betfair US.
We will start with the FanDuel vs. DraftKings comparative review containing details on every aspect.
The Competition Between FanDuel And DraftKings

In 2009, FanDuel was launched, and in 2012, DraftKings started their operations, so both have completed almost a decade ago. The competition between the top two brands had led to the integration of new incorporated sports, a massive bunch of million-dollar prize pools, the latest contest types, and many more things.
In terms of different categories, like user-base, revenue collection, etc., both were going neck-to-neck. But after a certain period, DraftKings took the top position in DFS. Both companies started to unfold some exclusive advertisement techniques to gain more customers. However, players did not like the number of advertisements they received.
Irrespective of that, both have become a household name and have passed the expansion of legal sports betting. In 2016, there was news that both of them reached a merger deal. But with the fear of a monopoly being created, it was avoided. The FTC was also clear that the deal will get canceled, following which they abandoned it.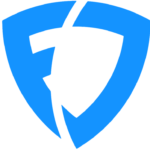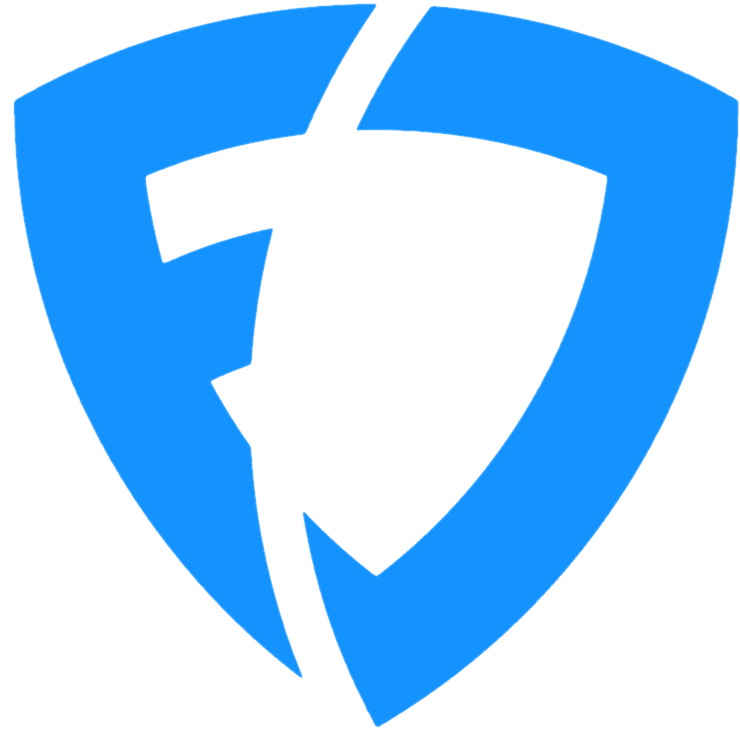 FanDuel or DraftKings, both have experienced their fair share of triumphs. In 2018, things got even better. It happened after the Supreme Court took the case brought by New Jersey citizens on the legalization of sports betting.
Soon, they received a green light, enabling them to introduce sports wagering to their audiences. As a result, betting enthusiasts and gamblers found these two brands to be more promising with respect to their sports betting needs.
DraftKings Vs FanDuel – The Journey so Far
After the Supreme Court legalized sports betting, both platforms started introducing different betting events with an aim to attract more and more players. In August 2018, DraftKings took the first step, followed by FanDuel in September. In 2018, Paddy Power Betfair, the international gaming giant, acquired Fanduel, but the name remained the same.
In 2019, it was found that the other DFS site has overtaken DraftKings with regards to revenue. The fight between the two is still on, and the important aspect is both have established themselves in the gambling sector.
DraftKings Vs FanDuel: Detailed Comparison
Daily Fantasy Sports
Are you interested in betting on virtual sports and playing daily fantasy through a single platform? If yes, you can go ahead with DraftKings and FanDuel sportsbooks. Each of them gives DFS contests with sports wagering on all major sports events worldwide. It includes National Basketball Association, National Football League, National Hockey League, Major League Baseball, etc.
On both, you will find DFS events for college basketball, college football, the PGA Tour, soccer, NASCAR, etc. However, the difference between FanDuel vs. DraftKings 2022 is that Draftkings go the extra mile to offer more events. The extra offering you can get here is Arena Football, Tennis, the Canadian Football League, etc.
All these haven't yet made their debut on FanDuel, which has created a difference between the two. So, if you want to wager on more sports events, DraftKings can be a good choice to go with.
Horse Racing
Presently, DraftKings has not stepped into the horse racing sector. But, FanDuel is indirectly giving their players an opportunity to horse betting. That is, FanDuel has a link to a reputed racebook, TVG, which is a part of the Paddy Power Betfair family. Technically, it operates a unique wagering site offering an amazing horse racing betting experience. We have found while reviewing top horse racing sites, TVG is one of the best. Here, you will get several horse wagering options happening throughout the world.
Sports Betting
Both platforms are covering all major sports events and are based on a simple wagering platform. The sports are listed in the menu button, and by selecting a particular sports event, you can get to numerous betting markets.
Both platforms will give you coverage of leagues irrespective of how small or big it is from around the world. Are you someone who just plays for recreational purposes or a player who wishes to bet on bigger events only? It can be UFC fights, a major tennis championship or a major golf tournament, etc. In this aspect, both FanDuel and DraftKings can be equally good as the odds seem to be in line with major betting operators in the country.
When it comes to sports betting, there is no particular difference. But you can try out both platforms to determine which one suits you the best. You can register on any of the licensed sites to start sports betting.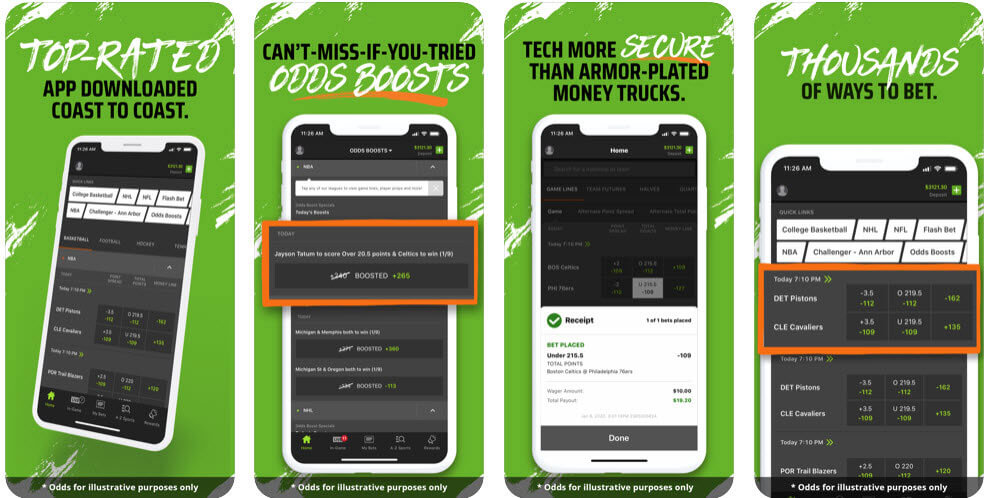 Casino Games
You will come across a variety of casino games, including popular slots, online blackjack, baccarat, table games, live dealer games, online poker, etc on both platforms. The primary difference is that, in DraftKings, the options are much less.
On the contrary, FanDuel hooks its players with a selection of online casino games, including but not limited to baccarat, poker, slots, live dealer games, roulette, etc. A link for the best online casino games is present that will take you to the Betfair casino site. By playing the new games, casino users can enjoy the best gambling experience on a single platform. Whatever you expect from the top casino provider, you will get everything at FanDuel.
Moreover, when it comes to navigating the casino games section, FanDuel is easy compared to DraftKings. We feel like the UI of DraftKings is cramped up. That is, you are presented with a lot of options like more add-ons that can be a little overwhelming, especially for first-time players.
Comparing The Sportsbook Bonuses
When deciding between the two best sportsbooks in the industry, you cannot leave out the importance of bonuses. From welcome bonuses and other rewards programs offered by both of them, all need to be reviewed
New customers receive promotions as an incentive from the betting sites. By making your first deposit, you can claim the offer.
The DraftKings sportsbook provides a 100% match bonus of up to $200 when you first sign up and make your first deposit at the sportsbook.
For example, if you deposit $70, you will get $70 extra, which means you have a total of $140 with you. The maximum amount you will get is when you deposit $200, and the sportsbook credits an additional $200 to your account. After you claim the offer, it will be given to you at a rate of $1 in bonus funds for each $10 you bet on a sportsbook. It equates to ten times your wager, which is the industry standard.
On the other hand, FanDuel offers a welcome bonus a bit differently rather than straight-up bonus cash. It gives a risk-free bet offer of an amount of $500. The process is simple – if you place your wager with your own money and you lose, the operator will refund the entire amount in your account.
Both offers have their merits in their respective ways. The offer given by DraftKings is considered better as you can withdraw your amount. The difference lies in the amount as the FanDuel bonus is huge. But in no case, the amount can be withdrawn as the money is given if you lose your first bet.

Live Betting
There will be hardly anyone who won't like to opt for live betting on sporting events and casino games. Do you wish to place a wager on the next drive of the NFL event? Who will go for the next free throw game in the NBA game? Yes, both these platforms offer a live betting option where you can bet on instances of the sporting events that are taking place live.
There are different types of sports bets available. The most popular ones include head-to-head bets, teaser bets, parlay bets, money line bets, total line bets, and straight bets. It is vital that you properly understand the rules and terms of use of each betting type so that you can make an informed decision regarding where you are putting your money.
Mobile App
FanDuel and DraftKings players are eligible to bet on their favorite sports on the go via a mobile app. The app for IOS and Android users is available so anyone can play it here. It has smooth navigation and resembles a web browser.
Both DraftKings and FanDuel apps are so good and well-designed that you can play after downloading the app for Android or IOS. While comparing both apps, the FanDuel app has a higher edge as it is more organized and attractive. However, the extra add-ons features in DraftKings, like spotlight bets, give some inspiration when it becomes difficult to find a good bet. In all aspects, both the apps are created with all the necessary things.
Customer Support
Customer service is another aspect players will look for while signing up on a sportsbook. It's because if they come across certain issues, only the professionals can help. Bearing that in mind, both websites offer significant customer service, so you can get in touch with the team when required.
FanDuel has different ways to contact the Support Department, like email, over the phone, and live chat service. DraftKings also has these options except for a live chat. In this regard, it may take some time to resolve your issues. Also, the professionals respond to email queries within 24 hours.
Payment Options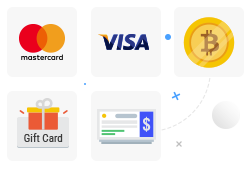 When it comes to betting, payment options become a deciding factor. Everyone would like to register on a platform that will ensure the site is safe to make transactions. DraftKings and FanDuel will give you plenty of options to make payments. Standard deposit and withdrawal methods are available, like PayPal, debit or credit cards, prepaid gift cards, etc. There is no compulsion on the payment method you have to use.
But as compared to DraftKings, FanDuel is giving more choices to you. It includes online bill pay deposits, ACH eCheck, etc., to transfer your money from your banking to your betting account. Another unique aspect about FanDuel is it has PayNearMe, which shows you can have a payslip that can be taken to the nearest store. After that, the cash can be funded to your account. In short, FanDuel has a lot more choices than others, and it is another important factor.
Availability
In the US, the states where both websites are available are New Jersey, Colorado, Pennsylvania, Indiana, Illinois, Michigan, Iowa, Virginia, Tennessee, West Virginia, etc. More states are hoping to have access to the platforms in the future. With that, they can start to wager on DFS and sports betting from anywhere.
Both websites are highly professional and well-funded when it comes to making a comparison between other platforms. Soon, many states are going to have the platforms so players can play through them.
Safety
Both brands are secure, and no scams have been reported as of now. Aspects like SSL certification, E-CORGA, etc. all make DraftKings and FanDuel trusted platforms. It means you can start to place your wager after transacting your money safely.
DFS Championships
The NFL is the biggest season for both FanDuel and DraftKings. Massive tournaments are played every week featuring a high prize pool. The highlighting feature is experiencing the live final, and every year the websites hold "champion events."
Qualifying for the events is not as easy as it may look. If you want to play, you have to earn a top position in at least one of the qualifying tournaments. Several chances are there to do so, which you get every week at unique price points.
Cashouts
In DraftKings, the amount needs to be more than $20 if you want to withdraw. Withdrawals can be transacted through a PayPal account, and it will take around three to five days. If you cash out through a check, it will take around 14 days.
In FanDuel, a valid email address, social security number, date of birth, social insurance number are required. After that, if you go ahead with PayPal, you can get the amount within two days.
However, online banking can take two to four days, while checks seven to ten days. On both sites, you cannot withdraw the bonus that you earn through promotions.
The Ending Note
Throughout the review process, we have found that both brands are secure and have created their place in the market. FanDuel has excelled in the sports betting market while DraftKings in DFS. The bottom line is both are strong contenders, and only time will give you an idea of who will excel. They also have casino games, so you have three options in one. As of now, you can consider playing on any of them. If you come across any issue, you can speak to professionals and get the query resolved.
Frequently Asked Questions
Is FanDuel legal in the United States?
Yes, the platform is legal in the country, so it is operating in different states. Signup and use the bonus if you wish to experience online sports betting and DFS.
Which platform came first, FanDuel or DraftKings?
In 2011, DraftKings introduced itself to the market, and in 2009, FanDuel. Both platforms are equally good, and you can consider registering according to your needs.
Can I play for real money in DraftKings casino?
Yes, you can play for real money, so with DFS, sports betting, you play casino cash games.
Are there any promotions for newcomers on the FanDuel site?
Yes, it has, and the promotion is a risk-free bet of $500, which you will get after losing the wager.
Can I contact the Support Department on the FanDuel site if any problem pops up?
The support department can be contacted through email, phone, or live chat.
Who owns FanDuel?
Betfair US owns FanDuel. Paddy Power Betfair acquired the brand in 2018.
Which site is better: FanDuel or DraftKings?
Both platforms are better, and you can consider signing up on anyone. The two of them have been dominating the betting sector since its launch.