US Jackpocket Online Lottery: Best Review & Promo Codes
Published: Sep 16, 2022
Updated: Oct 31, 2022
Launched in 2013, Jackpocket is the New York city-based first online gambling app. Through this gaming app, interested gamblers can purchase US lottery online tickets from their homes. It is a legal way of buying tickets from state lotteries from places where the website operates. Customers can create an account, purchase lottery tickets, check the name of the winners, and grab the prizes.
It is headquartered in NY, and the services are given to states after obtaining permission from the local regulators. Technically, buyers must understand that the app does not sell tickets but acts as a courier service. They buy tickets from authorized places while customers can save the trip. Through this Jackpocket US online lottery review, we are including all the required details about the app.
Legalization And Laws
The Jackpocket US online lottery app differs from other platforms in one aspect. It is the site that closely works with the state regulators. It sells tickets after obtaining the approval of lottery retailers concerning every state. Presently, the states getting online lottery tickets are New Hampshire, Arkansas, New Jersey, Colorado, Oregon, Minnesota, Texas, New York, Washington, DC, and Ohio. In short, the app adheres to all federal and state laws and is safe, legal, and licensed.
Jackpocket: How The Best Online Lotto Site Works?
Compared to buying from a retailer, the online option is safer. It's because the tickets get forgotten, lost, misplaced, etc. It is a reason why many lottery prizes go unclaimed each year. With the best online lotto site, the lottery ticket can be digitally locked with the identity. It means no one has the right to claim except you. Additionally, the site will notify you when you win automatically. As a result, there is no chance that you will miss out on any of your winnings.
Jackpocket Registration Process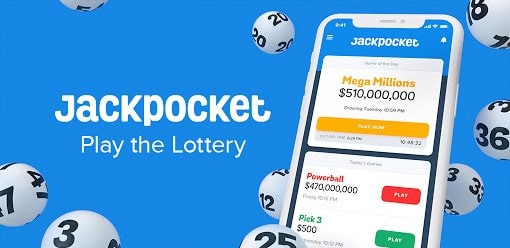 It works on a simple procedure, where users have to register on the app, make the necessary picks. After it gets done, you have to submit the order. This, in turn, will indicate the app to buy the tickets through an authorized dealer. Following this, a scanned image is uploaded both back and front that you can view in the app. A mail is sent to your email address for your ticket serial number, establishing the rightful and sole owner. You do not have the right to sell or give away the ticket to anyone else under any condition.
The users can choose their numbers, purchasing one ticket, looking for random picks, setting recurring subscriptions that will make sure you do not miss a drawing. It also supports team play, giving an opportunity to pool their resources while buying tickets in a huge quantity.
Jackpocket Banking Options
The site makes it easier to fund your online account, following which you can try your favorite game. The payment options may not be the same for all states, so you have to check the methods before opting. The choices available are a bank account, PayPal, e-check, debit, or credit cards. Apple users can also make payments through Apple Pay, and it is secure. Additionally, the play+ option is present to fund the accounts of players.
Jackpocket Bonuses And Promotions
The bonuses offered by the app are less and infrequent. They are smaller, but newbies will definitely get some offers soon after registering. Buyers receive $3 off on their first order, and to avail of that, no bonus code is required. By simply visiting the Jackpocket lottery app, you can register on the account and get $3 off on the first order.
The process to claim the promotion is to visit the platform first. After that, download the android or IOS app depending on what device you are using. Choose the banking option and deposit by specifying the amount. Once it is done, you can place your first order and get a discount of $3.
Refer A Friend Bonus
By referring a friend, you can earn $10 funds in your account. Additionally, your friend gets a free play option. In a way, the more friends you get, the more bonuses you earn.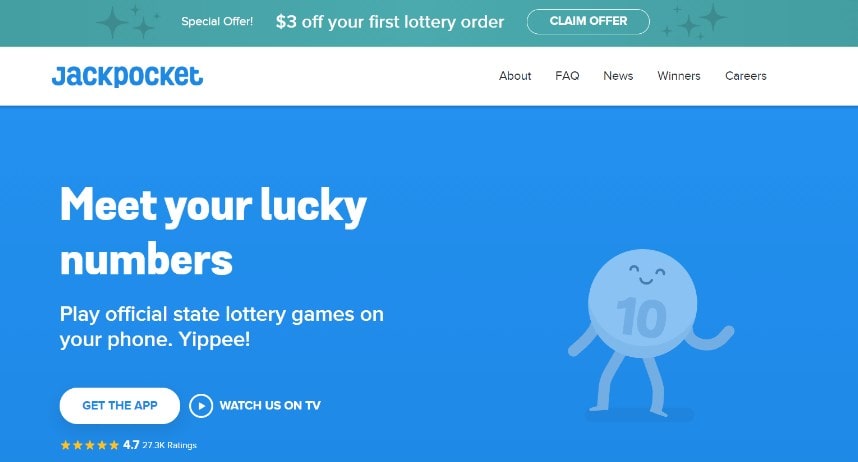 Jackpocket Costs And Fees
A Jackpocket fee is there for its service, but it is disclosed before the buyers confirm their purchases. Most importantly, they will never cut anything from the winnings received by people. Irrespective of whether the winnings are smaller or bigger, the app will never take anything from that. No fee for signing up is there that players have to pay.
Jackpocket Games To Play
Different games are offered by the popular site, and you can buy tickets, set the automatic ticket buys, and track numbers. Daily fun games and jackpots are also available at the licensed and regulated app. Some exclusive games to play at the site are:
 
Powerball: Here, you have to select five main numbers from 1 to 69, and after that, choose a single Powerball number from 1 to 26. While playing online, you have the option to pick the numbers manually.
Daily 3: Several options are available in daily 3, and here you can pick your number, wager amount, and play style. Novices can find daily 3 confusing while using for the first time.
Cash 5: It is a game, offering a chance to win a big jackpot every day. By matching all the numbers, you can take the entire amount of cash home.
Mega Millions: It is a multi-state lottery game including MEGA jackpots. Nine exciting ways are there to win, and you have to choose six numbers.
Cash 4 Life: It is another game, and you have to see the numbers you have chosen as the winning lottery number.
Treasure Hunt: It allows winning lottery prizes with a jackpot, and the starting amount is $10,000.
Several other games are also there that you can explore by proceeding to the site.
Advantages
It is a simple mobile opportunity to play NY lotteries
No hefty commissions
Available in different states
Several customer services
Syndication and pool option
Disadvantages
Handle prize collection on your own when you win more than 600 dollars.
An identity verification process is there, and users cannot use the app when they are out of the state.
How To Claim Your Winnings?
The lottery results are checked from time to time and notified to you accordingly. When you win, you will get a notification automatically. When the ticket wins a smaller prize, the prize money is credited to your Jackpocket account. After that, you can use the money to gamble or transfer it to your bank account directly. When you win a large prize, a paper ticket will be delivered to you securely. After you receive it, you can visit the state lottery and claim the amount. There is no way the site will steal your lottery ticket as the ticket scans and email receipt, including the serial number and it is with you.
Jackpocket Safety Aspects
To ensure that you are safe, you must know that the site never asks for any extra amount from Jackpocket winners. Also, you must not pay any requested or processing fee to claim a prize. If you are asked to pay any amount, ensure that you speak to the professionals and report the scam. You must not share financial or personal information, like bank account number, social security number, etc., with anyone. Through the National Council on Problem Gambling (NCPG), the site is also certified for responsible gaming.
Final Thoughts
Slowly, more states in the US can use the app when it gets legalized. As of now, the above states can prefer using the platform to play Jackpocket games online.
Frequently Asked Questions
Does the US allow online gambling?
Yes, the US allows online gambling, which is why it is available in different states.
What is the legal age for an online lottery in the US?
The legal age is 18 years which you have to maintain in order to play at the website.
Can I play the Jackpocket online?
Yes, you can play Jackpocket online.
Can I buy lottery tickets with a credit card?
Yes, you can use your credit cards to buy lottery tickets.
Can I remain anonymous if I win the lottery in the US?
No, you cannot remain anonymous if you win a lottery.