PredictIt Online Review: How to Bet on Political Events 
Published: Sep 16, 2022
Updated: Oct 31, 2022
Have you ever wager on what the outcome of the election could be? Did you ever find you have made quite a good prediction in the past? If yes, you should know about PredictIt, and it is legal for you to use. In this PredictIt online review, we would request our viewers to read through this to understand the outcomes and win money.
Read through this guide and enhance your knowledge which will help you end up making the right decision.
Is PredictIt Legit?
Launched in 2014, it is a legal political exchange wagering website in the United States. It gives you a chance to invest your money if you are interested in politics. It is offered in binary options, and bettors can purchase and sell shares, representing the outcomes related to politics. It is about who will win the upcoming election and so on. Most importantly, it is the only legit political betting website open to the general citizens.
States Available
Presently, no risks are associated when it comes to trading on PredictIt.org USA. Even when online gambling was illegal in the US, "from the Division of Market Oversight of the Commodity Futures Trading Commission (CFTC)" it secured a no-action letter. The site is permitted to function all over the United States, but it has certain limitations, restricting the full potential.
How Does Predictit Work?
First of all, the higher limit of investment at any single position a better can make is $850. The value is irrespective of how confident you are about the final result. Additionally, the upper limit of traders is only 5000, which can create liquidity problems. It happens when a bunch of traders has bought into a market and occupied the positions, without trading. However, it manages to create a massive volume of revenue. According to a report, in 2016, on the US Election Day, the trading earnings reached 13.7 million.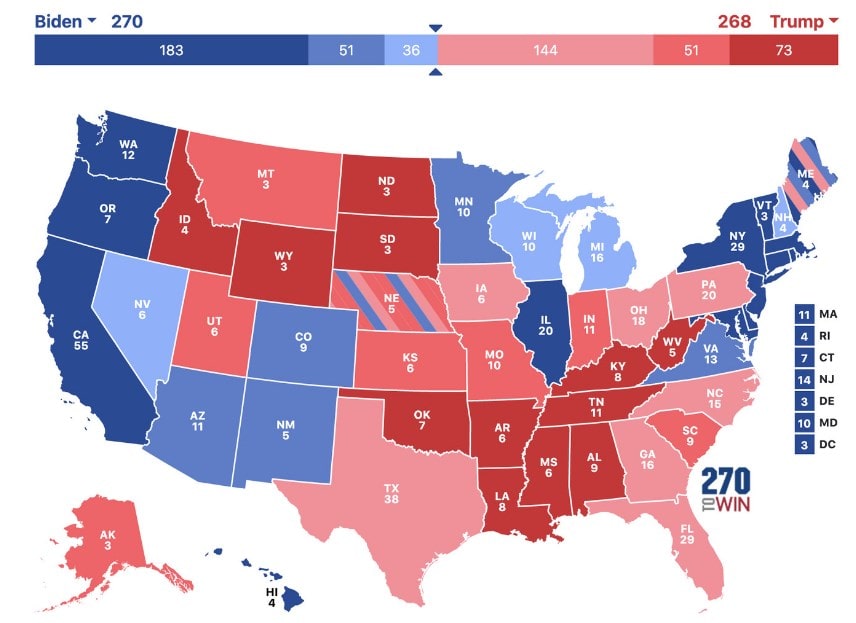 Simply put, the wager permits users to trade either "no" or "yes" on the results of the upcoming political events. The price varies from "$0.01 to $0.99" per share. When the result takes place, the "yes" shares can be converted for $1; however, the "no" shares expire. While it does not occur, the "no" can be withdrawn for $1, and the "yes" becomes invalid.
The US online prediction market pulls and pushes from $0.01 to $0.99 when the market is live. If you are confident of winning, you have time to hold and sell shares till their expiry. For example, bettors can purchase a collection of no shares for $0.40 while selling at $0.66 at the exit, locking a gain. Similarly, to cut your losses, you can cut the losses by selling off your shares. It is possible till someone is ready to purchase the shares you want to sell.
How To Use PredictIt?
Bettors familiar with binary options can understand the procedure of "buying and selling shares" on this site. By visiting the official page, choose the market to purchase shares. Move on to the next page by clicking on the market, where you will get the details. Through PredictIt reviews, know that the page will give details of the values of no and yes shares and trading volumes.
Yes Shares
For example, you found yes shares at $0.79, and 41 are available at this value. Define the highest price you want to invest with the number of shares you require. Depending on your requirements, the site will fulfill your needs. Suppose instead of 41 shares you want 50, so for that, you have to increase the price. If you escalate to $0.80, you get 41 for $0.79 first, and others at $0.80.
In purchasing yes shares, you are wagering on the candidate willing to be nominated for the election. The probability is also reflected in the value, $0.79.
No Shares
It is quite risky as the procedure of "buying and selling shares" follows a strategy. Here, you do not have to be 100% confident regarding if your prediction is right. In spite of that, you can look at shares as overvalued or undervalued. The price of no shares can be underpriced as $0.35, indicating the market has a 35% chance.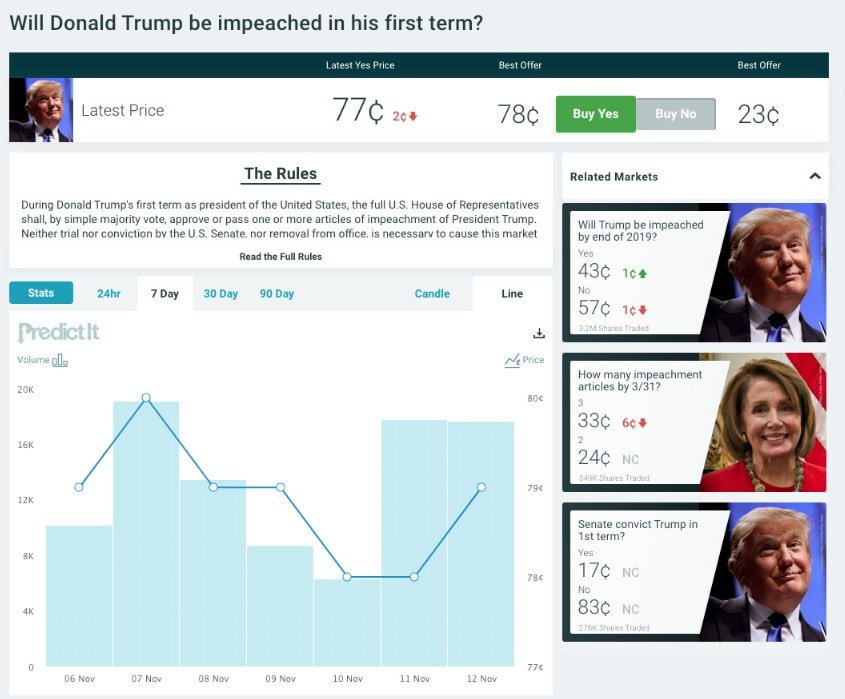 PredictIt Fees
Traders, irrespective of whether they hold a position or sell sooner to earn a profit till its expiry at $1, the wagers are assessed at a 10% fee on the total amount they gain. Besides that, a 5% charge is levied on withdrawals, and these are the two fees traders have to pay.
Customer Support
The official site has a list of questions through which you can solve your queries. Additionally, it has some videos, and a "contact us section" to write the email, subject line, and message.
Benefits
A legal political wagering site
Earn money with political predictions
Unique concepts
Drawbacks
Withdrawals have a 5% fee
10% on winning trades
No welcome bonus and match bonus
Summing Up
It is a great way to test your political knowledge and earn some money. But knowing the limited liquidity, position sizes, and high fees are some factors to keep in consideration.
Frequently Asked Questions
Is PredictIt legal in the United States?
Yes, it is the sole legal wagering site in the US. 
Can I bet for real money in the PredictIt casino? 
Yes, you can wager for real money here, and it is safe completely. 
Are there any promotions for newcomers on the PredictIt site?
No promotions are there for newcomers signing up for the first time. 
How can I contact the Support Department on the PredictIt site? 
By visiting the support section, you will come across a contact us page, through which you can speak to them. 
Who owns PredictIt?
Victoria University of Wellington is the owner of the US political-legal betting site.