Caesars Online Sportsbook Review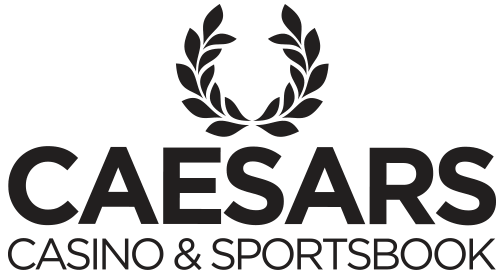 $10
Pros
+

Widespread of sport ames available for betting
+

A nice no deposit bonus of $10 and a generous $300 match bonus on 1st deposits
Cons
⨯

Games available are limited to USA-based sports, so there are no betting options for international games
⨯

No live chat on the website, only e-mail and toll-free phone calls
Owner
Caesars Entertainment Corporation
Screenshots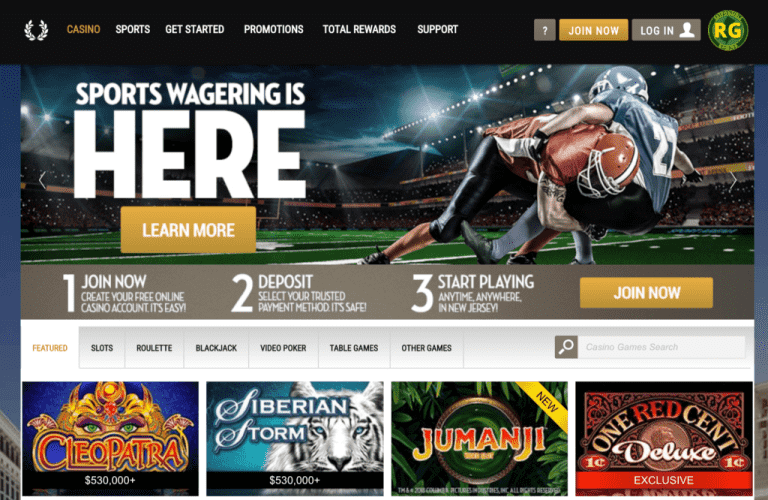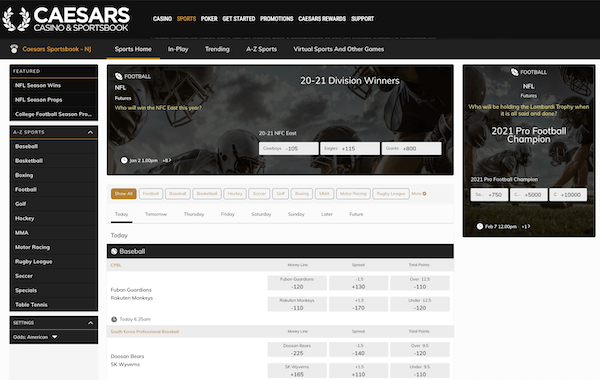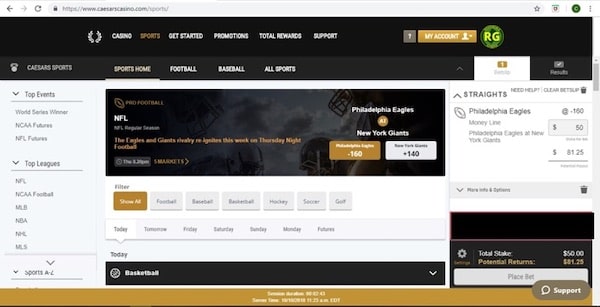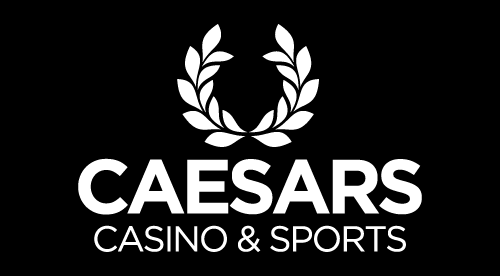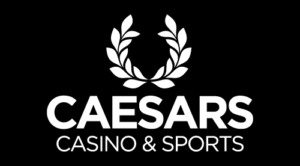 Over the years, the popularity of sports betting has grown magnanimously. With every advancement in the betting industry, the mode of betting kept changing. Today, you don't need to visit a live bookie or a land-based sportsbook as everything has been taken online.
By providing players with tempting rewards and increasing their winning chances, there are millions of online sportsbooks currently working today.
In this review, we will be talking about one such popular sportsbook that became a worldwide sensation after its launch. We are going to talk about the one and only Caesars Sportsbook.
This century-old casino establishment doesn't need any specific introduction. Still, there is a lot that you would love to know about its online portal, where you can wager on sports, and play different casino games anytime.
In this online review, you will get to know all the nitty-gritty of this platform, Caesars sportsbook bonus code, promotions, types of bets, and sports available, etc.
Without further ado, let's dig in.
What is Caesars Sportsbook?
It is a world-class online sports betting and casino gaming platform where you can play your favorite game without any location restriction and bet on different sports in New Jersey and Nevada. Don't wait in lines to make your bets on your favorite sports. With the Caesars Sportsbook, you can just skip the trouble and experience the best, safe, and secure gameplay.
Caesars Sportsbook: A Brief History
Caesars Sportsbook is a sports betting initiative that welcomes bettors worldwide to bet on their favorite sports in New Jersey, Pennsylvania, Indiana, and Nevada. The land-based sportsbook with large TV screens that allowed the bettor to bid in comforts was soon expanded to an online version. With its app or desktop version, you can easily make your bets from anywhere in Nevada, Pennsylvania, Indiana, and New Jersey.
A little summary about Caesars' Sportsbook status in different states-:
Nevada: Nevada is the hub of Caesars Palace and it was the first state to get Caesars Sportsbook available for mobile betting.
New Jersey: Caesars Online Sportsbook was launched in September 2018.
Indiana: Though the state had many offline sportsbooks, it was in May this year that Indiana got Caesars Online Sportsbook.
Pennsylvania: The state opened its gates for online betting this year only when it legalized Caesars Sportsbook mobile betting.
Caesars Sportsbook is currently available in these four states, but it won't be long for them to dominate the online sportsbooks all over the United States.
It is a much-loved online sportsbook platform that is loved by all for its varied range of promotions and bonuses. With its safe and secured payment options, Caesars Sportsbook has also emerged as a trusted platform.
Caesars Sportsbook Promo Code & Bonuses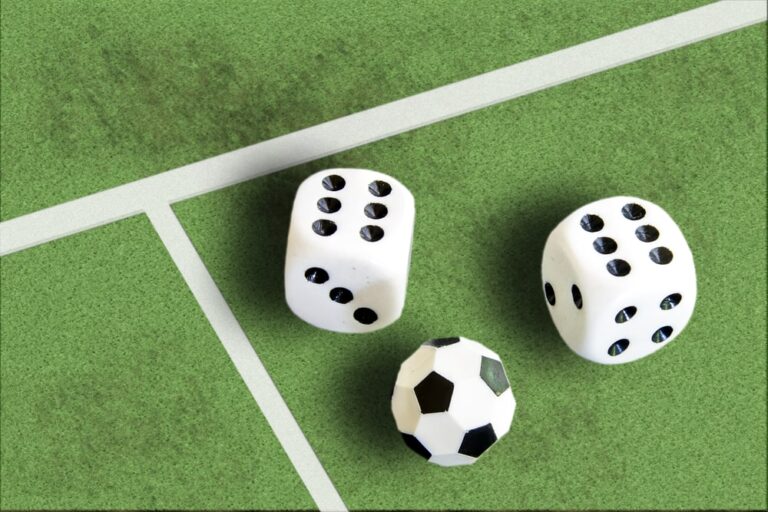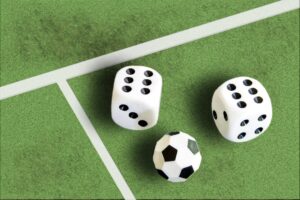 Caesars Sportsbook never leaves a stone unturned when it comes to enhancing its players' gaming experience with fantastic bonuses and promotions. At regular intervals, the platform changes its bonuses and promotions that can best make its players happy. Two of the most crucial bonuses that you have to be aware of are "Sign-up Bonus" and "Risk-Free Matched Bonus."
Sign Up Bonus: It is a type of sign up bonus given to all the new users. The Sign-up Bonus is a $10 free bet for which you don't need to make any deposit. A registered and verified account is eligible to get the Sign-up Bonus. You need to enter the Caesars promo code "BETFREE10" while signing up. You will get a free bet on any wager.
Risk-Free Matched Bet: In this promo, you will get a $300 free bet on the initial deposit of $300 along with promo code "MOBILEBET300" with the application. You can make a single qualifying bet with this promo. The primary idea behind this offer is to promote risk-free wagering. You can easily bet on a wager for a full $300 when you have spare money in the account. The free bets can be utilized on the odds, which are 200 or lesser.
Caesars Sportsbook Bonus Cash
There are larger than life offers and rewards you can expect from this sportsbook. With Caesars Sportsbook mobile app, you can earn plenty of rewards and benefits from the Caesars casino properties. You need to download the Rewards app to get the following benefits-:
All the rewards at Caesars are divided into Reward Credits and Tier Credits.
You will receive 1 Tier Credit and 1 Reward Credit for each $10 sports wager.
Once you start accumulating the rewards, you will move through four tiers that you can redeem anytime during the gameplay.
In the case of Rewards Credits, these can be redeemed irrespective of your tier status.
You can also redeem the Tier Rewards at any Caesars Casino facility. Here is the reward table for different tiers.
| | | |
| --- | --- | --- |
| Tier Status | Tier Credits Required | Benefits |
| Gold | Default | Extra promos and bonuses |
| Platinum | 5000+ | 15% off at casino gift shop, 5000 Reward Credits for friends |
| Diamond | 15000+ | $100 worth celebration dinner, Diamond Lounges access, 20% at casino gift shop |
| Seven Stars | 150,000+ | Free cruise, appreciation gift, $500 worth celebration dinner, room upgrades, the annual retreat at Caesars casino property |
Caesars Sportsbook Odds and Live Betting
A majority of the online sportsbook is making all the efforts to steer through the competition. The best way to do so is to boost odds promotion. Caesars offers odds on its Sportsbook establishment, but there is not much in line with the online platform. You can relish the live betting experience on the number of sports at Caesars Sportsbook mobile app. The live betting majorly focuses on only the big American sports and leagues. That leaves you with scant little chances to live bet on other favorite American sports.
Sports You Can Bet on With Caesars Sportsbook
If you are a sports enthusiast who loves to bet on sports and earn humongous rewards, Caesars Sportsbook is the ideal place to be. Offering a wide range of sports, including many American Sports Leagues, you can find everything you want. Here is the list of sports that are currently available-:
Football (NFL)
Horse Racing
Basketball (NBA)
MMA (UFC)
Boxing
MotorSport
Hockey (NHL)
Ice Hockey
Baseball (MLB)
Volleyball
Golf (PGA)
Soccer
Rugby League
Swimming
Bowling
Pool
Table Tennis
Athletics
Mixed Martial Arts
eSports

Types of Bets At Caesars Sportsbook
There are multiple sports available at Caesars on which you can bet, so you will get different bets at Caesars. Whether you want to make a pick at the beginning of the game, predict the players' stats, or combine multiple picks, Caesars will get you the ideal betting option.
Moneylines: It is the simplest form of betting that doesn't require any spreading, even non-gamblers can easily make this bet. It is simply betting on your favorite team or players during a league.
Point Spreads: A betting type that requires a more stringent strategy, point spreads happen when you bet on a team, and it has to win with certain points in order for you to win the bet. It is commonly used in football leagues.
Total Under/Over: It is a betting type in which you need to wager on the total and choose whether the total points will be over or under the listed points to be scored by a particular team.
Champion Futures: As the name suggests, it is a bet type where you bet on a tournament, series, event that will go on for long, and the end winner will be decided in the future.
Player Futures: It is similar to the champion futures, but in this, you need to wager on a specific player throughout any particular championship.
Win Totals: This bet type would determine your victory based on the team you wagered and their total victories. You need to tell the number of victories a team will supposedly create.
Parlays: It allows you to combine multiple bets into a single bet. It lessens your odds of winning, and increases the winning rewards.
Round Robin: It is a creative variant of Parlays, wherein you need to make multiple bets at once, instead of combining them later. Round Robin helps in covering all the odds of winning.
Props Bet: Proposition bet is a type of sports bet where you wager on the occurrence or non-occurrence of an event or situation in a game. It can be placed on a team, player, or the entire game.
Teasers: It allows you to combine two of your bets in two different sports. You can align the spreads for both the games.
Caesars Sportsbook Software: An Overview
After setting its credibility and emerging as an icon in the land-based casino industry, Caesars Sportsbook entered into the online platform. It didn't take long for the sportsbook software to become a huge hit amidst the users. With Caesars Sportsbook app, you can relish all the benefits and experience the unaltered gaming experience.
Availability: Caesars Sportsbook app is available on both Android and iOS devices. To get the Caesars Android app, visit the Playstore, and for iOS, go to Apple App Store. Visit Caesars directly to download the app through the mobile browser. You can use the app on all the devices, be it smartphones, tablets, desktops, etc.
Overall Performance: The app has an intuitive user interface that makes it easy to navigate and provide one of a kind experiences to players.
Caesars Online Banking Methods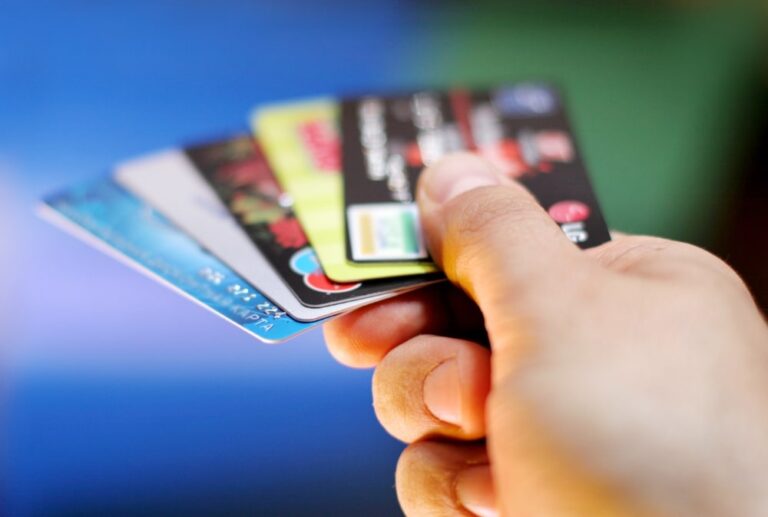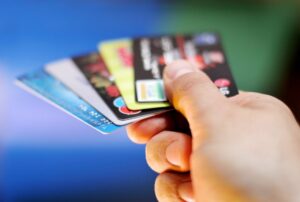 Caesars has been best known for its safe and secure banking process that increases the loyalty amongst the players. It is a licensed and regulated sportsbook where users can use secure payment options.
The impressive flexibility and no-fee withdrawals are the major highlights of the Caesars payment options. You need to give your identification and address proof before starting to deposit at Caesars.
Caesars offers a wide range of deposits and withdrawal methods that makes it easier for players to stay. Let's learn-:
Deposits: Following are the methods through which you can deposit at Caesars-:
Credit/debit cards: You can use your Visa, American Express, Discover and Mastercard for credit card transactions. Visa, Mastercard, and Discover are allowed to make debit card deposits
ACH Bank transfers: Directly transfer the funds from checking account with ACH transfers. The eCheck program is a preferred option for this method.
PayPal: For quick and easy transactions, Caesars accepts the PayPal deposits.
Wire transfer: If you want to go with the traditional wire transfer, you can do that as well.
Play+PrePaid Card: With Caesars Play+PrePaid Card, you can make the deposits faster. You can also use it where your Discover cards are accepted.
Cash at Cage: Cash is accepted at the cage of Caesars' casinos.
Neteller: Make online transactions through Neteller.
PayNearMe: You can use PayNearMe to make deposits from any 7/11 stores.
Withdrawal: Following are the methods through which you can withdraw your rewards from Caesars-:
Bank transfer
Caesars prepaid card
Neteller
Cash at cage
PayPal
The Future of Caesars Sportsbook
Undoubtedly, Caesars Sportsbook is emerging into the most innovative and trusted legal online sports betting platform that is available in two major states of the United States. In the coming few years, we can witness tremendous transformation in online sports betting and the availability of Caesars online sportsbooks in other major states.
Bettors are particularly keen about playing at Caesars Sportsbook because they have focused more on increasing the quality of the gameplay that has evenly encouraged players. It gives you ample opportunities to bet on your favorite sports and relish the wide range of casino games on the platform.
Easy sign-ups, deposits, and withdrawal processes make it even easier for players to stay around the platform. So, it is quite evident that with more and more advancements in the coming future, the popularity of Caesars Sportsbook will only skyrocket and conquer many milestones.
The Impact of COVID-19 on Caesars Sportsbook
According to reports, Caesars Entertainment Inc., which includes the whole of Caesars casino and sportsbook establishment, both online and offline, are going through a bit of a rough patch. When it comes to the land-based casinos, they have been completely shut down. As a result, Caesars had to furlough about 90% of their employees from their owned and domestic properties.
People are asked to stay at home and not engage in any social gathering that clearly cuts out casinos from the scene. The Caesars casino establishments at Nevada and New Jersey are going through a time of financial crisis as they are not able to roll out their revenue.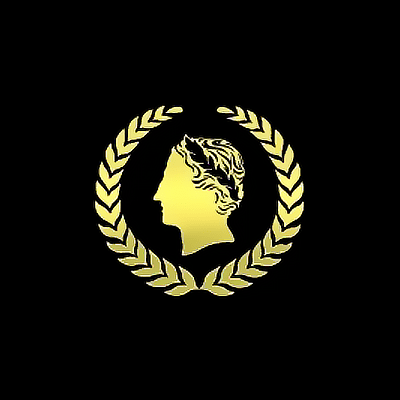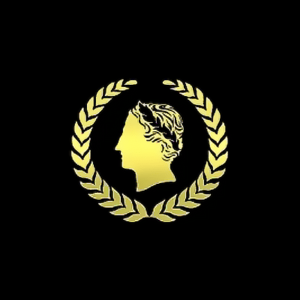 The consequences of COVID-19 have compelled them to cut short their manpower and move towards minimal workforce requirements as there are only a few basic requirements that need to be met. Tony Radio, CEO, Caesars Entertainment, said that they are taking all the necessary steps and initiatives to bring the financial position of the company on track.
It is not only Caesars Entertainment that is going through a rough patch, but all of the casinos and sportsbooks are having trouble managing their financial situation. Some of the major competitors of Caesars include 888 Holdings, Betfair Group, Camelot, Las Vegas Sands, SJM Holdings, and MGM Resorts.
Caesars Entertainment is now shifting its focus towards enhancing the online sportsbook to mount up their revenue and improve the current situation. You can see plenty of exciting offers and promos that will keep you engaged and increase your chances of winning real money during this time of crisis.
Why Can You Prefer Caesars Sportsbook Anytime?
Bet on your favorite sport including, hockey, golf, pro football, college basketball, and many more.
It is a widely known brand that has proven its prowess in the land base sportsbook.
Get access to 500+ casino games like roulette, blackjack, slots, etc.
Caesars Reward, Tier Credits, and Online Reward Credits are available for all the mobile casinos and sports betting. You can play and redeem from anywhere.
Easy and instant fund deposits and withdrawal from the mobile account. After thorough verification and location access, you can make the deposits.
Get access to your rewards, winnings, and bonuses at Caesars Entertainment Play.
Conclusion
If you are among those bettors who are looking for quality and trusted betting opportunities, Caesars Sportsbook app is the best choice for you. The incredibly user-friendly and easy to use app will make everything seem like a cakewalk on the platform. Another major selling point of the Caesars Sportsbook is its multi bets and Caesars Rewards Program. There is more than one reason to choose Caesars Online Sportsbook over others.
Choosing the right sportsbook is a complicated process that requires you to check different platforms before you start playing. Fortunately, we prepared all information in our reviews, so it is highly recommended to read these articles to learn more about other websites in the US and pick up the best one:
FAQ
Is Caesars Online Sportsbook Legal in The US?

Initially, New Jersey and Nevada were the legalized states for Caesars Sportsbook. Later this year, Pennsylvania, and Indiana were included in the list. So, yes, Caesars Sportsbook online is legal in New Jersey, Nevada, Pennsylvania, and Indiana in the United States. 
What States Allow Caesars Sportsbook?

Currently, the United States online sportsbook law is planning to extend the reach of Caesars Sportsbook to all the major cities of the country. Right now, you can relish in four key cities: New Jersey, Nevada, Pennsylvania, and Indiana. Playing outside these states is not legalized, but gradually, you will witness some positive changes. 
Who Can Play at Caesars?

You must be at least 21 years old to start making deposits at Caesars and place your bet. Many states in the US have legalized 18 years as the legal age for betting, but playing at New Jersey, Nevada, Pennsylvania, and Indiana need you to be 21 years or older. 
What Betting Markets Do Caesars Offer?

The betting markets of New Jersey, Nevada, Pennsylvania, and Indiana are currently open for these states' bettors. There is a wide range of sports on which you can bet through Caesars. Here's the list of sports you can bet on-: Football (NFL), Horse Racing, Basketball (NBA), MMA (UFC), Boxing, MotorSport, Hockey (NHL), Ice Hockey, Baseball (MLB), Volleyball, Golf (PGA), Soccer, Rugby League, Swimming, Bowling, Pool, Table Tennis, Athletics, Mixed Martial Arts, eSports.
Who Owns Caesars Sportsbook?

Eldorado Resorts, a chain of gambling houses, bought Caesars Entertainment for worth $17.3 billion. However, the current pandemic has become a significant hindrance to the acquisition and Eldorado is trying to close the merger. So currently, the ownership of Caesars Sportsbook is in a dangling situation. 
What is the Maximum Bet Amount on Caesars Sportsbook?

The maximum wager depends on each sport and customer preference. Before starting the app, you can speak with the sportsbook manager who can set your limits before you can place a bet on high limit wagers. The minimum bet can be as little as $5, and for the maximum, there is no said limit that can restrict you from betting high.