Boom Fantasy DFS Betting Review
Published: Oct 12, 2022
Updated: Oct 31, 2022
Pros
+

Instead of picking players to fill out a fantasy roster, users make a series of predictions based on player performance.
+

Boom Fantasy can be accessed via a browser, or it has an app for iOS devices (iPhone & iPad).
+

The registration process is very easy. Enter your name and an email address/phone number and you are in.
Cons
⨯

Not a good choice if you enjoy building lineups.
⨯

Customer support via live-chat only.
Screenshots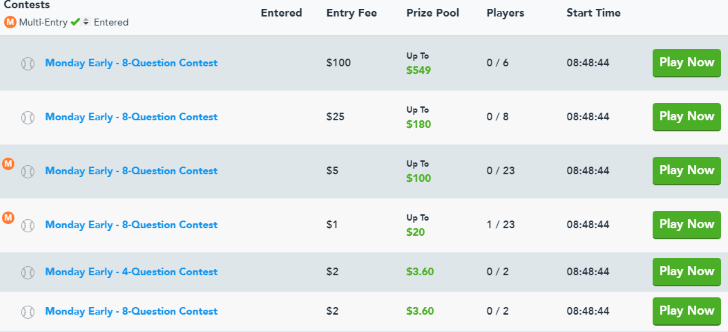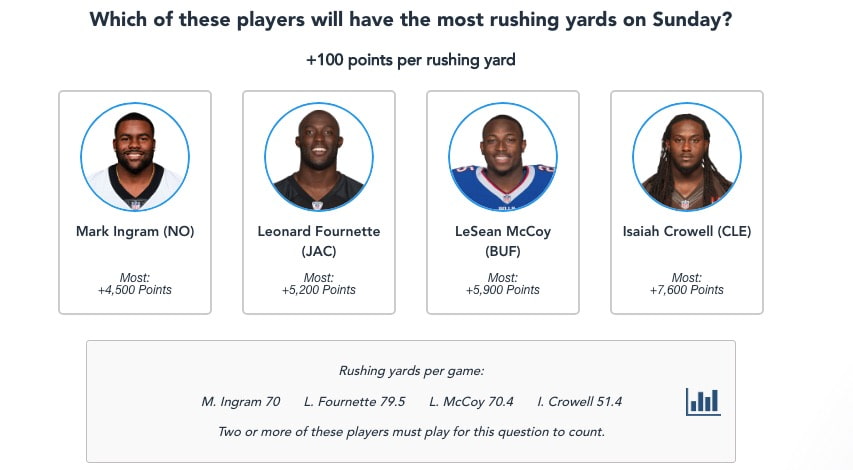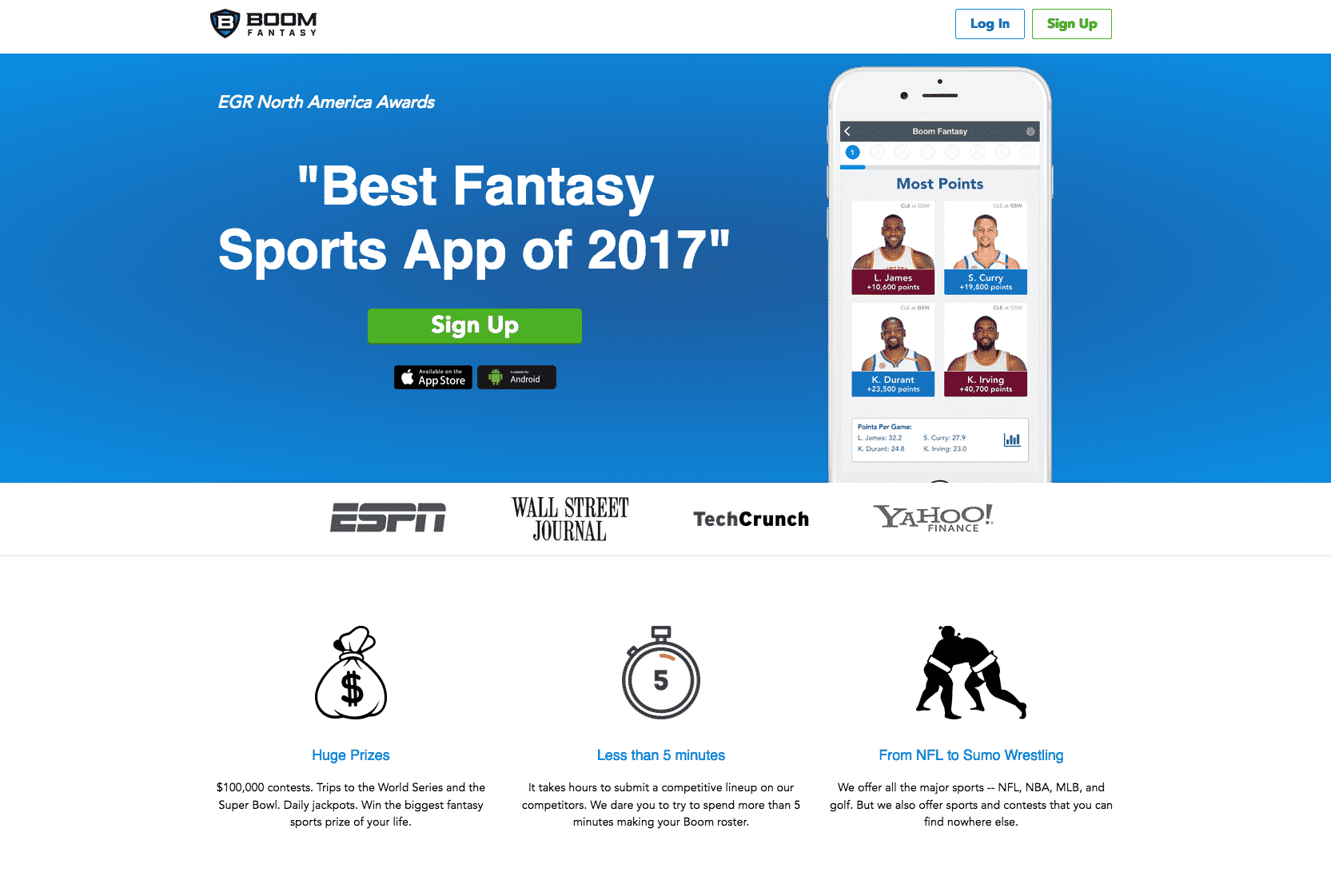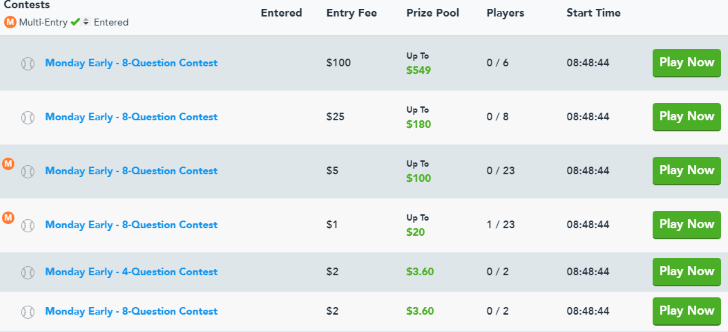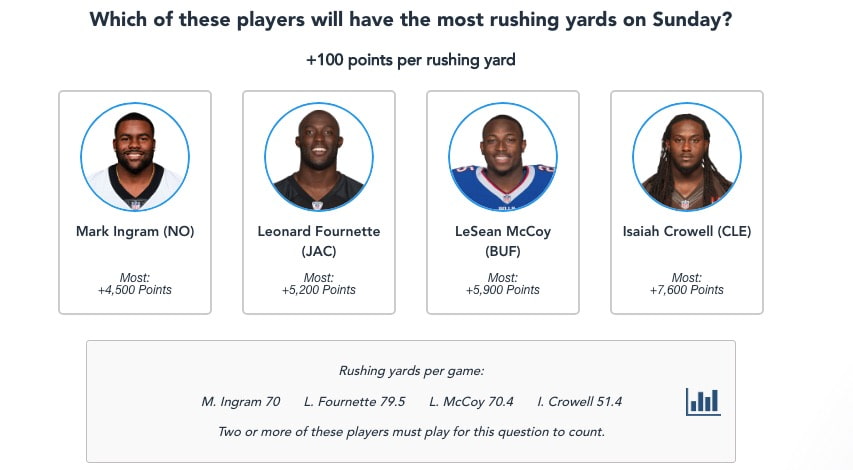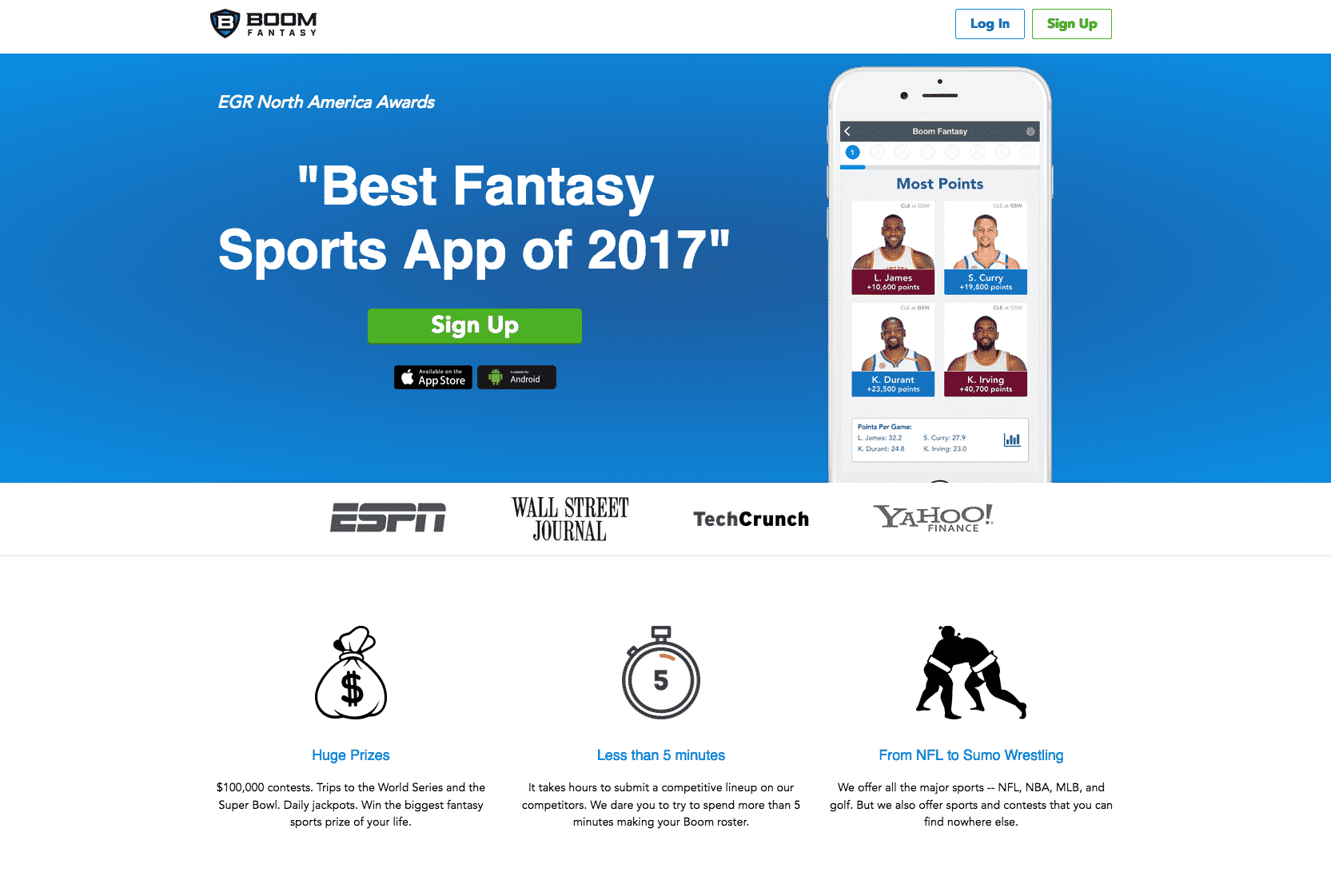 Are you a sports lover? One of the best ways of enjoying your favorite sports and potentially making money out of the same is following the daily fantasy sports site. In this post, we are going to guide you through the in-depth Boom Fantasy review for an insight into the world of lucrative sports betting. It is one of the top DFS betting sites out there.
The site is referred to DFS and helps in providing the users with an opportunity to select teams. Then, the players can go ahead with managing the respective teams over the course of the given period of time.
Boom Fantasy review site has raised around $2 million in new funding in 2017. Therefore, it gave the startup high hopes to grow in recent years. Boom Fantasy is a leading site that is responsible for breaking itself from the conventional DFS style by getting rid of the lineups and salary caps. The contests organized at Boom Fantasy tend to be more in the form of prediction contests in which one is able to ensure better forecasts of the performance of the players in comparison to other similar models.
Choosing the Right DFS Site or App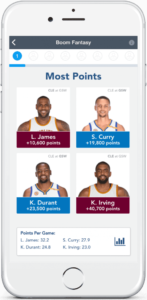 When you wish to play at a leading DFS website, the first thing is that you should select the right DFS website.
As money is involved, you should select the website that delivers the best-ever experience. You should search for the one that offers a lucrative sign-up bonus. Moreover, the website or app should also be easy to browse through while organizing set lineups and DLF contests.
Some of the additional factors that you need to consider for choosing the right DFS website are:
Options of betting – look into the number of options available for betting and how simple or complicated the process is.
Bonuses – Depending on your betting requirements, you should check into the welcome and promotion bonuses offered by the particular DFS website.
Loyalty Programs – Most DFS providers are known to extend lucrative loyalty programs to returning customers. If you wish to make use of the same, you should inquire about it.
Banking methods – As money is going to be involved in the betting transaction, you should aim at analyzing the available banking methods provided by the website or the app.
How to Play on DFS Sites?
There are several variations of DFS websites or applications that might vary across a wide range of operators. In a typically dominant variant of DFS, the users are expected to pick a sport along with a contest for entering. Then, they go ahead with selecting the team of players – under a specific "salary cap" as set by the given portal. Every player is given a fake value with respect to dollars. Then, the users are expected to build a team of players for falling under the given salary cap.
Once the user has made a selection of the particular team, they should wait for the beginning of a real game. Then, players should observe how the respective team is stacking up against the existing competition. When the team ends up doing well, users would earn cash prizes.
Contests in a typical DFS scenario are known to vary with respect to how much they would cost to enter and their overall structuring.
Boom Fantasy Sports Scoring
Similar to setting rosters, the scoring mechanism is quite simple. You are going to earn more points in comparison to the other players within the given contest for moving at a higher place – with the help of GPP, 50/50, and H2H contests. The number of points that you are going to win would be clearly stated before making the selection.
In case of a tie, the user that is the closest to the right answer to the 4th question in the given series will win. The point allocation of every option in the given scenario gets weighted on the basis of the pick's popularity.
Questions related to a specific athlete will be canceled when a particular athlete is not playing. However, when several athletes tend to be up against each other in a single question, then all of them have to be inactive for the exclusion of the given question.
Boom Fantasy Deposit Bonus & Special Offers
Boom Fantasy is known to reward its new users with a specific deposit bonus of around 100 percent of the initial deposit – up to $600. The payment is ensured through PayPal. Otherwise, it can make PayPal an accepted means to deposit your money such that it becomes simpler for you.
Another major bonus that is supported by the Boom Fantasy platform is referring friends to the portal. When another user would sign up to the platform with your reference, you will receive a ticket worth $3 along with 20 percent of their total earnings. The invitation of a successful DFS player to enroll and play at Boom Fantasy could allow you to gain abundant net profits – for both the participants using Boom Fantasy promo codes.
Boom Fantasy Promo Code and Loyalty Programs
As far as special offers are concerned, Boom Fantasy provides access to VIP programs for rewarding its existing customers who tend to remain active throughout. The loyalty programs offered by the platform appreciate the overall efforts of the players for being active members of the platform.
As you would keep accumulating points, you can visit the exclusive VIP store for redeeming the points in exchange for a wide number of prizes – ranging from Boom Fantasy swag to free entries to the subsequent contests and odds, and even lucrative cash prizes.
Kinds of Sports Challenges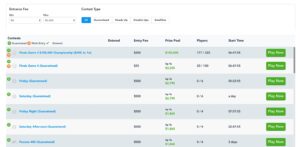 Boom Fantasy allows you to bet on a wide range of sports of your choice. Some of the leading options are:
Contest Choices
DFS contests are great ways to extend the overall fantasy gaming beyond the leagues that last for the entire season. There are several types of contests for players of different skill levels. When it comes to Boom Fantasy contest types, they might vary depending on how much they would cost to enter along with the way in which they have been structured. Some of the common instances of contest types include:
GPPs (Guaranteed Prize Pools): These are also referred to as tournaments, Guaranteed Prize Pools or GPPs tend to feature the highest payout, yet the lowest floor. In the given contests, only the best of the available entries are known to win big money. Some of its features are:
Multiple Entries – This implies tough competition from the experienced DFS players who are well-aware of stacking the deck.
Tiered Payout Structure – In the given variant, you can hit a major payout or you can even end up going home with just a few bucks. These happen to be the breaks in the respective GPPs – paying out the most amount of money to the top-scoring entries.
Larger Contest Sizes – Usually, GPPs are known to allow increased entries in comparison to cash games.
Experienced Players – Larger prizes imply increased attention from the seasoned players.
Cash Games: In the given scenario, players can consider either joining the existing league or creating their own league in which the top-performing fantasy teams are expected to win lucrative prizes. These tend to be smaller in comparison to the GPPs and might not be guaranteed to run.
Head-to-Head and EPE: H2H (Head to Head) and EPE (Experienced Players Excluded) contests happen to be the best ones that can be played by beginners. In the H2H contests, you can play against a single opponent – typically maximizing your overall chances of cashing. On the other hand, EPE contests are useful for both beginners as well as intermediaries.
Boom Fantasy Mobile Apps
The Boom Fantasy review explains it as a mobile-first fantasy website.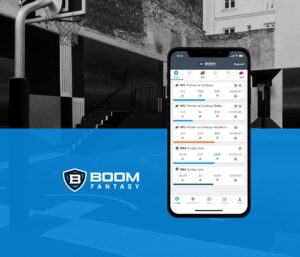 However, it also comes up with a desktop interface that you can come across by logging in. The Boom Fantasy app is well-implemented due to the overall newness of the website. The Boom Fantasy iOS app is quite intuitive. As you log in, you are taken to the main page of "featured contests" which helps in revealing a list of pool contests as well as other ones for allowing multiple entries. There is also the presence of a dedicated menu that allows you to select from the various game types.
The company features an impressive desktop website – still the overall app experience is much better. On the app, you can come across almost everything that is available on the desktop. At this point, the app is available only for iOS users, they can download it from the App Store. Android users still can enjoy the web version of the website on their smartphones.
Banking & Withdrawal
Boom Fantasy is currently accepting debit cards, credit cards, and PayPal for ensuring deposits. Additionally, it also allows access to other e-wallets including Skrill, Paynearme, PaySafeCard, and Neteller. Currently, the portal is providing a 100% deposit bonus of around $200. For the same, you are required to make the minimum deposit of $10.
Depending on how you are making the deposit, it would determine the withdrawal process. While your deposit bonus money can be utilized in contests, still it cannot be unlocked for withdrawals unless specific requirements are satisfied. For instance, if you are paying $100 worth of the total contests, then only $3 would be unlocked. But, as it is not $5 yet, then none of the bonus amounts can be made available for withdrawals.
Customer Support
The customer support at Boom Fantasy is supported through email only.
States Available
Currently, Boom Fantasy is made available in as many as 38 states across the United States of America. Some of the states in which you CANNOT play Boom Fantasy sports are:
Iowa
Indiana
Alabama
Arizona
Hawaii
Idaho
Delaware
Louisiana
Virginia
Montana
Washington
Nevada
Boom Fantasy Review: Conclusion
If you are looking for something interesting and playful, then Boom Fantasy is an ideal choice. It is a great platform for beginners and experienced players in the field of Daily Fantasy sports betting, so if you want to get the best DFS experience, you should choose this site.
Don't forget to read our detailed reviews on the best sportsbooks in New Jersey for a great betting experience:
FAQ
Is Boom Fantasy Legal in the US?
It is legal to play Boom Fantasy in as many as 38 states of the nation, including New Jersey and New York.
How old should I be to have a right to bet on Boom Fantasy?
You are expected to be at least 18 years of age to bet on a sport on Boom Fantasy.
Is there an Android app for Boom Fantasy site?
Yes. Boom Fantasy mobile-based app is available for both Android as well as iOS platforms.
How can I contact customer support on Boom Fantasy?
You can reach out to the customer support team at Boom Fantasy via email.
Will my winnings be taxed on Boom Fantasy?
Under the specific tax laws in the United States of America, any source of income is subject to tax unless you would come across an exemption for the same. There is no exemption for your winnings on Boom Fantasy.
Written by: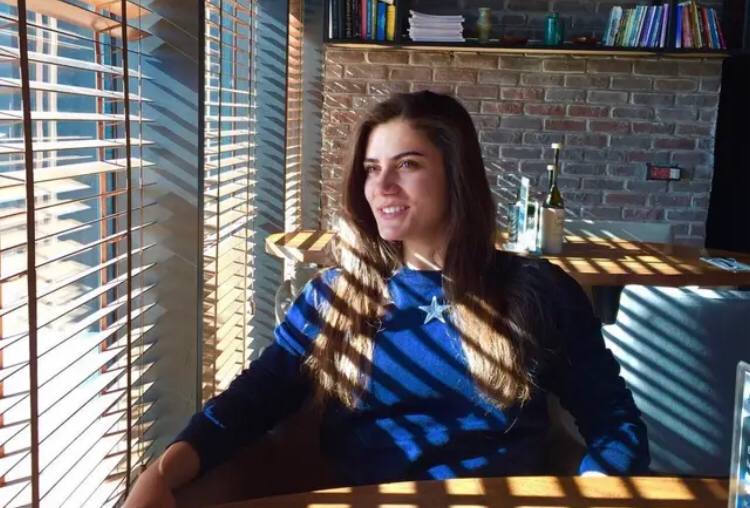 Author, Contributor, Law Expert at Gamblerzz.com. Karen is our writer and contributor who tells you the latest news and trends in gambling industry that take place in the United States.