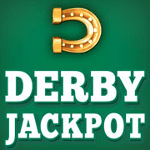 Derby Jackpot Review
Published: Sep 8, 2022
Updated: Oct 31, 2022
Copy Promo Code
FREE10
Copied
This Derby Jackpot online review will tell you all that you need to know about this amazing and delightful Racebook platform that's ideal for casual punters. If you like going to the tracks once in a while for some casual betting, then this platform's social experience will be perfect. Keep reading to find out more about this amazing site.
The Derby Jackpot sports betting platform is available to users from the United States and Canada. This site is a division of Derby Games and was established in 2012. Xpressbet is in charge of all gambling operations in the US. Their wagering hub in Oregon is in charge of looking after all the wagers that are made on this platform.
How Does Derby Jackpot Work?
The most delightful thing about the online mobile Derby Jackpot is its social features. To play, you have to sign in via your Facebook account. You can talk to other racing enthusiasts on the app and make new friends as well. You can also enjoy races from 100+ race tracks running in the US.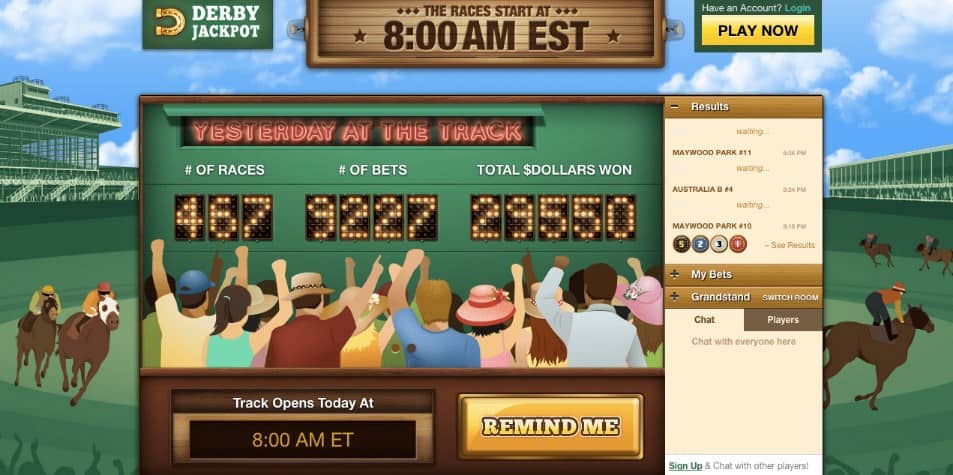 Technically, Derby Jackpot is a pari-mutuel advance deposit wagering platform. This retail sportsbook will let you bet on individual horse races from the comfort of your home. This is the best way to bet on horse races if you're looking for a lightweight option that is entertaining and cheap. Tournament play is one of the best features of Derby Jackpot.
Derby Jackpot Bonuses
By using the Derby Jackpot bonus code 'FREE10', you will be able to win a $10 free bet on your first deposit that is $10 or more. This is available to all new users – all you need to do is sign up on the platform and make an account.
By using the right promo codes Derby Jackpot has on offer, you'll also be able to unlock a welcome bonus that is worth $250 in total. Use this bonus to make all kinds of wagers.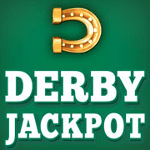 Derby Jackpot online betting bonus
Copy Promo Code
FREE10
Copied
Types of Bets at Derby Jackpot
The bets offered by this platform are different from the bets that you would usually find in a normal racebook or at the tracks.
Monkey Bet: The monkey bet is their version of the win bet. You have to bet on one of the horses in the race to win. The amount of money you win depends on the odds that the racebook posts.
Donkey Bet: Derby Jackpot's take on the place bet is the Donkey Bet, where you bet on a horse to either come in first or second place. As usual, the payout depends on the horse odds posted by the racebook.
Granny Bet: The Granny Bet will be won if your horse comes in either first, second or third place. This is a version of the Show Bet. The probability of winning is high but the associated rewards are not impressive.
Gonzo Bet: The Gonzo Bet is this platform's take on the exacta bet. To win them, you have to predict the top two finishers of the race. This platform will also let you box the exacta by choosing an alternate.
Fiddy Bet: This is one of the most profitable bets – which is why it is one of the riskiest. It is a version of the trifecta bet, where you have to choose the top 3 finishers of the race in exact order.
Dime Bet: This is Derby Jackpot's take on the superfecta bet, where you have to bet on the first four finishers of the race in the right sequence. Despite being a risky bet, the payouts are very large.

Derby Jackpot Banking Options
This platform accepts payment through a variety of portals – including credit card, debit card, bank transfer, e-wallets, Green Dot MoneyPak and Instafund. Even though there aren't any  minimum deposit rules, you need to deposit at least $10 to get your sign-up bonus. InstaFund is ideal for those who want to use their bank funds directly.
Restricted US States for Derby Jackpot
In this section of the Derby Jackpot review, you'll find more about the states where this is operational. It is 100% legal in 38 states all over the United States. The states where this social betting platform is illegal are Nevada, Utah, Arizona, Alaska, Hawaii, South & North Carolina, Texas, Nebraska, Missouri, Georgia, and Mississippi.
Final Thoughts
This is a fun and lighthearted platform that you can use to make bets, enjoy with your friends and win real money. This is one of the most entertaining racebooks in the US, and it is perfect for people who want to have fun with their friends and earn cash.
Don't forget to read our detailed reviews on the best Daily Fantasy Sports for a great betting experience:
Frequently Asked Questions
Is Derby Jackpot legal in the US?
Yes, Derby Jackpot is 100% legal in the United States. However, the 12 states listed in this guide are exceptions to this rule. Check local laws before you start to play.
What states allow Derby Jackpot?
Apart from Nevada, Utah, Arizona, Alaska, Hawaii, South & North Carolina, Texas, Nebraska, Missouri, Georgia, and Mississippi - all the other states in the US allow residents over the age of 18 to play Derby Jackpot.
What betting options does it offer?
Derby Jackpot offers many in-play horse betting options with lighthearted names. They have exactly six bets on offer - which are all variations of the classic bets that you can make at racebooks.
Who owns Derby Jackpot?
The Derby Jackpot Android App and website are owned and operated by the Derby Games group. Derby Games is a Real Money Gaming (RMG) company that is licensed and registered to operate in the US.
What credit cards can I use to deposit at Derby Jackpot?
All the major credit card companies in the US, such as Visa and Mastercard, are accepted at this platform. You can visit Derby Jackpot directly to uncover more.
Best Sites for Betting on Sports in US
Written by: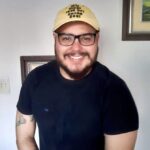 Andy is a skilled recreational gambler for more than 11 years. His primary focus is on the regulated US online casino and poker markets. Editor-In-Chief at Gamblerzz.com.