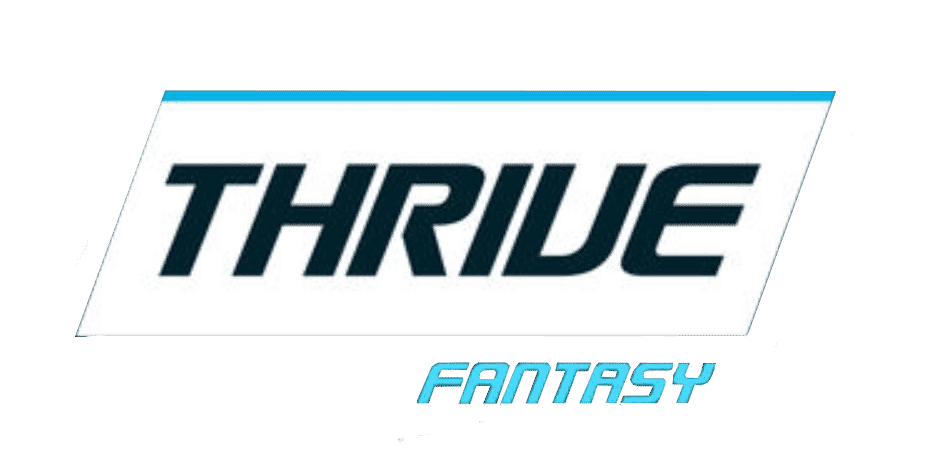 ThriveFantasy Review
Published: Mar 1, 2023
Updated: Mar 6, 2023
bonus
100% deposit match of up to $100
Copy Promo Code
ThriveFantasy
Copied
Screenshots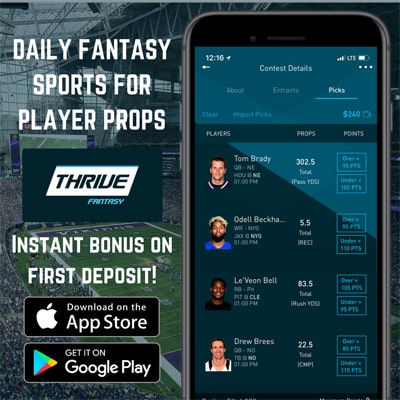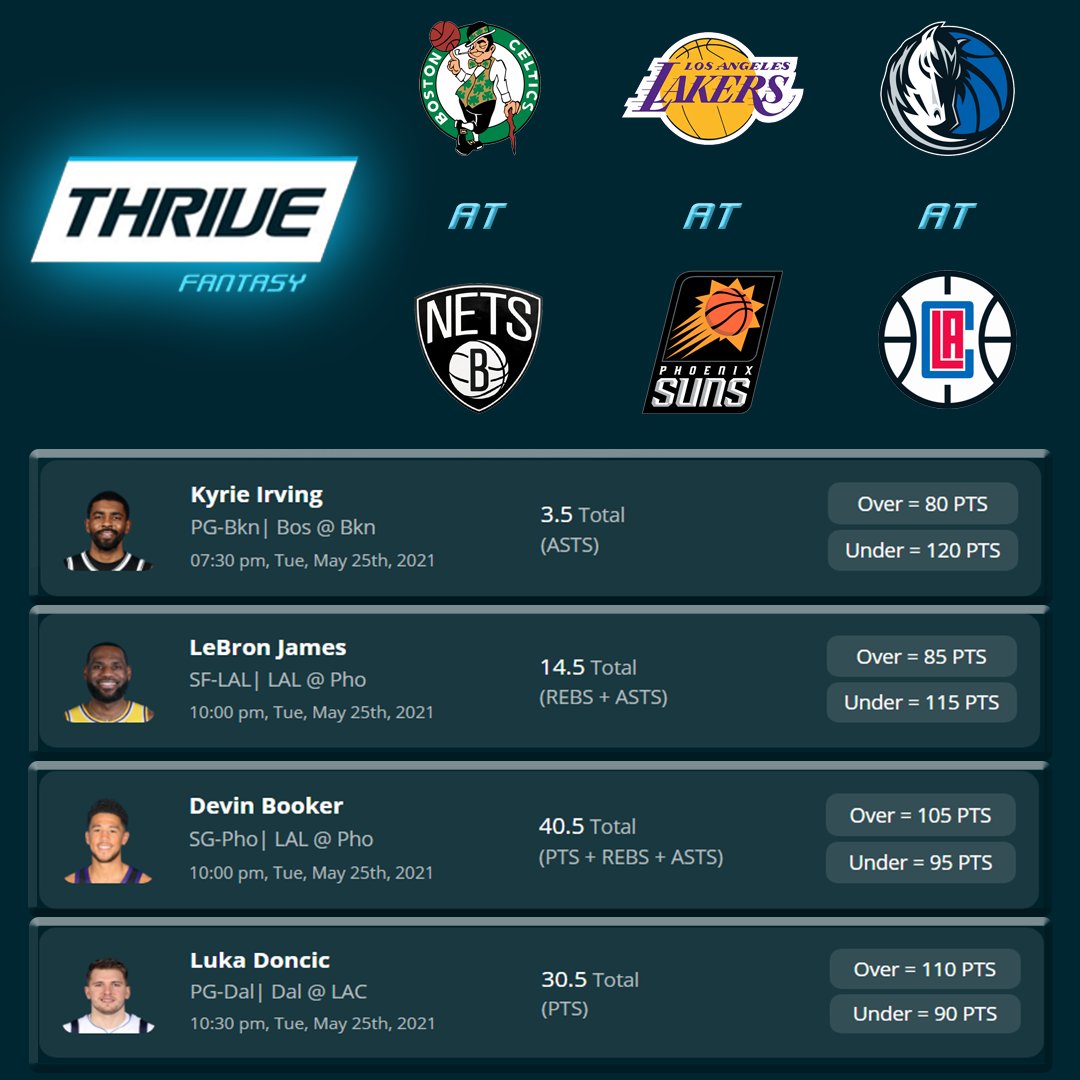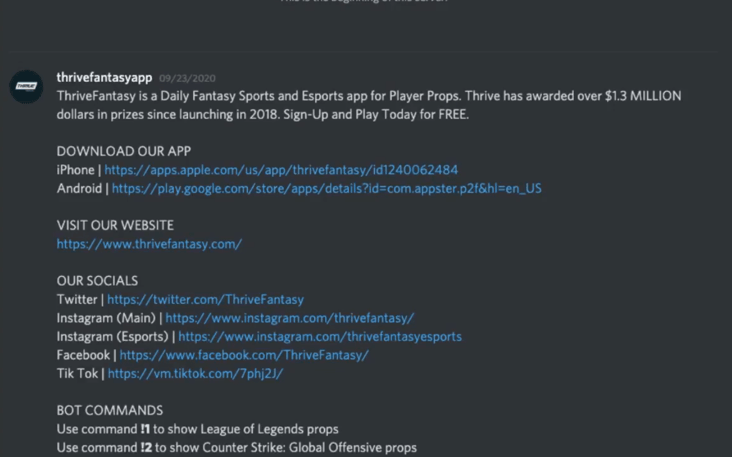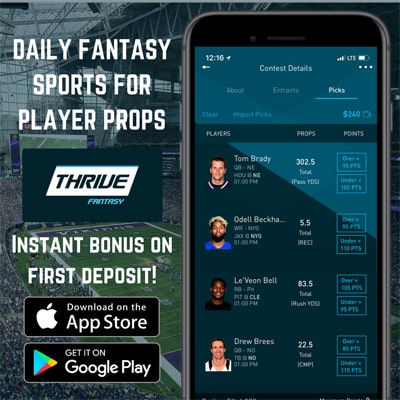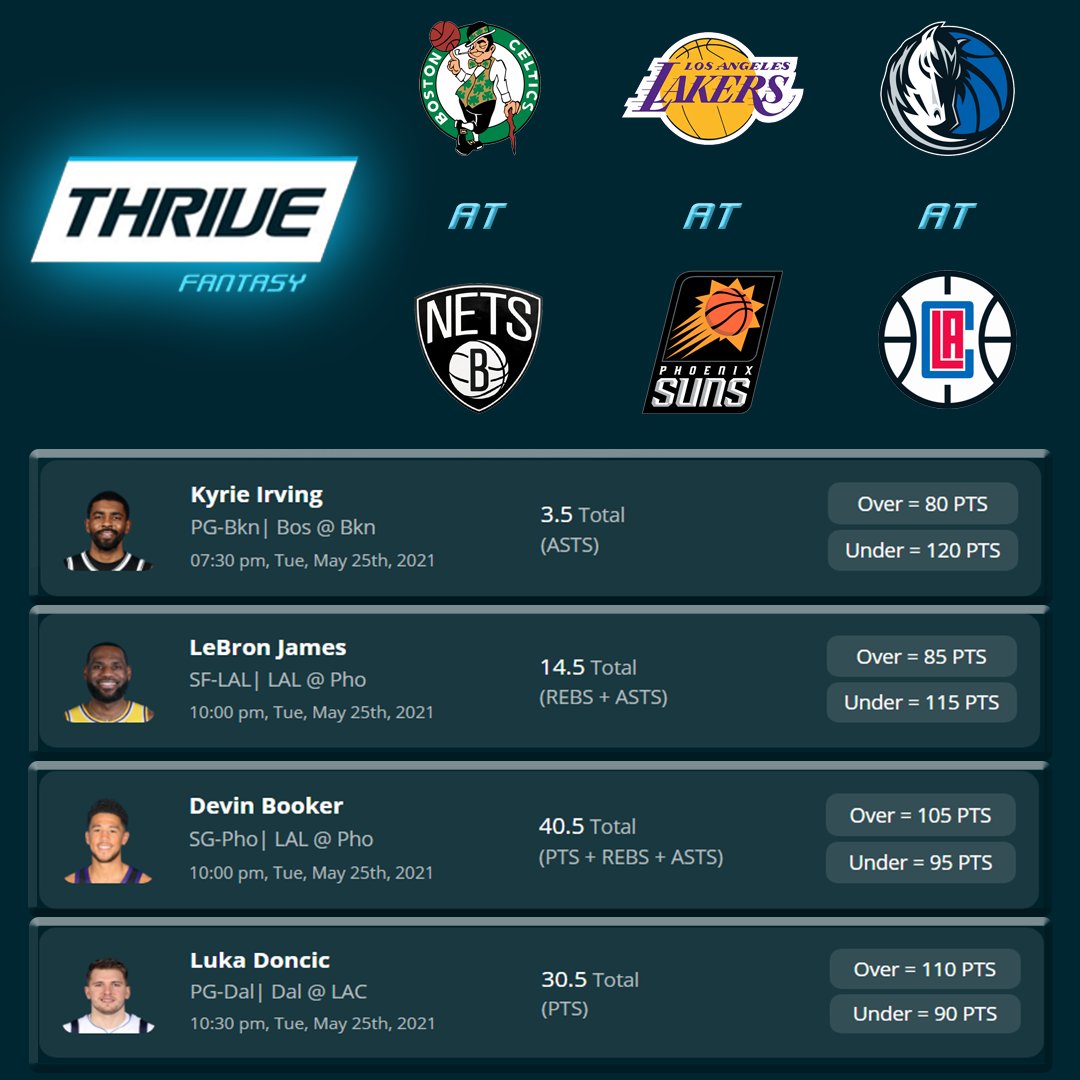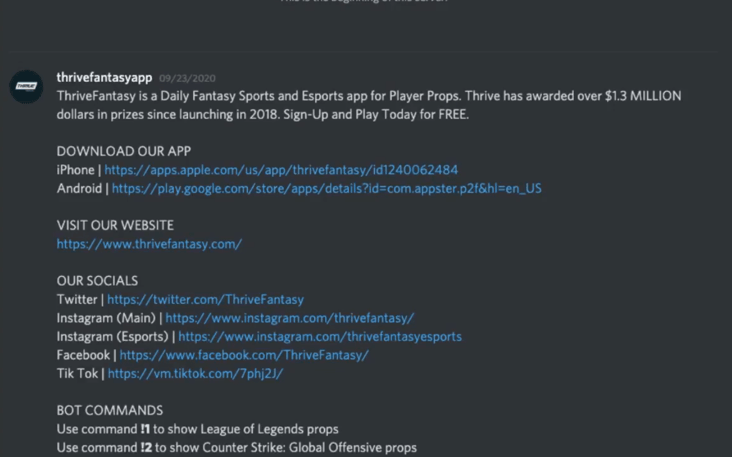 ThriveFantasy has recently become a popular DFS platform, allowing players to pick from various available contests and create lineups to win prizes.
What sets it apart from other DFS betting sites is the prop-betting feature it offers.
This review will cover all of the features that make ThriveFantasy better than its competitors to ensure you have no doubt when playing for real money.
ThriveFantasy has a First Deposit Match bonus of up to $100!
How To Get Your Hands On DFS Sites?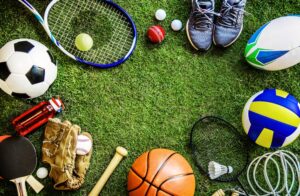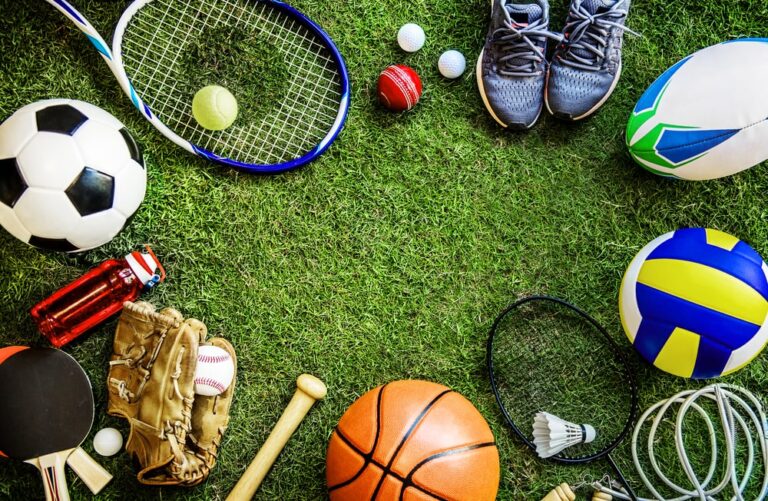 Before getting into the details of ThriveFantasy, you must know how DFS sites work. Only then will you become ready to play your favorite sports. If you are familiar with traditional fantasy sports, it won't be tough to understand DFS. They both proceed almost similarly. The only difference is the period for which they are played. Where traditional fantasy sports ran for the entire season, DFS is based on one-day gameplay. Therefore, you don't need to be invested in the game for a long time. You can watch matches and get rewards within a day.
Technique
The process starts with a bunch of players shown to you. These players are the ones who would take part in that day's events. Then you need to pick a certain number of players out of it. You also have to follow a salary cap that is predetermined on the platform. Your line up will depend majorly on this, as you can't get all the great players at once.
These contests get scored in real-time. Thus, you receive points according to the performance of the match. The games range from head-to-head matchups to significant tournaments. The size of the game chosen by you determines how much reward you will win. The biggest tournaments offer a huge winning prize of $1 million.
Legality
Like betting and gambling, DFS also needs to be legal for you to take part in it. Currently, it is legal in almost all states of the US. The few states that have banned DFS are:
Hawaii
Washington
Montana
Arizona
Nevada
Louisiana
However, this list is getting shorter every year. So there isn't much time when all the remaining states will also legalize DFS. But if you reside in one of the locations mentioned above, you can't play DFS.
Procedure
You need to start by registering on your preferred DFS platform. Once done, then you will have to check the offered games. There can be several game options like there are on ThriveFantasy. You will have to check the rules of the selected sport so that you can play it appropriately. Roster and scoring requirements usually depend on the site. That is why reading the rules will help you understand how you can win. After getting an idea of the sport, you will have to choose a contest. In case you are new to fantasy sports, you can start with the beginners' contest. It is designed especially for new users, so the competition isn't with any expert players. Then you can easily follow the general technique of playing DFS games and start winning. Remember that a good player drafts the team according to salary cap and stats. Your winning chances will increase by following this advice.
ThriveFantasy Bonuses And Offers
Different betting platforms offer different promos and bonuses. The offers help them maintain their user base, as people are more attracted to better discounts or cashback. A few promotions offered by ThriveFantasy are:
Welcome Reward: When you register on the ThriveFantasy app and deposit your first $10, you get a $10 reward. Unlike other sites, you don't need to get into the hassle of bonus codes here. The reward amount is automatically added to your wallet.
Seasonal Offers: If you regularly play on ThriveFantasy, you will also receive seasonal offers. These may be some sort of cashback or reward points in the wallet. You will have to check for the "promo codes ThriveFantasy" of these offers.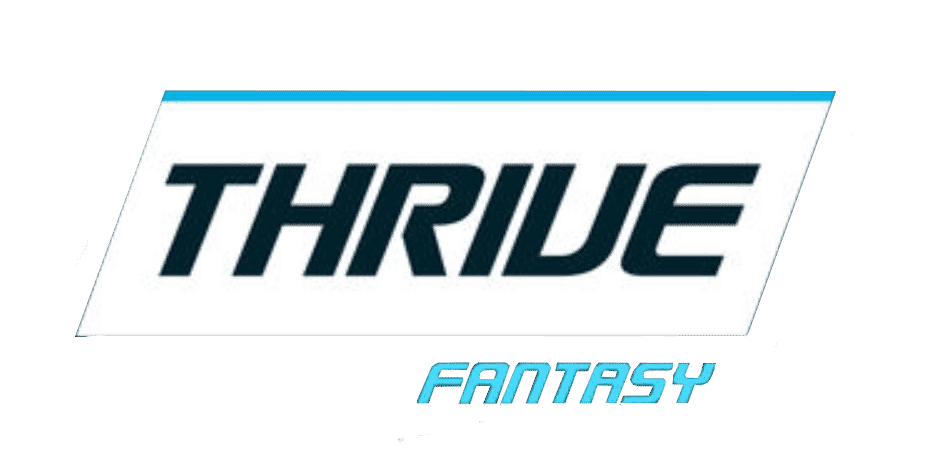 ThriveFantasy online betting bonus
bonus
100% deposit match of up to $100
Copy Promo Code
ThriveFantasy
Copied
There would be more benefits provided by ThriveFantasy. But you need to register on the site/app and explore it to find them.
Loyalty Programs On ThriveFantasy

Loyalty bonuses or points are provided by the online portals to make their customers stick to them. As the users continuously use the platform, they get some benefits. Thus, they prefer to stay on the same site instead of going somewhere else. This is where ThriveFantasy stands out. It already offers you enough chances to win that these small bonuses don't seem attractive. On the other hand, competitors of ThriveFantasy don't provide this. They usually give you very little chance of winning. Stats show that the majority of the reward amount is taken by a small percentage of users on betting sites. That is why they need promotional techniques. When you can win a big amount while playing, why would you go for small loyalty bonuses? Another interesting point is that ThriveFantasy doesn't cut much commission on your contests. It takes a minimal part of every competition as compared to other popular sites. That is a significant reason why it offers better deals and rewards. Plus, the prop betting feature increases your chances of winning. Prop betting isn't provided on any of the other DFS sites.
Sports Offered By ThriveFantasy
There is a huge list of fantasy sports and esports that are available on ThriveFantasy. Here are a few popular fantasy sports.
MLB: Major League Baseball (MLB) is the professional sports league in the US. It consists of three levels of leagues. The only difference in these levels is the number of teams that compete against each other. The Major League includes 30 teams, while National and American include 15 teams. If you find baseball interesting, this is what you need to select.
NBA: Are you a basketball fan? Then you must know everything about the National Basketball Association (NBA). It is one of the US's major men's leagues, and it consists of 30 teams. Different levels of basketball are played under this like Playoffs and Regular Season.
NFL: National Football League (NFL) is a safe option to put your money in. You may find NFL on various fantasy sports platforms. However, none of them offers prop betting features. That is why you have greater chances of winning rewards on ThriveFantasy with NFL.
PGA: PGA Tour organizes several professional golf tours around the entire US. If you have always loved the sport of golf, this is where you should put money. You can find the best championship under it to increase your chances of winning.
USL: The men's soccer league organizes matches between 35 different teams. There are multiple levels of games included in the championships. You can learn the rules and then see how you can win in this.
Apart from the regular fantasy sports, ThriveFantasy offers esports as well. So if you are a fan of online gaming, here are the options you can pick from:
CS: GO: Counter-Strike is one of the oldest and popular video games. It is a multiplayer shooter game where you need to kill all the opponent team members. Plus, you have to save your team at the same time. CS: GO is the variant of the original game with some advancements. You will have to go through the guidelines of winning the bets on this game.
LOL: Released in 2009, Leagues Of Legends is a multiplayer battle game. If you are indulged in online gaming, there is no chance you would have missed this one. And when you already know about the game, you won't have trouble placing bets on it.
DOTA: Defense of the Ancients or DotA was first released in 2003. No game has ever been able to replace it. LOL is somewhat based on the initial series of DotA. However, DotA has gotten advanced with time. If you are a professional gamer, then placing bets in DotA will be convenient for you.
You can pick any of these sports to start your DFS betting journey on ThriveFantasy. But remember to select the game that you have some experience in. In case you don't know much about it, you can read the rules to see how you can play and win.
ThriveFantasy Contest Choices
Once you have chosen your favorite sport, the next step is to find the contest that you want to play. Some of the available alternatives are:
Guaranteed Prize Pool (GPP): There is a fixed/guaranteed prize amount in this contest. The number of participants doesn't matter here. In case fewer people join the pool, and the entry sum is less than the amount, the organizers will have to pay from their side.
Head-To-Head: This is also known as the heads-up contest. There are two opponents in this contest. Therefore, you take double the amount of entry if your predictions go right. You can enjoy it with a friend or someone unknown.
50/50s: Also called the double-ups, this isn't much different from head-to-head. The only difference is that there aren't just two participants in the contest. It requires at least ten people to start the betting. However, there is no upper limit in the number of contestants. According to its rules, half the people get their amount doubled while the other half loses it.
Winner Takes All: As the name suggests, you get all the money by winning this one. However, the difficulty levels are higher in this because generally, the ThriveFantasy DFS odds are against you. On the other hand, these have lesser entry fees. So you can give your luck and strategy a try with this.
Qualifier/Satellite: These don't offer you real money or DFS points. Instead, qualifier contests act as a bridge between you and a higher unaffordable contest. When you win this one, you get a free ticket to enter the betting place with a high entry fee. These can be played in almost all other formats.
Private Contest: Here, you decide everything. Sport, format, entry fee, and participants are of your choice. Therefore, you don't need to deal with the predetermined settings.
All these contests have different entry fees. You can determine which one you want to enter based on how much money you are putting in. There will be a beginner's tournament as well. You can pick that in the beginning to get some experience. After you know how things work, you can move to higher risk contests.
ThriveFantasy Mobile App Review

If you are regular with ThriveFantasy DFS betting, it has a mobile application to offer. It can be downloaded on both Android and iOS platforms. Plus, it makes the overall process convenient for you. You can quickly scroll through pages or go to the menu. Another benefit is that you can access it anytime, anywhere. So in case, you don't have anything to spend time, ThriveFantasy will be there for you.
Here is how you can download it:
ThriveFantasy Android App: It can be downloaded from the Google Play Store or visit ThriveFantasy directly on its website for the same.
ThriveFantasy iOS App: You can get it from Apple's App Store or ThriveFantasy's website.
After downloading it on your mobile device, you can start using it. You begin by registering on the platform if you aren't already a member. Otherwise, you can sign-in to it. There you will get all the information and options to browse.
ThriveFantasy Banking Methods
The website and app are safe to perform transactions. Plus, it uses the two most convenient methods of deposit and withdrawal:
PayPal: Unlike other platforms that require bitcoins or similar payment methods, ThriveFantasy offers PayPal. You can utilize your PayPal account to deposit the money in your ThriveFantasy wallet immediately. For withdrawal, it may take up to three days.
E-Cheque: If you don't use PayPal, there is one more option to try. You can use e-checks to get an instant amount in your ThriveFantasy wallet. The method can also be used to withdraw the money, which can take time between 24 to 72 hours.
Customer Support Of ThriveFantasy

They offer reliable and fast-responding customer service. You can reach their agents about any of your queries. In case you don't want to contact them through usual methods, you can use Twitter. By adding @ThriveFantasy on your tweet, you can easily get to the team. Just like customer service, they also provide quick responses on twitter. Thus, you will get answers to all your problems within no time.
States Where ThriveFantasy Is Legal
As mentioned earlier, DFS requires you to be legal in your location for you to take part in it. Not to worry because fantasy sports are legalized in almost all the states of the US. There are a few states that haven't yet approved these sports. There you can't play them.
The same rules apply to ThriveFantasy. You can only use the platform in the states where DFS has been legalized. Here is a list of locations that allow betting on DFS:
Alaska
Arkansas
California
Colorado
Connecticut
Florida
Georgia
Illinois
Kansas
Kentucky
Maine
Maryland
Massachusetts
Michigan
Minnesota
Nebraska
New Hampshire
New Jersey
New Mexico
New York
North Carolina
North Dakota
Ohio
Oklahoma
Oregon
Rhode Island
South Carolina
South Dakota
Texas
Utah
West Virginia
Wisconsin
However, living in these places isn't enough to participate in ThriveFantasy sports betting. Different states have different rules on the minimum eligible age to bet on DFS. Some set it to 18 while others don't allow it till 21. Therefore, you will have to check with your state's rules to see whether you are officially authorized to bet.
Other Companies In Competition With ThriveFantasy
The list of competitors shows the reputation of the betting site. Plus, it will help you see why ThriveFantasy is better than others. The two major competitors of ThriveFantasy in the market are:
FanDuel
This is yet another reputed name in the domain of DFS betting. It is a great site to try, but it lags behind ThriveFantasy by a few features. The first thing that creates issues in FanDuel is its drop rule. According to it, the site drops your lowest score from your total. This can turn the entire game upside down for you. ThriveFantasy doesn't have any such rule. You only have to select the prop bets, and your work will be done.
DraftKings
DraftKings is a big name for DFS betting. It has a massive user base with several gaming options. However, it provides meager chances of winning. The majority of its users get very low rewards, and the higher ones are taken by only 1-2% of them. That is why ThriveFantasy is better than DraftKings. It provides you a fair chance to win low or high rewards.
Apart from these benefits, you must know that ThriveFantasy is the only prop betting DFS website. None of its competitors can provide you with the feature of placing prop bets. Therefore, your chances of winning are higher on ThriveFantasy.
Latest News On ThriveFantasy

The coronavirus spread has put a halt on all live events, including sports. That is why the entire sports and betting industry saw a fall in the previous few months. However, there isn't much impact of the shutdown on ThriveFantasy.
As it offers both fantasy sports and esports, it was able to manage its revenue in tough times. It experienced a hype in the esports in the absence of fantasy ones. Therefore, it remained safe from the conditions created by the coronavirus.
Conclusion
We wouldn't state that there are no reliable online sportsbooks for DFS bets other than ThriveFantasy. However, its features make it better than all of them.
The prop betting, absence of drop rule, and ease of use are the reasons why you should prefer ThriveFantasy. Once you start playing your favorite sports on it, you will realize how it is more efficient from its competitors.
Don't forget to read our detailed reviews on the best Daily Fantasy Sports sites for a great betting experience:
FAQ
Is ThriveFantasy legal in the US?
Yes, ThriveFantasy is legal in the US, except for a few states. You need to check for the locations that have banned DFS betting.
What is the minimum deposit sum required to play on the ThriveFantasy site?
You can begin your DFS betting journey by depositing just $10 in your ThriveFantasy wallet. It also offers a welcome bonus on it.
Is there an Android app of ThriveFantasy?
Yes, ThriveFantasy has an android app. You can download it from Google Play Store or ThriveFantasy's website.
Can I play for real money on ThriveFantasy?
Yes, ThriveFantasy offers real money sports betting. You can deposit or withdraw the same through PayPal or e-cheques.
Will my winnings from ThriveFantasy be taxed?
Yes, you will need to pay tax for the winnings on ThriveFantasy. The percentage of charges depends on the amount won.
Written by: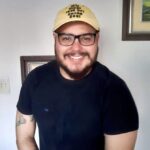 Andy is a skilled recreational gambler for more than 11 years. His primary focus is on the regulated US online casino and poker markets. Editor-In-Chief at Gamblerzz.com.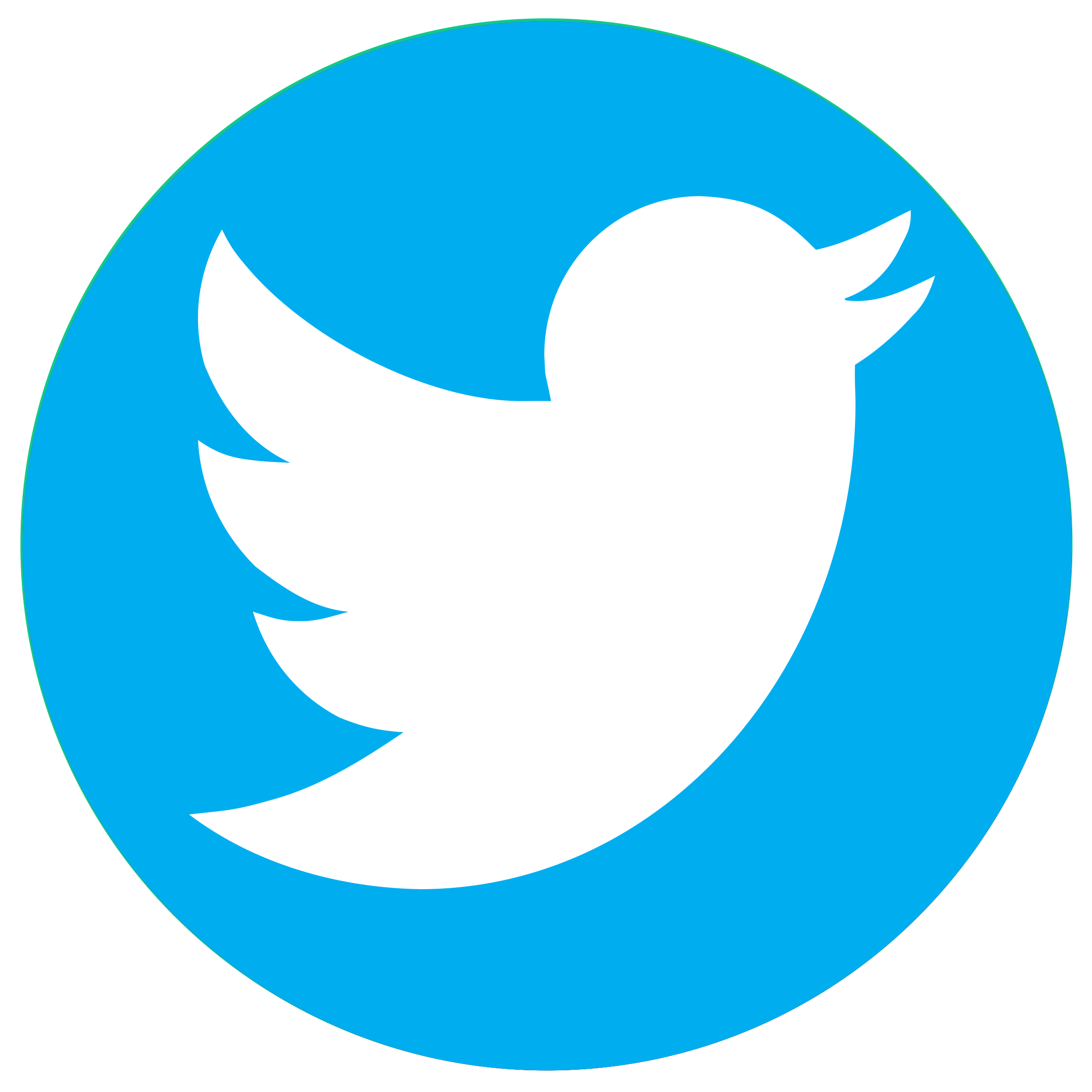 Best DFS Sites to Play in the US