Yahoo DFS Betting Review
Published: Oct 8, 2022
Updated: Oct 31, 2022
Copy Promo Code
TAILGATE
Copied
Screenshots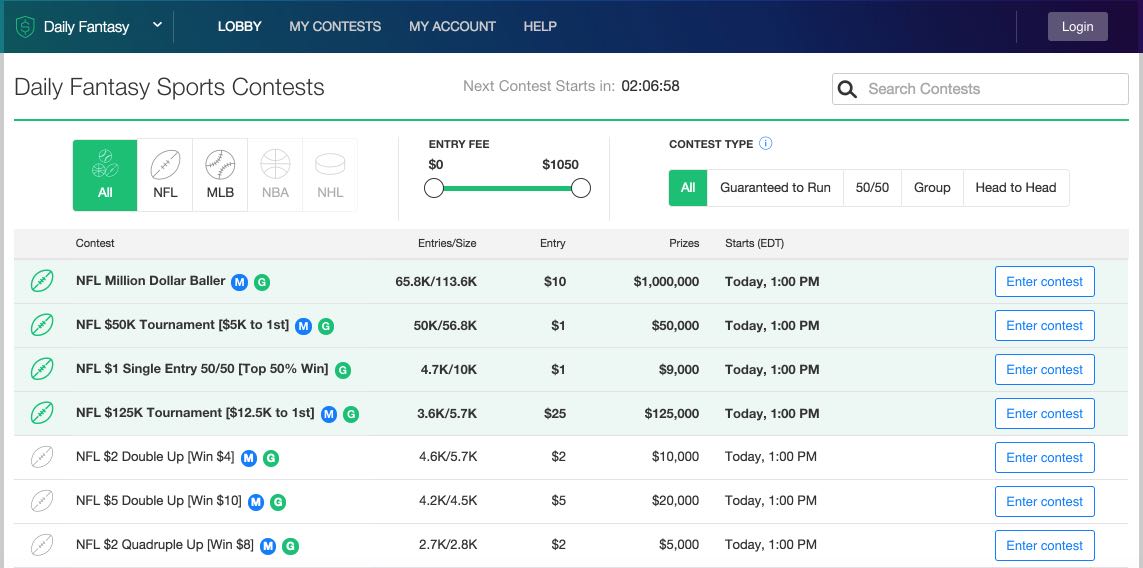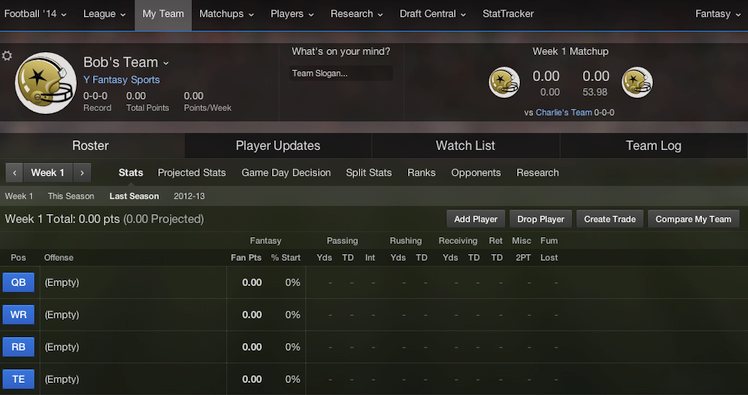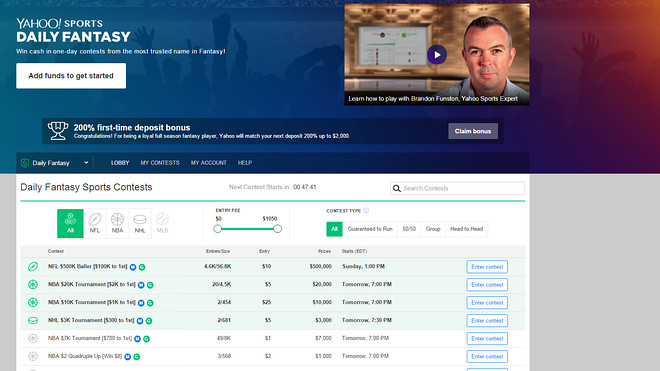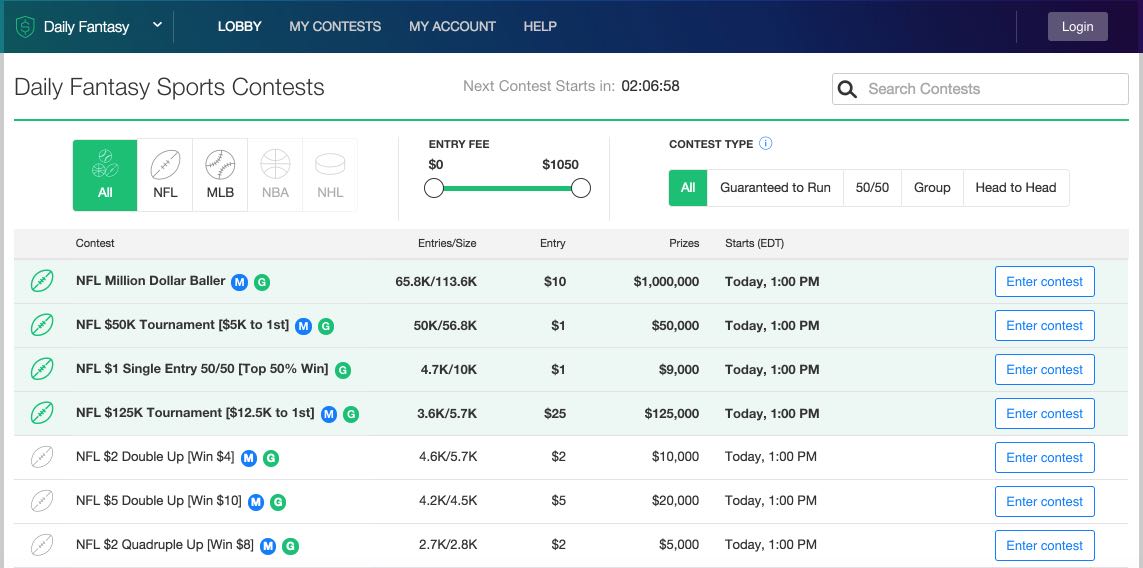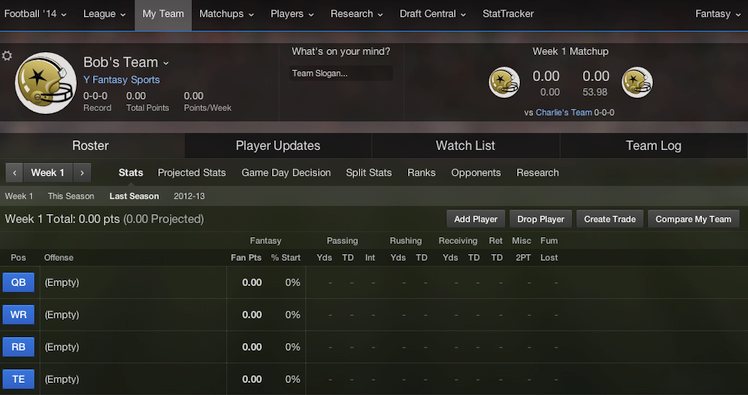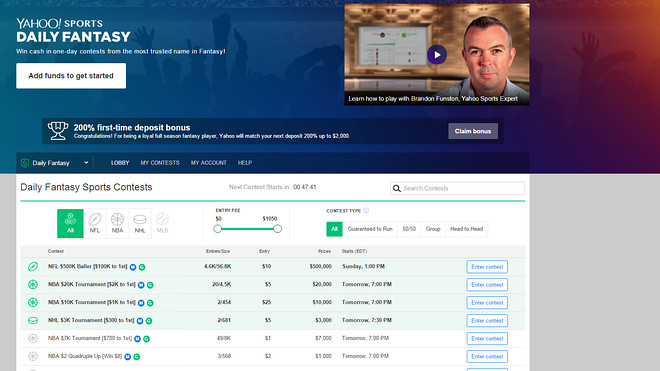 Yahoo fantasy sports had been providing top notch season-long fantasy action for its users for a long time before launching its Daily Fantasy platform in 2015. It called it Yahoo Daily Fantasy. Verizon Communications owns and manages Yahoo DFS and has made it a leading DFS provider in the US. The company leveraged its brand reputation, robust fan base, and a massive pool of resources to make a statement in the DFS scene, and its users have not been disappointed. Yahoo DFS is licensed across many states in the US that permit Daily Fantasy Sports.
Yahoo Daily Fantasy Sports Benefits

Many things should be considered before investing your money in this DFS provider, which is why you should go through this Yahoo DFS online review. You should understand how to play on DFS sites, the promos and bonuses you can get, sports challenges, contest choices, and more. You should also understand the legality of Yahoo DFS in the United States, the deposit and withdrawal options available, and more information that can help you become savvier in Daily Fantasy Sports betting.
How to Play Daily Fantasy Yahoo
Before you start playing daily fantasy sports, you should understand how it works. Whether you're familiar with fantasy sports or a complete newbie, this Yahoo DFS review will help you understand the basic concepts governing DFS.
Generally, playing daily fantasy sports looks like this:
Pick a site, register with them, go through the list of sports available on the website, and select your choice.
Select the kind of contest you want to participate in from the different contest choices made available by the provider.
Create your team of choice out of all the available players in that league. It is best you select the top performing players in that league, but keep in mind that you must remain within the salary cap.
Your drafted players win points when they carry out specific actions in their leagues, such as home runs in the MLB, touchdowns in the NFL, etc.
You compete against other contestants who draft their teams, and these contests can last for a day or a week.
Keep track of the points your team earns as your drafted players perform in their real-life sports.
If your team earns more points than your opponent's team, you win the prize money.

Nowadays, you can do everything you need to do with regards to entering contests and cashing out all from a mobile device. Gone are the days when you always need to be in front of your computer screen to track your fantasy team's points while a game is going on. With any Android or iOS mobile device, you can be well on your way to earning some cold, hard cash in the major sports leagues.
You can still enter DFS contests whether or not you have real money to risk, thanks to the many freeroll tournaments that fantasy sports sites offer their users. This means you can learn the ropes of DFS as well as stand a chance to boost your bankroll without even investing a dime.
Try and follow these tips to help you with Daily Fantasy Sports betting:
Remember never to use money that you can't afford to lose when entering contests.
Ensure you do your research on players, teams, and everything that can affect your selected athletes' performances.
If you are okay with low risk and low rewards, then pick contests like head-to-heads or double-ups.
If you are up for high risk and massive rewards, contest in big-field tournaments with a high number of contestants and large prize pools.
Yahoo Daily Fantasy Promo Codes & Bonuses
Yahoo offers new players 1000 Rewards Points for entering paid contests as a welcome Yahoo DFS bonus when they make their first deposit.
Promo Code: TAILGATE
There are promo codes Yahoo DFS newbies need to enter before they can enjoy this welcome offer. Just deposit and claim your bonus instantly.

Yahoo online betting bonus
Copy Promo Code
TAILGATE
Copied
Yahoo DFS Loyalty Programs & Special Offers
Yahoo dishes out Rewards Points to all players on the platform. These points can be earned via any of these three ways:
Enter a paid contest.
Make use of a promo code.
Refer a friend who registers and deposits some cash on the platform.
The different paid contests on the DFS site require certain amounts of points before you can enter them. The more you engage in any of the three activities mentioned above, you compile points which you can use to enter contests for free.
Note that your Yahoo Sports Rewards Points will expire if you don't earn or redeem any points in two years. Once expired, they can't be retrieved.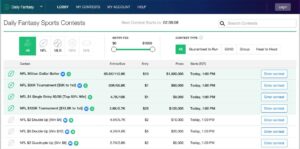 Challenges by Yahoo Daily Sports
You can participate in challenges and DFS leagues for the biggest sports leagues on the Yahoo DFS betting platform. Here are the leagues you can contest in:
NFL: Players of the season-long fantasy contests will find that they can even make bigger winnings with the daily fantasy football contests. Fantasy football leagues have been ongoing for a long time on the Yahoo Sports platform, and you can take advantage of the annual NFL Yahoo Cup (a freeroll, single-entry, and season-long DFS competition). You can contest in the $150,000 guaranteed payout tournament and stand a chance to win $1,000,000. The fact that it is free to enter means you can try your hands on this challenge without having anything to lose.
NBA: The basketball contests on the Yahoo DFS site are not so different from other online sportsbooks for DFS bets. However, Yahoo daily fantasy adds some enticing spins to its basketball tournaments. One of these twists is the inclusion of a Utility roster spot. This utility spot is the same as the flex position in fantasy football. But unlike fantasy football, you can choose any player as a utility no matter what position they play. The NBA Yahoo Cup tournament is also free to play, it is season-long, and you can win a $10000 grand prize out of a total purse of $25000.
MLB: Unlike NBA and NFL, daily baseball has no season-long fantasy tournament, and there are similarities with DraftKings and FanDuel regarding configuration and rosters. Yahoo DFS allows you to contest in various other high and low-prize baseball tournaments.
NHL: Daily Fantasy Hockey might not be so popular on the Yahoo DFS platform, but it still has more than a hundred NHL contests you can enter at a fee of $20 or less. There's an NHL double-up challenge that well-versed DFS players love to play as they're effortless to win using correct strategies. You should know that you can't choose a utility player, unlike other top DFS betting sites that allow for a utility position in their hockey lineup.
Soccer: Daily Fantasy Soccer contests are currently held for two of the world's most significant soccer leagues – the English Premier League and the UEFA Champions League. Soccer is one sport that is anticipated to be a top market leader in the fantasy sports scene. It is expected that as DFS becomes more popular globally, the soccer prizes on Yahoo DFS will rise as well.
Golf: You can also strengthen your bankroll with daily fantasy golf on the Yahoo DFS betting site if you have the right strategies.
DFS Yahoo Contest Choices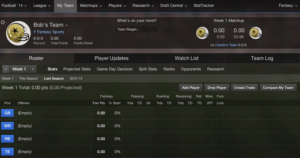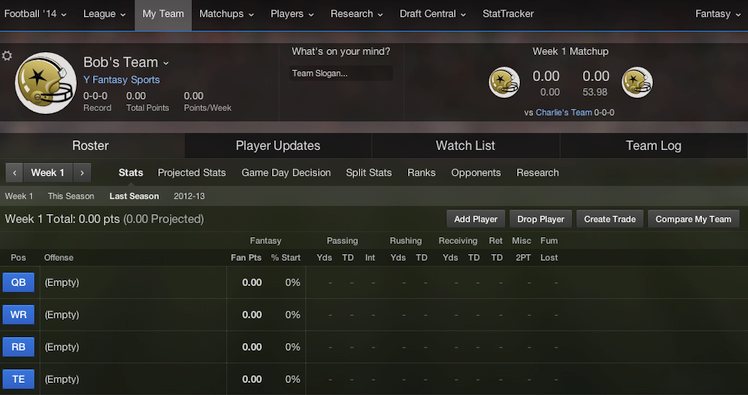 When it comes to the types of contests available, here are the choices you have on the Yahoo DFS platform:
Guaranteed to Run: Competitions that are guaranteed to run will still occur and pay out the complete prize pool whether or not the matches are filled up. Any other contest that does not have a guaranteed prize pool is not certain that it will run unless all the matches are filled. If a contest is not run because the entries aren't filled up, you will get a refund of your entry fees.
50/50: A 50/50 tournament is a guaranteed to run contest in which the top half of the contestants win nearly double the size of their entry fees.
Head to Head: Head to Head competitions involve a player competing against another, and the winner takes the whole prize.
Leagues: When you partake in a league contest, you will find yourself creating daily or weekly entries and competing against all the other contestants for daily, weekly, and grand league-end prizes.
Groups: You can choose to create a non-guaranteed tournament or join an existing contest (or group) to make some money.
Multipliers: This is a high variance competition where a tiny portion of the playing field wins an equal prize.
Single entry: This is a contest that allows only one entry per contestant.
Multi-entry: These types of contests allow up to 150 entries submitted per contestant.
Veteran/No Veteran: As part of their fair play policy, Yahoo prevents some players from participating in certain contests. Some contests are designed for veterans only, while other competitions bar veterans from participating. A player is tagged a veteran if they have entered a paid contest over a thousand times; if they have won from $1000 up as a single prize at least three times; or if they have won a cumulative of $2500 or higher including receiving a payout from over five entries.
Rookie only: These contests are designed for only those who are new to DFS so that they won't be preyed upon by expert players. A player who has not entered more than 50 competitions is deemed a rookie.
Fantasy Mobile App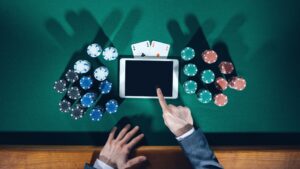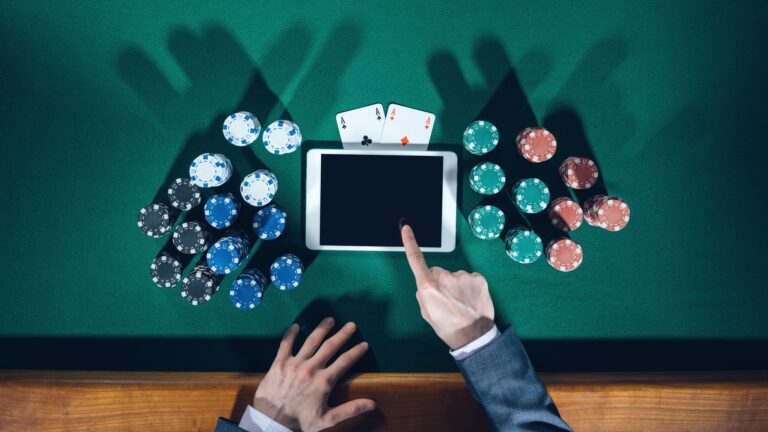 You can play DFS on the go with this daily fantasy provider on an Android or iOS device. This is not just another app – it was named the best-designed fantasy sports mobile app for five years in a row. It comes with highly intuitive software, and it is very functional. You get instant updates and breaking news about scores and players. You also have access to top expert analysis in the app, and you can easily switch between managing your teams (both daily and seasonal). You can easily create a daily roster to win cash or enter free/paid contests to earn some money. You can also use GIFs and other cool features to enhance your smack-talking game if that's your thing!
The app is available to be downloaded on both Android and iOS devices.
To download on Android devices: You can get the Yahoo DFS Android app on the Google Play Store. Simply search for "Yahoo Fantasy Sports" on the store and install the app on your smartphone or tab.
To download on iOS devices: The Yahoo DFS app is available on the Apple App Store. Simply visit the store and search for the app, install it, and start enjoying DFS on your mobile device.
Yahoo DFS Banking Options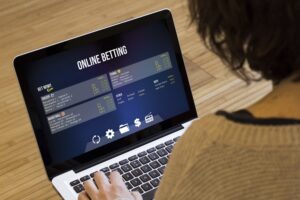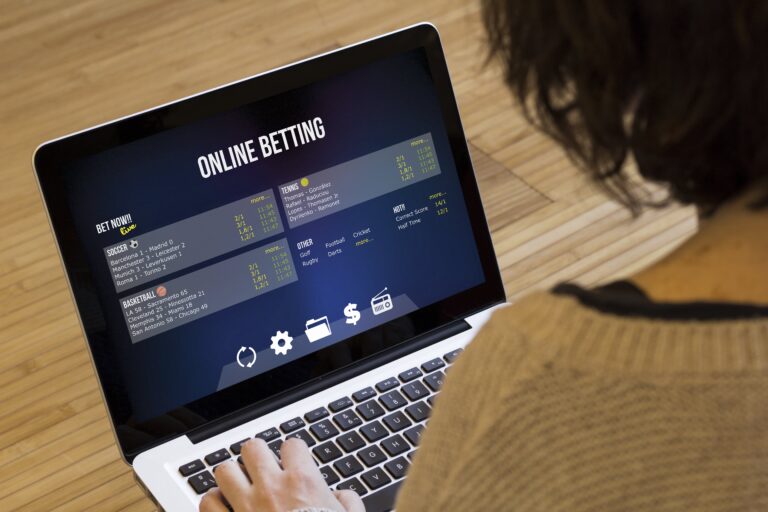 You will need to use PayPal to both deposit and withdraw funds on the Yahoo Daily Fantasy site. Credit cards are not accepted. This is rather strange as other Daily Fantasy Sports betting websites allow other banking options – PayPal is your only option here. If you do not have a verified PayPal account linked to your Yahoo account, you cannot make any transactions on the site. You have the option to set your deposit limits for better management. You can make withdrawals of up to $50,000 per time as well as up to $100,000 daily. Withdrawals are carried out within two days.
Yahoo is not a novice when it comes to internet security. You can rest assured that all your personal information will be properly encrypted and stowed away on servers that are very secure. Your account is password-protected, but you have to ensure you do not share your login details or your PayPal password with others to ensure your funds' safety.
Customer Service

To get any issues fixed, Yahoo provides an FAQ section that you can try, but if that does not seem to help, you can talk to their customer support team from Mondays to Fridays, between 6 am and 6 pm (PST). You can also reach the customer service team by email, and you should get a response within two days. Social media is another option to contact the DFS provider.
Yahoo DFS States Availability
Under Federal Law, DFS is not seen as betting, but some states in America think differently and categorize fantasy sports as a form of gambling. This means that Daily Fantasy Sports is legal according to federal law, but some states frown upon it. You can play Yahoo Daily Fantasy in most states in the US except the following: Washington DC, Nevada, Montana, Louisiana, Iowa, Idaho, Hawaii, and Arizona.
Reputation And Alternatives of Yahoo DFS
Yahoo is easily the third most popular DFS provider in the US, although it has a very small market share compared with its two major rivals – DraftKings and FanDuel. These two sites have the lion share of the daily fantasy industry, and they offer more sporting varieties. These competing sites also outclass Yahoo DFS in terms of prize pools and some other areas.
Latest News

Daily Fantasy Sports was unable to escape being hit by the coronavirus pandemic, which affected all major sporting activities around the world. Many top leagues were canceled or postponed, and this affected Yahoo DFS revenues significantly. However, sports season has resumed, and the fantasy sports site is already providing coverage of the leagues that are currently in play on its website. Yahoo seeks to improve the DFS experience for its users, and in the nearest future, more games and payouts will be available to users.
Conclusion
Although Yahoo DFS might not be as popular as the two major daily fantasy providers in the US, the Verizon Communications-owned fantasy site has some decent offerings which have made it loved and trusted by its users. The fantasy platform is beginner-friendly, which you can use to gather experience, and it also caters to veterans who already know the ropes. It is recommended to have more than one site for daily fantasy betting to boost your bankroll, and Yahoo should definitely be on your money-making roster. Go ahead, download the app to your mobile device or visit Yahoo DFS directly on your browser to get started today.
Don't forget to read our detailed reviews on the best Daily Fantasy Sports for a great betting experience:
FAQ
Is Yahoo DFS legal in the US?
Yes. Yahoo DFS is allowed in the US. However, some states do not permit their residents to participate in daily fantasy contests.
How to choose the contest on Yahoo DFS?
You can easily select the contest you want to enter on the site. Thanks to the well-designed PC website and mobile app, choosing a contest can be done without difficulty.
Is there an Android app for Yahoo DFS site?
Yes. The daily fantasy site has a dedicated Android app that you can download from the Google Play Store.
How to check odds on Yahoo DFS?
On the site, simply click on the "Research" tab. A drop-down menu will list some options – "odds" is one of them. Click on it to get all the Yahoo DFS odds info you need.
Can I bet on Yahoo DFS if I am 18?
Yes. You can play daily fantasy games if you are 18 in most states that allow fantasy sports betting. You must be 19 years and above if you are in AL or NE, or 21 and up if you are in MA.
Written by: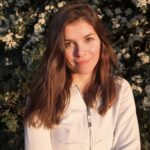 Aria works hard to make sure that residents from different states have access to honest reviews and credible information about the best legal gambling sites. She has a rich experience as a writer, SEO specialist and expert in sports betting. Sports Editor at Gamblerzz.com.