Full BetMonarch Sportsbook Review
Published: Oct 30, 2022
Updated: Oct 31, 2022
Screenshots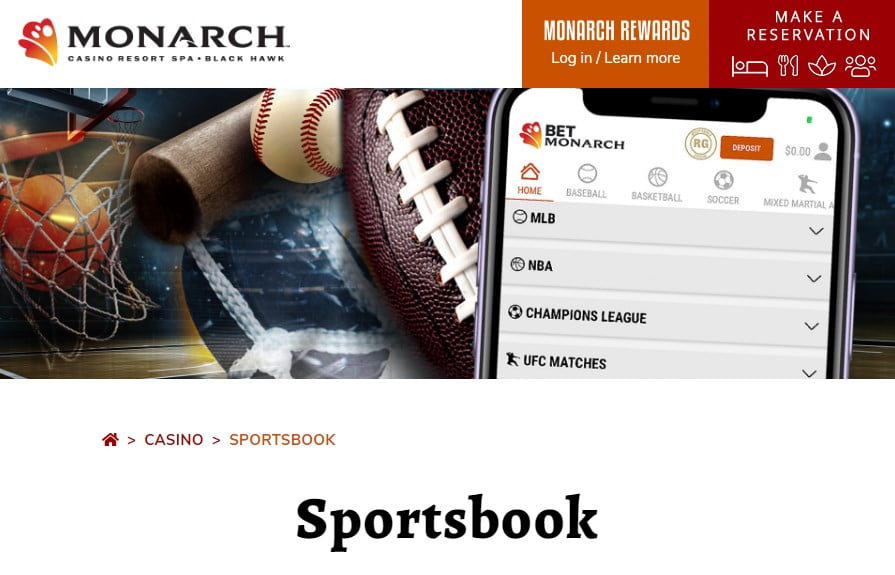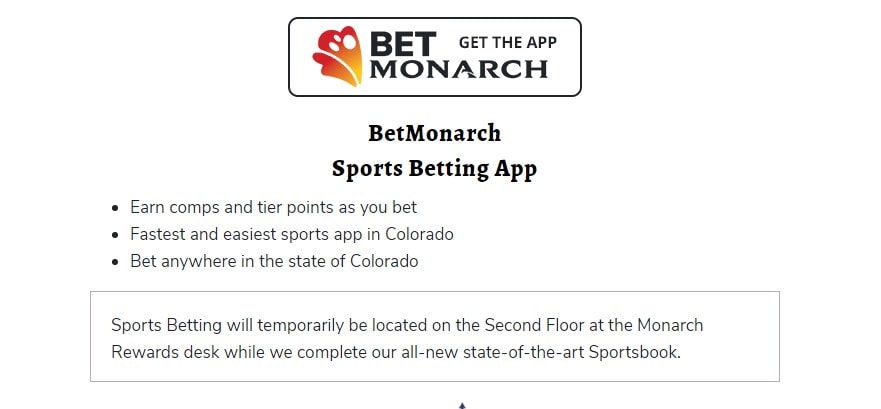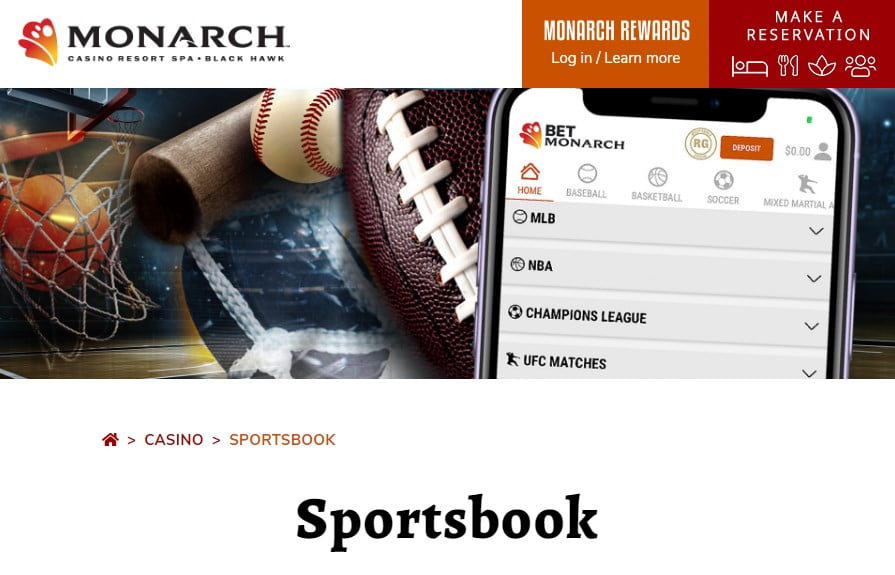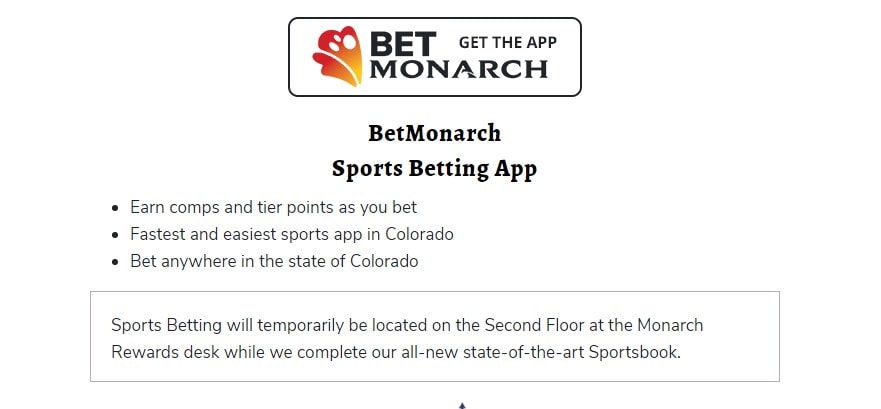 After the United States Supreme Court removed the federal ban on sports betting under the Professional and Amateur Sports Protection Act (PASPA), several states have moved to legalize sports betting. One of such is Colorado. The move to make wagering on sporting events legal in Colorado has created several land-based and online sportsbooks. Among the most recent is Monarch Casino's BetMonarch sportsbook. Black Hawk's Monarch Casino Resort Spa Launched its fully-licensed online sportsbook, BetMonarch, in May 2020. Despite being relatively new in Colorado's online sports betting scene, BetMonarch prides itself as the fastest and easiest sports betting app in the Centennial State. Coloradans who are enthusiastic about wagering on sporting events will find it attractive for several reasons.
For one, the sportsbook offers competitive odds and lines that enable gamblers to win more with less stakes. Sports fans can place bets with as little as $1 with the mobile app. The 8-cent money lines and 16-cent run lines featured in baseball betting are considerably interesting, as well. There's also a unique reward points system that high-end bettors will find appealing. BetMonarch's reward points make up for the sportsbook's lack of promotional offers and bonuses. For sports betting enthusiasts based in Colorado looking for a sportsbook where they can win real money, this review will provide a lowdown on why BetMonarch is one of the best options available to them.
BetMonarch Online Sportsbook Promotions And Bonuses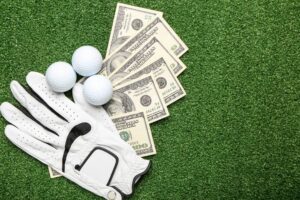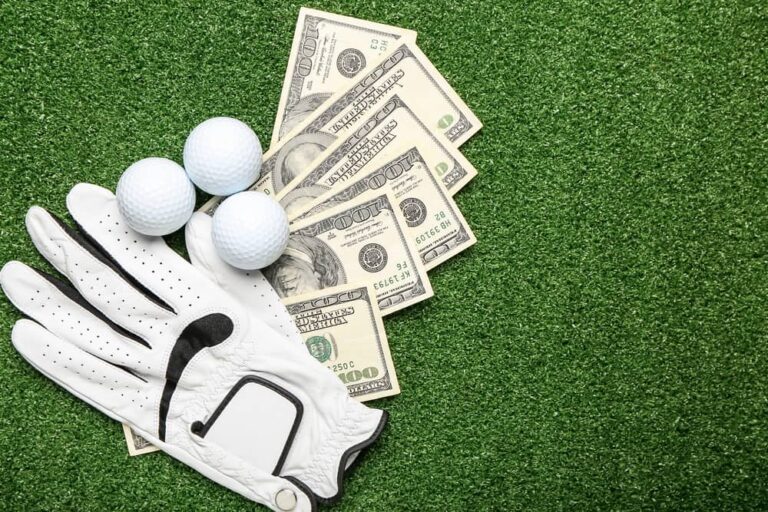 Unfortunately, BetMonarch currently does not offer promos, bonuses, or gift cards to its users. This exemption could be because the sportsbook is still in development. However, punters who are enthusiastic about promos and bonuses have reasons to believe that BetMonarch could roll out such offers soon. One such reason is the promo code field provided on the registration page, even though there are currently no BetMonarch promo codes.
Also, with online sports betting now legal in Colorado, competition among casinos is sure to increase. Bonuses and promotional offers are some of the features that appeal to customers when choosing a sportsbook. As such, online betting platforms that provide the best promos are more likely to have higher patronage.
Welcome bonus offers for new players, risk-free first bets, and deposit bonuses are some of the rewards that attract bettors. BetMonarch customers will be expecting these features during the sportsbook's development, and as the competition among casinos grows.
Betmonarch bonus codes
| | |
| --- | --- |
| Online Sportsbook | BetMonarch Sportsbook |
| Deposit Bonus | TBD |
| Risk-Free Bet | TBD |
| Promo code | TBD |
Loyalty Programs and Special Offers by Sports Betting BetMonarch

While BetMonarch does not have promotions and bonus offers, it does a reward point system that serves as a loyalty program. This feature enables bettors to gain comp and tier points through gambling activities, both online and in person. The monarch reward system features five tiers, each with exciting benefits for punters. Each user starts at the monarch level and can slowly move up the rankings through wagers and gambling activities. Depending on the accumulated points, bettors could get access to spa days, hotel stays, access to the casino's VIP lounge, premium sports events and party invitations, buffet accesses, and comped meals. BetMonarch requires users who want to benefit from the reward system to enroll in-person in the program. They can download the Monarch Rewards mobile app to track their progress through the system's rankings.
BetMonarch Sportsbook Sports And Bets
BetMonarch provides several large pro and college competitions in the United States. However, it only covers a limited number of international leagues, with popular options like English Premier League soccer and the German Bundesliga. Some of the major sports available are:
The standard betting lines are also available for all major competitions listed. Among the popular options are:
Teasers
Over/under
Parlay
Future
Multiway bets
Round Robins
Prop bets
Straight bets
College football sides and totals
Basketball sides
Veteran bettors will notice that, while the standard betting lines are available, the options are still somewhat limited. The reserved amount of Bets provided is probably because the online sportsbook is still in its early days. Since its inception, punters who have used BetMonarch will have noticed that the betting lines and sports have continued to expand.
At its lunch, BetMonarch's sports betting list didn't have bet types for South Korean baseball. However, their lines are now accessible to bettors. As such, there is an expectation that the expansion in betting options will continue. It is also essential to mention that the BetMonarch sportsbook offers some of the most impressive competitive odds. Unlike most of their competitors, the betting lines at BetMonarch are under the control of in-house experts. As such, the sportsbook retains the power to influence its odds and offer better numbers to its users. Baseball is one of the competitions where they're providing impressive lines. The eight-cent money lines and 16-cent run lines are the most attractive options in Colorado's sports betting industry. BetMonarch allows its punters to buy as much as two full points on bets in football and basketball games, as well.
Also, the minimum cash stake on the sportsbook's mobile app is $1. For bettors who would prefer in-person betting, the minimum bet is $5 at the Monarch Casino Resort Spa. The sportsbook at the spa is available from ten a.m. to six p.m. every day. The online casino sportsbook is open 24/7.
BetMonarch Online Sportsbook Mobile App
Available for free for both Android and iOS devices, the BetMonarch mobile app provides an easy-to-use interface that newbies at sports betting would find appealing. The software is available for Android devices with OS version 2.4 and upwards. iOS users with devices running on OS version 9.0 and above can also download the application. To download the sportsbook's mobile app, bettors who use Android devices would need to visit the BetMonarch website directly.

On the other hand, iOS users can find the application on App Store. They can alternatively choose to use the website if they want to. Once installed, bettors can go ahead to create their accounts. Registration is relatively straightforward, especially with the application's simple interface. However, BetMonarch requires its customers to provide all nine digits of their Social Security number during registration. This prerequisite is in contrast to other sportsbooks, which usually request the last four figures. Also, punters are to deposit a minimum of $40 with the banking options provided before they can place bets. Linking the mobile application to your bank account, as well. Furthermore, the app requires users to enable GPS to check if they're in the state of Colorado. Individuals outside of Colorado cannot use the app to stake on games.
One exciting feature about BetMonarch's sports betting mobile app is the integration between the online sportsbook and the brick and mortar casino. There's an in-house team of experts on hand from Monarch Casino to interact with bettors and create the most enhanced online betting experience possible. This interaction makes BetMonarch different from several other mobile sportsbook operators in the US sports betting scene. However, BetMonarch is yet to roll out the in-game live betting feature on its mobile app. There are expectations that it'll do so soon.
Banking and Withdrawal Options at BetMonarch
Bettors will find the banking and deposit methods at BetMonarch limited because of the lack of a credit card option. Currently, only bank transfers and payment of cash at the sportsbook's land-based casino is available. However, the sportsbook's operator has assured that it'll soon roll out a credit card option for punters. Bank transfers are also the only withdrawal method allowed at BetMonarch.
These limited payment options should not come as a surprise, though. BetMonarch is a relatively new sportsbook in the industry, and, in time, more methods should follow. Also, security is a premium concern to online sportsbook operators in the United States. Keeping the deposit and withdrawal options as limited as possible is crucial to avoid fraudulent activities.
 Customer Service
The customer service at BetMonarch is unique when compared to other US sportsbooks. An in-house team from Monarch Casino Resort Spa is available to help customers resolve any issues or glitches they might experience with the mobile app. The land-based sportsbook's manager is also on-hand to interact with customers and provide assistance if they require any.
An in-app FAQ answers basic questions that users might have while using the mobile application. However, there is no way to get direct customer service from BetMonarch's mobile app. Punters are instead redirected to the official website of Monarch Casino Resort Spa when they click on the support or contact info icon.
Where is the BetMonarch Sportsbook Available?

There are state restrictions when it comes to using BetMonarch Sportsbook in the United States. Currently, BetMonarch is only available in Colorado. The sportsbook's mobile app requires users to enable GPS to track their location and ascertain they're within the shores of the State of Colorado. Punters who do not reside in the Centennial State will not be able to place bets.
Conclusion
BetMonarch brings something different to the sports betting scene in Colorado. Its unique integration between the land-based casino and the online betting platform and the reward-based loyalty system are two of its most exciting attractions. The best thing about BetMonarch though, is that it is still in development, and there's so much more to expect from the bookmaker. More payment options will be available with time while betting lines and sporting events will continue to expand. Punters can also expect promotions and bonus offers from the sportsbook. Judging from the monarch reward system, these bonuses will be quite exciting for BetMonarch's users.
Bettors should also expect the bookmaker to integrate the customer care service into the mobile app fully. BetMonarch already has arguably the best customer support among sportsbooks in Colorado.
Allowing bettors to access the Monarch Casinos in-house team from the app without redirecting them to the app will enhance their gaming experience. With so much more to expect from BetMonarch, we highly recommend it for bettors looking for an online sportsbook where they can enjoy the best of sports betting.
Don't forget to read our detailed reviews on the best sportsbooks for a great betting experience:
FAQs
Is BetMonarch online sportsbook legal in the US?
Yes, BetMonarch online sportsbook is legal in the United States.
Where can I bet on BetMonarch sportsbook?
BetMonarch is only available within the shores in Colorado. As such, punters outside the Centennial State cannot place bets.
Is there an app on BetMonarch?
Yes, BetMonarch sportsbook has a mobile app.
Can I win real money on BetMonarch?
Written by: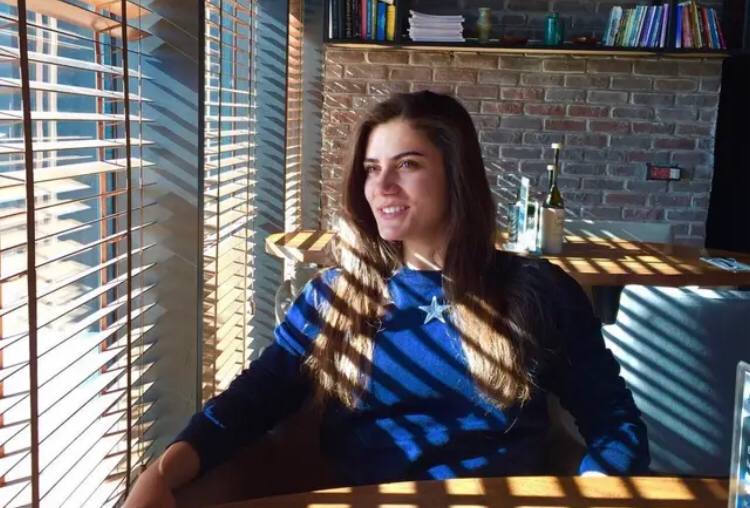 Author, Contributor, Law Expert at Gamblerzz.com. Karen is our writer and contributor who tells you the latest news and trends in gambling industry that take place in the United States.