The Top Virtual Horse Racing Betting Sites Review
Published: Sep 16, 2022
Updated: Oct 31, 2022
This virtual horse racing online review will tell you all about this fun and profitable game, which many punters in the US are using currently. This is a special kind of horse racing that will allow you to bet on individual horse races and then watch the race on TV. The results of the race are known by the bookmakers.
This is not an example of in-play horse betting, since the house already knows what the results are and who is going to win. Many punters have described this game as "horse roulette", since the odds are known much beforehand. Keep reading this review to find out more about virtual horse racing betting available in the US for interested punters.
Betting On Horse Online Virtually – How Does It Work?
In a traditional horse race, the outcome is dependent on many variables. The pedigree of the horse, the skill of the jockey, the weather, the layout of the racecourse – all have a bearing on the outcome of the race. Virtual racing is not bound by any of these factors.
It can be likened to an online lottery, where the finishing order of the "horses" is decided by a sophisticated algorithm. This kind of algorithm is called a random number generator – virtual horse racing sites use commercial versions of these that can be purchased from well-known software developers. It is a profitable and fun game that you can try.
Before the start of the "race", the retail sportsbook will publish the virtual horse racing odds which will give you information about the race. Horses that have lower odds are likelier to win but those with higher odds are less likely to win. The probability of the algorithm picking a horse with low horse odds is greater than the alternative.
The racing software will show the betters the results after using its algorithm. Once you make your bets, the best websites will display the results of the race. To make the game more enjoyable and immersive for the punters, the software visualizes the result as an animated race. It is slowly becoming very popular in the United States.
The Best Virtual Horse Betting Apps & Sites in the USA
Here are the best betting platforms in the US that offer players the chance to indulge in virtual racing.
BetMGM Casino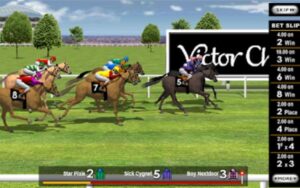 BetMGM Casino is one of the few casinos in the US that offers virtual horse and greyhound racing for its patrons. The software used by BetMGM is leased from Inspired Entertainment, one of the industry leaders in virtual racing. By using the 'VIBONUS' promo code virtual horse racing you can get a 100% deposit match that's worth $600.
Caesars Casino
Another virtual platform that is used in the US is Caesars Casino, which can be accessed freely in the states of New Jersey, Pennsylvania, etc. Use the bonus code 'BETFREE10' to get a no deposit free bet that is worth $10. You can use 'CAESARSGAMBLER' to get a 100% welcome bonus that's worth $300 in total.
DraftKings Casino
DraftKings is one of the best sportsbooks and racebooks operating in the United States. Apart from virtual racing, DraftKings also has a lot of other virtual sports on offer. The virtual horse racing bonus at DraftKings upon sign-up is very large – offering you $1050 in total. They also have very high quality software and responsive customer support.
William Hill
It is one of the most popular options offered by the well-known William Hill racebook. New customers can sign up on the racebook and use the promo code 'P30' to get a $10 free bet. They also have virtual greyhound races that you can explore. They're one of the pioneers in the field of virtual races.
Golden Nugget Casino
Golden Nugget Casino is the only platform operating in the US that offers patrons two distinct kinds of virtual racing options. While you are signing up and making a deposit, you can use the 'AMERICANGAMBLER' virtual horse racing bonus code to get $100 worth of free bets. Their algorithm and software are of the best quality.
What to Expect With Virtual Horse Racing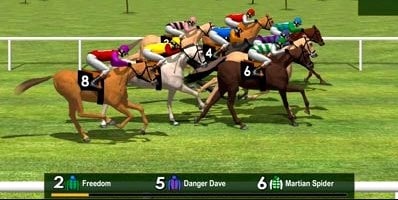 Inspired Entertainment is a software development company that specializes in developing virtual racing clients. Most racebooks in the US use technology offered by this company. The software is actually designed to mimic the actual race, to ensure that all the punters have a fun and immersive experience while they make bets.
While you are playing virtual horse racing, you will be able to play for as long as you want. The betting sites and apps make use of software, which means that the races can be accessed 24/7. You must keep in mind that the results of the virtual races are random and do not have any other factors.
Some Virtual Racing Tips
Here are some of the most useful virtual racing rules and tips. These will help you get started with some profitable wagers.
Know When to Quit: Virtual Horse Racing is pure gambling, so you should know when to quit. Try to set a maximum amount of money that you're willing to wager and stick to it. This will help you stay cautious.
Don't Conflate Real & Virtual: One mistake many punters make is conflate real races with virtual races. Virtual races are random and past results have no bearing on these races. Try not to associate one kind of race with the other.
Start With Low Odd Horses: If you are new to virtual racing, try to start off with horses with low odds. You might not win a lot of money at first, but you'll slowly get the hang of the system.
Summing Up
Lastly, it's very important to remember that virtual races are pure luck. They are powered by random number generators, so virtual horse racing mobile apps will let you experience a pure form of gambling. Try out the racebooks listed in this guide if you want to try out your hand at this fun game.
Don't forget to read our detailed reviews on bet types of horse racing for a great betting experience:
Frequently Asked Questions
Is virtual horse racing betting legal in the US?
Yes, it is largely legal in some parts of the US. Horse and greyhound race betting has been largely exempt from restrictions imposed by the government.
What states allow virtual betting?
A large majority of the states in the United States allow virtual horse racing betting. With 12 restrictions (Nevada, Utah, Arizona, Alaska, Hawaii, Texas, Nebraska, Missouri, Georgia, Mississippi, South Carolina & North Carolina).
What betting options does virtual racing offer?
All of the betting options that you can find in real-life TVG horse racing can be found in virtual horse racing as well. You can even customize the bets as required.
Is virtual horse racing fixed?
No, virtual horse racing is not fixed. It is a pure form of gambling and is one of the most fun and profitable forms of wagering. Try to use a high-quality and trusted racebook.