Your Complete Guide to Quinella Wheel Bets for Online Horse Racing in the US
Published: Sep 16, 2022
Updated: Oct 31, 2022
When you are playing on online horse racing betting sites, you will discover that there are loads of bets that you can place. In-play betting is more fun if you choose the right horses and the right bets. This bet guide will teach you the best way to bet on horse races at legal betting websites.
What is the Quinella Wheel Bet?
It is a variation of the straight Quinella bet. The straight bet asks gamblers to choose two horses, which they think are going to finish in the top 2 of the race. The gambler is going to win money if their selected ones take up the first and second positions.
Top horse betting sites also offer a variation of the Quinella, known as the wheel. In the wheel, a bettor chooses a key horse to finish either first or second. Then, the bettor picks another from the race that they feel are going to take the other position. The wheel makes horse betting way more exciting, fun and lucrative.
How Does it Work?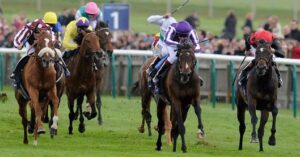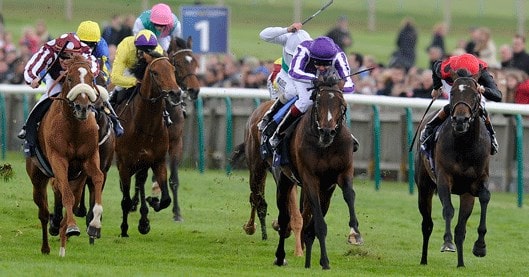 First, you need to bet on individual races. Let the race have 8 in total and you feel that No. 5 is the overwhelming favorite. You can place a Quinella wheel by choosing 5 as your key one. Then, let's say you choose 1, 2, and 3 as your horses.
You will win money in the case horse no. 5 finishes in the top 2 of the race, with horses 1, 2 or 3 taking the remaining position. This means that there are going to be 8 total scenarios in which you are going to win money. If you're gambling on horses online, this wheel is an ideal bet.
Cost of Quinella Wheel Bet
Taking the previous example into account, if you make a $2 Quinella wheel wager on no. 5 with horses 1, 2 and 3 in the positions – you will have to bet $6 in total. The wheel bet payout is very impressive, especially since the cost of the bet is very low.
Quinella Wheel Bet VS Box Bet
This is an in-depth comparison of two variations of the straight bet that you can usually find on online horse racing sites.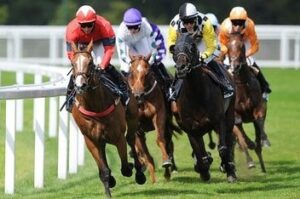 The Quinella wheel is the best option in a situation where one of the horses is an overwhelming favorite to win. This means that you have a better chance of winning – so you key the favorite and place other prospective options on the wheel. The cost of the bet is low as well – meaning you have a larger profit margin.
The Quinella box on the other hand is the right choice in a situation where multiple horses are strong contenders for the win. If you place a $2 Quinella box bet on 3 options, then you are basically betting $2 on every possible winning combination. This is a lot more expensive than a normal Quinella or Quinella wheel.
Final Thoughts
This was a detailed discussion of the Quinella wheel bet that'll let you place bets on real money betting sites. You can also watch live racing online and place bets on horse betting apps. Make sure that you pick a retail sportsbook that is fully licensed and regulated. There are many racing websites in the US you can choose from to bet safely.
Don't forget to read our detailed reviews on other bet types of horse racing for a great betting experience:
Frequently Asked Questions
Is it legal to bet on Horse races online?
If you're an adult United States resident, you can place bets on races online. You need to make sure that the mobile sports betting site that you choose is legal. Live betting is the best option for you.
Where can I bet on racing?
Any retail sportsbook that accepts racing bets would be the best place for you to make bets on horse racing. You can also look up racetracks and casinos in your area.
Where can I check Horse racing odds for Quinella Wheel bets?
The best place to get odds is the sportsbook that you're using. Sportsbook odds are accurate and they can be easily accessed by players. TVG horse racing is another reliable source for all odds and related info.
What is the most winning type of bet?
The Quinella bet, the place bet and the trifecta box bets are the most lucrative bets in the world of horse racing. In fact, it can give you some big rewards for a very small investment.
Can I bet on horse racing events that happen outside the USA?
No, it is illegal for US gamblers to bet on these races taking place outside the USA.
Where to Use Quinella Wheel Bets for Online Horse Racing in the US