Rhode Island Sports Betting
Published: Aug 30, 2022
Updated: Oct 31, 2022
It is easy to get overwhelmed with the abundance of RI online sports betting websites. The confusion is understandable, given that sports betting became legalized in Rhode Island on November 26, 2018. There is only one Rhode Island online sports betting app, but even that was not the case two years ago, and the situation will improve further. Sports betting app and mobile sports wagering as an industry has recently became licensed and regulated so players can enjoy the convenience of betting from any part of the state.
While you must still be geographically located in the state or Rhode Island, it is decent progress. The situation with Rhode Island sports betting might not be clear to curious starters, so this article might make the knowledge on legislation and other nuances more organized and structured for easier understanding.
RI Sports Betting History
S 2045, a standalone sports betting bill, first appeared in 2018 and is sponsored by many senators. It moved to the Rhode Island lottery allowing sports betting at two casinos. On the 15th of May 2018, the state held the first post-PASPA hearing. During this time, it was discussed that the tiny state showed a tremendous interest in sports betting. For the proposal, the lottery staff placed a request looking for a technology partner to offer sportsbooks.
At that point, IGT was the only bidder and earned the gig by default. In 2019, the state understood that it has become important to sanction mobile sports betting. With that, bill S 37 was passed, and Governor Gina Raimondo signed it, turning the bill into law.
Best Online Sports Betting Sites
Rhode Island online sports betting was legalized in 2018 and became the eighth state. But till now, they have not launched any betting sites through which betting can happen. Players have to go to the land-based casinos and place bets. However, during the 2020 legislature, mobile sports betting was added, which indicates they are ready for operation.
Rhode Island Sports Beting Online: Where And How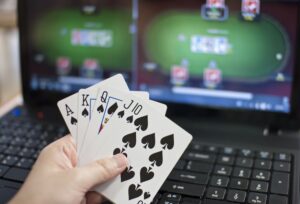 Sportsbetrhodeisland.com is the only state-authorized Rhode Island online sports betting platform today. Alternatively, you can use offshore websites that are licensed by other jurisdictions. Be aware that by doing so, you compromise your security in case fraud happens, so it is strongly recommended to choose state-authorized platforms. Online betting is becoming more popular in the state, for it is convenient, less threatening from an epidemic perspective, and more profitable for betting platforms who do not have to spend as much money on real estate. Online registration with all the basic information and verification is needed, as well as an in-person visit to either of the two state's land-based casinos.
It is necessary for betting to be legal, but the process might not require in-person visits soon. Banking options is an important field for bettors who want to have ways to spend their money in the most convenient and profitable fashion. Some of the mistakes beginners can make are trusting fraud betting sites, use offshore services without realizing the risks, choosing sites that offer banking options they do not use, and sites that do not feature sports they like. Avoid these mistakes to make your experience better.
Aspects to Consider While Choosing Rhode Island Betting Site
Banking methods
The choice of banking methods is one of the most important features of an online sports betting site. Real money betting sites offer a magnitude of reliable payment systems, such as PayPal, VISA, and others. When choosing RI online sports betting sites, look up the banking methods, for those would give you a good understanding of how reliable the website is.
Security
When it comes to dealing with money, security becomes increasingly important. Mobile sports betting is prone to security weaknesses that can lead to leakage of personal data. To avoid that, one should carefully use public networks, VPNs, and third-party software, all of which can potentially compromise the user's privacy. Sports betting data is in the risk group, so double-checks are necessary.
Promotions And Bonuses
Promotions and bonuses are popular among Rhode Island online sports betting websites, and legal sports betting sites around the world. Seeking a competitive edge, these sites try to convince players to start/keep using their service through rewards, loyalty bonuses, and more. As a player, you have the luxury of choosing the sites according to the rewards you find most attractive.
Reputation And Legalization
Oftentimes, it is hardly possible to tell whether sports betting app or site is legit. The site and the app might seem perfect, but after time, the owners can commit fraud. To minimize the chances of it happening, one should look over a platform's reputation by reading third-party feedback. Good RI online sports betting sites have partnerships with sports teams, physical representation in the state of Rhode Island, and, most importantly, a license to do wagering business.
Loyalty Programs
Loyalty programs are popular among all businesses in the world. Entrepreneurs are well-aware that loyal customers are profitable, so they invest in their retention. You, as a customer, can evaluate their efforts in gaining your loyalty and choose the best rewards they are offering at the moment. You are absolutely free to do so, so do not miss free savings.
Customer Support
While nobody wants to end up in situations that can be resolved only by contacting customer support, it is a necessity to provide such a problem-solving way to players. So, imagine you play for real money and lose it somehow. Chances are, you would want to know what happened, and if there is nobody to ask, the situation will get dire. You can read reviews of customer support of a website and even test it yourself to see if real people are truly employed by your operator of choice.
Choice of Games
Rhode Island offers a good choice of games for bettors to wager. The most unique of them is college sports betting, which is permitted, unlike some other states (though with a few exceptions). Greyhound and horse ride betting is permitted as well. The classic bracket of sports (NBA, soccer, football, tennis, baseball, and other) is represented by all the available betting services. If you are in for specific, not-so-popular sports, you should consider its availability in your platform of choice before investing in it.
Apps
There are not a lot of sports betting apps available in Rhode Island yet, but those that are available should be used with informed decision-making in mind. Firstly, the best sign of reliability for sports betting apps is the availability on AppStore and Google Play Store. Apple and Google would most likely ban fraud apps that do not comply with law, so the rule of thumb is to check whether the app is available there. Good mobile sports betting sites will offer apps that make live betting processes faster and more reliable. If they invested in them, then they value their reputation, which is a good sign as well.
Software
The software part of real money betting sites is the web part and the apps, as well as the backend part of their operations. The latter is never available for the public view for obvious security reasons, but the Rhode Island Department of Business Regulation has to check it before giving a license, so do not worry about it. When assessing the website, look for pleasant and convenient interface, the absence of banners, and the match between the link and the contents. Scammers might create clones of websites on different addresses to lure your personal information, so be aware of it. Geo-location software (browser plug-ins) will also be used by websites and apps to track whether you bet from the state of Rhode Island, as required by Rhode Island sports betting regulations.
RI Sports Betting Apps
Twin River Casino and Tiverton Casino are the only two licensed wagering operators that happen to use the same app. Despite the fact that this app is the only state-authorized piece of software, it conforms to the standards set by apps of wagering operators of the state of New Jersey and others. Depositing of cash is only possible through physical locations, but withdrawal can be done via banking methods supported by Twin River and Tiverton casinos (PayPal, VISA, cash, and more). It has good enough security to be approved by the state, and the usability is decent for a website without competitors. The absence of competition, unfortunately, leaves a lot to be desired in the department of loyalty programs and welcome bonuses.
How To Register At Rhode Island Sportsbooks?
The Rhode Island sports betting apps are a suitable way to bet on different sports. The lawmakers relaxed the exciting provision, which says players have to visit the casinos to play in person. They expanded the existing site launching mobile sports betting. This form of gambling is powered by William Hill on IGT and conducted by the Rhode Island Lottery.
After downloading the application, punters no longer need to visit in person at the land-based casinos. After the installation of the application is over, they can enter the details as asked by the site and start playing. If they wish to play at the land-based casinos, a few options are included in the next section.
Land-Based Sportsbooks In Casinos
Twin River Casino (Lincoln)
100 Twin River Rd, Lincoln, RI 02865
401-723-3200
Monday to Friday: 11 a.m. to midnight
Saturday to Sunday: 9 a.m. to midnight
Twin River Tiverton Casino
777 Tiverton Casino Blvd
Tiverton, RI 02878
401-816-6000
Monday to Friday: 11 a.m. to midnight
Sat-Sun 9 a.m. to midnight
Most Popular Sports to Bet on in RI
The most popular sports in Rhode Island are baseball, soccer, NBA, MMA, and horse racing. Horse racing is legalized in only a few states, so it attracts bettors from every corner of the United States, hence the popularity. Daily Fantasy Sports is also available at RI online sportsbooks. You can choose betting on pro sports teams, as well as college ones, but high school sports and games are not allowed by wagering laws of the state.
The Use of Personal Information of RI's Gamblers

Personal information used by betting sites to allow players to wager is the data IRS requires in order to keep betting legal in the state (winning is earning). So, a government-issued ID and the last 4 digits of the Social Security Number are the elements of personal data that will be disclosed. Obviously, the physical appearance will be disclosed too, due to visiting casinos in person. The risks related to personal data use are not high, since the documents will not travel from your device to the casino through the web. However, even though your ID and Social Security number will not be intercepted on their way to the casinos, you can still leak your account data and lose your cash. To prevent it, take full advantage of two-stage authentication, make sure to scan malware on your devices, and use trustworthy internet access points.
License For Rhode Island Online Casinos

The state of Rhode Island Department of Business Regulation under the Division of Commercial Licensing and Racing & Athletics is the regulator legal sports betting in Rhode Island, so they are the body issuing licenses to sportsbook websites. There is a $750 application fee for all who want to establish a sportsbook website. A license lasts three years, so the operators have to be re-assessed in their compliance with the gambling laws of the state and the United States as a federal jurisdiction. Gambling Vendor License can be given to organizations that fall under a list of categories associated with gambling as ruled by the state jurisdiction (computers that are used for cash and cashless operations in offline and online wagering activity, dice or card games, online casino games, and much more). Rhode Island online sports betting also falls under the category, for it is licensed and regulated in the same way as all the other legal sports betting services.
Types Of Bets Available Rhode Island
Straight Bets: This wager is standard in basketball and football events. Here a betting line is set and is referred to as a point spread. Here you have two options to go ahead with. Firstly, you can place a wager on underdogs and earn the points and the second one is to bet on favorites and give up the points.
Moneyline Bets: This type of wager is the simplest one but is risky. You have to find out which team will win today's match. For example, today's event is between Team A and Team X, and you have to determine which team will win. If you can correctly predict the team, the winning amount is yours.
Total Bets: In this type, players can wager on two options; Under or Over. Under indicates that the combined score of the team will be lower than what is predicted. Over is exactly the opposite of Under, meaning that the value stated here will be higher. According to what you feel, choose the option and place the bet.
Parlay Bets: Instead of betting on a single team or player, you pick more than one option. The most important thing is to win; you have to get all the bets correct; otherwise, the rewards are not yours.
Sports Events In Rhode Island To Bet On
National Hockey Team: NHL is the king of sports and several legal sports bets in Rhode Island on the sportsbooks. The upcoming season is scheduled to start from the 9th of September, 2021. It is a long season and will continue till the 9th of January 2022.
National Basketball Association: In the state, betting on basketball has grown over the past few years. The upcoming season will start on the 19th of October 2021. This will continue till April 2022, and during this period, players can place a bet on sports in Rhode Island.
National Hockey League: The hockey business is massive in this state at both professional and college levels. From the 12th of October 2021 to June 2022, the season will continue. By then, you can consider signing up on the top gambling site and play.
Popular Rhode Island Teams To Bet On
With a million people, the state does not have any professional team to place wagers through the best sportsbooks in Rhode Island. But they support some of the teams, and they are:
New England Patriots: This professional American football team was based in the Greater Boston area. They are a member of the AFC East division, and the team plays at Gillette Stadium. The New England Patriots were founded in 1959 and were the charter members of the AFL. The Boston Patriots earlier knew them before joining the NFL in 1970.
Boston Celtics: The Boston Celtics are an American professional basketball team from Boston. They are a member of the Eastern Conference Atlantic Division and compete in the NBA. The team was founded in 1946 and is one of the eight teams of the league. They play the home matches at TD Garden. Through the Rhode Island online sportsbooks, you can place bets on them.
Boston Bruins: Boston Bruins are an ice hockey team and compete in the NHL. They are a member of the Atlantic Division in the Eastern Conference and started operating in 1924. They are one of the original six teams and have won six Stanley Cup championships.
Boston Red Sox: It is a major baseball team located in Boston. They compete in MLB and are the American League East Division member. The name "Red Sox" was given by the team owner John I. Taylor. It was a dominant team and defeated the Pittsburgh Pirates in the 1903 World Series. They have won four championships by 1918. By signing up on the Rhode Island betting sites, players get many opportunities to place wagers.
College Sports
No, wagering on college sports is not allowed under this online sports betting Rhode Island. However, there are other events where players can place their wagers and complete the registration process.
Horse Betting In Rhode Island
Horse betting is legal in the state, but the state has not offered live horse racing for the past four decades. In 1934, the state legalized parimutuel betting. In 1970, two main race tracks were closed, and even Twin Rivers Casino was built on Lincoln Downs. The sites through which online wagering takes place are BetAmerica, TVG, and TwinSpires.
DFS In Rhode Island
In 2016, the Attorney General of Rhode Island General Peter Kilmartin released a statement saying daily fantasy sports is legal under state law. The decision was taken considering that it is a game of skill and cannot be determined by chance. With this, many sites like FanDuel, Yahoo! DraftKings, and Fantasy Draft started functioning.
The Benefits Of Betting In Rhode Island
The benefits of signing up on Rhode Island sportsbooks are you can play at any time. With that, you do not have to wait for the sportsbook to open. There is no particular time as bets will be placed through smartphones. In addition, several offers are given by the operators using which they can gamble. There are things like free bets, rewards programs, risk-free bets, etc.
Latest news
The pandemic of 2020 has impacted most industries around the world, with betting taking one of the hardest hits. Rhode Island still requires visiting two of the licensed casinos in person, so the lockdown placed a barrier before the new entrants. If it was not enough, sports in the world suffered as well due to the ban on public gatherings. So, betting has been in a tough spot, especially in Rhode Island. Fortunately, the lockdown grip is loosening and the numbers are going up again already. For all the players of the state of Rhode Island, next year is going to bring lots of good news.
Rhode Island residents might realize the economic benefits of permitted betting on the state budget, and make the laws more player-friendly. Finally, the first steps of legalization are always the hardest, so it is likely that Rhode Island will have more than two casinos as licensed operators, and competition has never been bad for the end user. Two bills, HB 8097 and SB 2919, are on their way to legislation, making it no longer necessary to register in-person in casinos of Rhode Island.
Information is a key to the greatest gambling experience ever. With our reviews you will get everything you need to bet on sports online safely and play casino games without any troubles in the following states:
FAQ
Is sports betting legal in Rhode Island?
Yes, it has been since 2018. Legal sports betting is here. 
Do I have to be a resident of RI to bet?
No, you do not have to be a RI resident to bet, but you have to be physically located within state borders. 
Can I bet on college sports in RI?
Yes, if no teams and games from the state of Rhode Island are involved.
Who can bet on sports in Rhode Island?
Each person who has completed a verification in either of two locations: Twin River Casino or Tiverton Casino.
Should I register in-person to bet on sports in RI?
Yes, you have to do it in person. Soon, this might change, so follow the news.
Is DraftKings legal in Rhode Island?
Not yet, but the work is in progress.
What companies will enter online sports betting market in RI soon? 
DraftKings and other major players like Sugarhouse betting, Fanduel, Foxbet, and more.
How can I start placing bets in Rhode Island?
By downloading the Rhode Island online gambling, players can place bets on their favorite sports events.
Who oversees sports betting in Rhode Island?
The Rhode Island Lottery oversees sports betting in this state.
Can I bet on sports with my smartphone in Rhode Island?
Yes, you can bet on sports through smartphones in RI.
Are offshore sportsbooks legal to use in Rhode Island?
No, the offshore sportsbooks are not legal, and you must never sign in on these sites.
How do I get started with sports betting in Rhode Island?
Firstly, complete the signup process on a legalized site and then transact money using PayPal to start wagering.
Is Daily Fantasy Sports betting allowed in Rhode Island?
Yes, DFS betting is allowed in RI.
Is eSports betting allowed in Rhode Island?
Yes, eSports is legal in the state, and you can place bets.
How much revenue does sports betting generate in Rhode Island?
As per the stats, the revenue collection for July 2021 was $3.263m, and for June, it was $3.666m. By looking at the numbers, you can determine how much every month the sports betting industry is earning.
How do I download a sportsbook app?
By proceeding to the Google or Apple Play Store, you can wager on different events.
Do I have to be inside the Rhode Island state to play?
Yes, you have to be inside the state to start betting to play here.
What are the age requirements to bet on sports in Rhode Island?
The legal wagering age in this state is 18 years.