Fanduel DFS Betting Review & Promo Code

FanDuel is one of the two kings of DFS in the US. It started in 2009 as a standalone company until 2018, when Flutter Entertainment bought it. Betfair and Paddy Power linked up to create Flutter Entertainment to acquire the DFS provider. FanDuel (FD) has been providing daily fantasy sports services for over a decade. With its increasing prize pool (more than a billion-dollar payout is planned for 2020!), its loyal fan base seems to be only increasing and getting stronger.
Points to consider before choosing a DFS site
Is the site licensed and regulated? How much bonus do I receive when I sign up with FD? Are there any promo codes FanDuel DFS users need to claim the bonus? What sports are available, and what are the contest choices I have? What about my banking options – does the site support my preferred deposit and withdrawal methods? You should try to answer these questions before investing your money in any daily fantasy sports betting site. Don't worry; this FanDuel DFS online review will help you answer those questions and more. You will also be introduced to the basics of DFS, the mobile availability of FD, the states you are allowed to use FanDuel, and other vital points that you should put in mind as you venture further into the world of daily fantasy sports.
How to play Daily Fantasy Sports
Once you get the hang of playing DFS, it can be pretty easy to start making some cold, hard cash. It doesn't matter if you already have some knowledge about fantasy sports or you're a total rookie – you will get to understand the basics of Daily Fantasy Sports in this FanDuel DFS review.
You will find that playing DFS generally goes like this:
Select a DFS website and complete your registration with them.
Pick your sport of choice from the options available on the site.
There are different contest types that you can choose from – select one of them.
Draft your fantasy team from the list of all the players in the sports league you chose. Choosing the best players in the league is a no brainer, but remember that you must not exceed the salary cap set by the site.
When your choice athletes perform certain in-game actions in real-life sports, your team earns more points. Some of these actions include field goals, sacks, touchdowns, pitching, home runs, etc.
In order to win money, you will be playing against other people who have drafted teams of their own. These competitions can go on for a day or a week.
Monitor the increase in your team's points as your drafted athletes perform in real life.
If your cumulative points are more than that of your opponent, you win the cash prize.
Major online sportsbooks for DFS bets will allow you to enter daily fantasy contests, whether you have money to lay down or not. There are a number of free-to-enter tournaments that you can partake in, especially if you are trying out a new strategy or are still trying to grasp the workings of fantasy gaming. And the fact that they are free-to-enter doesn't mean you can't win big – the payouts on some freeroll contests are actually humongous.
Scoring on DFS is pretty straightforward, and the site usually sets it. Certain actions carried out by athletes attract specific points. When an NFL player performs a touchdown, for instance, you get six points. Still using the NFL as an example, you can also lose points if there are fumbles or your drafted players get intercepted in real-life sports. Each sport has different actions that add or subtract points from your fantasy team, and each DFS provider has slightly different scoring systems. Check for the scoring rules of your provider of choice before commencing with the site.
FanDuel DFS promo code and bonus info
Welcome bonus: You do not need a promo code to enjoy the $5 signup FanDuel DFS bonus. Asides this welcome bonus, you can also claim another $5 when you make your first deposit. Remember that bonus money cannot be withdrawn immediately. You need to use the bonus to play any games you like, and if you win any cash in the process, you can then withdraw your earnings.
Refer a friend bonus: You'll be eligible for a $25/$20 bonus when you refer a friend to FD. This means that after your friend signs up and plays a $10 paid contest, you will receive $20, while your friend gets $25.
FanDuel Loyalty Programs and special offers
Play-free-until-you-win offer: For the NFL, FanDuel will keep giving you freeroll tournament vouchers until you win real money.
Home Run Challenge: This is for the MLB season only. And you stand a chance to share in $200 every night, $3500 every week, and $100,000 at the end of the season.
FanDuel World Fantasy Football Championship: Here, you stand a chance to win an all-expense-paid trip to New York City where you can compete for a share in the $2 million prize pool. There are many other perks attached to this fantasy football world championship, and you can visit FanDuel directly to get more info on it.
FanDuel Player's Club: This is a VIP club where the more you play, the more you earn FanDuel Points (FDPs). The more FDPs you have, the higher you rise in the FanDuel VIP ranking system. You can start as a Free Agent, then move on through Practice Squad, Reserve, Prospect, Rookie, Pro, All-Star, MVP, Hall of Famer, Legend, until you get to GOAT status. These different levels have their FDP requirements, and they come with more and more amazing perks as you rise. This loyalty program offers you five FDPs per dollar spent in games. You can also decide to use these points as currency to enter paid contests.
Sports challenges available on FanDuel DFS
Here are some of the leagues you can draft fantasy teams on FanDuel DFS:
NFL: Once football season is on, you can make your drafts and hope they will be the best performing players. With FD, the salary cap allows you to draft a 9-player team, including a Quarterback, two Running Backs, three Wide Receivers, a Defense, a Tight End, and a Kicker.
MLB: For baseball, you are given a $35,000 salary cap that allows you to draft nine players – a Pitcher, Catcher, Shortstop, three Basemen, and three Outfielders.
CFB: You also get to draft your best performing squad for college football.
PGA: FanDuel allows you to participate in fantasy golf competitions where you select your team of golfers within the set salary cap.
NASCAR: Select the drivers of your choice and watch as their performance on the asphalt adds points to your team.
EPL: The English Premier League is one of the most famous soccer leagues on earth. FD allows you to make your picks and win high payouts as your squad performs in real-life soccer matches.
Contest choices
On the FanDuel DFS betting platform, here are the major contests you can choose from:
Guaranteed Prize Pools: These are contests with an assured prize pool and will run whether or not entries are filled up. Any contest that doesn't belong to this classification is not guaranteed to run unless all entries are filled up. You can rest assured that you will get a refund of your entry fees if a contest doesn't run.
50/50: In these types of tournaments, the top half of the players cash out almost twice their investment. 50/50s are guaranteed to run contests.
Head to Head: This is a winner-takes-all contest between two players.
Leagues: In league contests, you will need to create daily or weekly entries and play against other DFS players to win prizes every day, every week, or at the end of the league. The daily and weekly rewards are usually smaller compared to the massive payout at the end of the league.
Groups: These are player-created tournaments. You can create your group or join one, but note that it is not guaranteed to run.
Multipliers: In multipliers, a minimal portion of the entire contestants win an equal payout.
Beat the score: In this type of contest, your team must beat a set score in order to win the prize money.
Single Game: The players selected in this contest must be from a single match on the schedule.
Full Roster: A traditional DFS contest where you must select your nine-player team from matches on the schedule.
Is FanDuel DFS betting available on mobile?
FanDuel is available for mobile users who can play from their web browsers or download its app on their iOS and Android devices. The FanDuel DFS app is user-friendly, and FD constantly updates its software to deliver a smoothly functioning platform for users continually.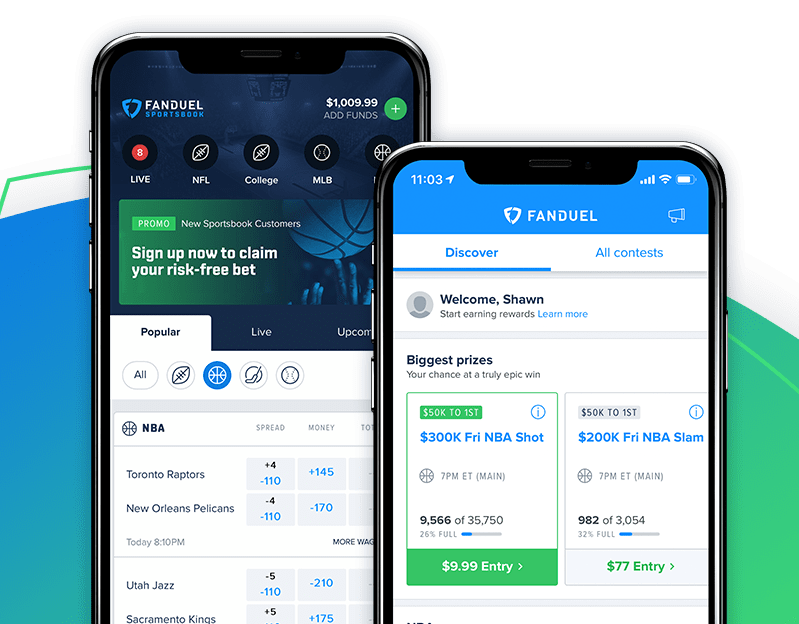 The app and mobile sites are well designed, and you can perform all the activities on the PC website, on your mobile. You can find player statistics, search for contests and FanDuel DFS odds, create and edit lineups, withdraw and deposit funds, and every other thing you can easily do on a standard desktop site.
How to download the app
You should note that FanDuel also operates a sportsbook and has a separate app for that. So ensure that you are downloading the DFS app when you want to install it.
Android Devices: You can find the link to the FanDuel DFS Android app at the bottom of FD's website. Simply click on the link to download the file.
For iOS devices: You can download the FanDuel DFS app for your iPhone or iPad directly from the Apple App Store.
Banking options available on the FanDuel DFS platform
When it comes to having options to deposit and withdraw, FD has things in order. They have the most options available for banking, and they try as much as possible to make accessing your funds stress-free.
Here are the channels available to make deposits on the site:
ACH (eCheck): You will get your money in your FD account immediately with this method. All you need to provide are your bank account number, routing number, and any government-issued ID.
Online Bank Transfer: With the following banks, you can directly transfer funds online: Bank of America, Capital One, Huntington Bank, TD Bank, Union Bank, Wells Fargo, and most prepaid cards. You will see your funds in your account almost immediately with this option.
FanDuel Prepaid Card: You can use ACH transfer, MasterCard, or Visa to deposit funds into your FD prepaid card. Once you apply for the card, it is processed instantly, although you will need to wait for about 14 days to get your physical card. No monthly fees are charged with the FD prepaid card.
Credit/Debit Card: Many banks should not give you any issues when it comes to depositing with credit or debit cards, but some banks are not online gaming-friendly and won't allow you to deposit with this method. Also, note that some card providers will charge you for this activity. Check with your card provider to know if there will be any issues concerning depositing funds into your FanDuel DFS account.
PayPal: You can use a PayPal account linked to your bank account to make deposits into FanDuel. You will see your funds immediately via this method. Your deposit limits through this route are determined by the limits on your PayPal account.
PayNearMe: This method allows you to visit any 7-Eleven, Family Dollar, or CVS store near you, and deposit into your FD account with cash. You are limited to a $500 rolling per day and a $10,000 rolling every 30 days.
Check: You are also free to send a cashier's check, personal check, banker's draft, or money order to FanDuel via mail.
In order to withdraw your funds, FanDuel has made these channels available:
ACH (eCheck): You must have a routing number to a physical bank before FanDuel can send you your echeck. Global Pay will take about a day to approve and facilitate the process, and then you will have to wait for about 3-5 banking days before you can access the funds.
FanDuel Prepaid Card: This functions like a debit card. You must use this card for at least one deposit into your FanDuel account before you start withdrawing funds with it. You will need to wait for about 24-36 hours after making a request to access your funds. You can withdraw your cash from any ATM or anywhere that Discover cards are allowed.
PayPal: As long as you have used this channel to make at least one deposit into your FanDuel account, you can enjoy withdrawals with this option. You will receive your money within 1-2 days of the request.
Check: You can choose to receive your money by ordering a check. You will receive it between 5 and 7 working days.
All transactions carried out on the FanDuel DFS site are in US dollars. You can rest assured that your account security is taken very seriously by FanDuel. The site even has a Responsible Play page where you can learn all about the company's privacy and safety policies as well as responsible gaming. FanDuel also allows you to set limits on how much you can deposit or play with.
FanDuel DFS Review on Customer Support
FanDuel provides top-tier customer service on its platform. You can contact the customer support team 24/7 via live chat, email, and toll-free phone call. If you like the old-fashioned snail mail, FanDuel has you covered as well – they'll be glad to read your letter.
States where you can play FanDuel DFS legally
Currently, you can play daily fantasy sports in over 40 American states; however, some states won't allow you to play FanDuel games. Here are the jurisdictions that frown upon DFS:
Washington DC
Nevada
Idaho
Montana
Iowa
Arizona
Alabama
Louisiana
Hawaii
As long as you are not in any of the states listed above, you can start making real money playing on FanDuel.
Reputation and alternatives of FanDuel DFS
Of the top DFS betting sites in the US, FanDuel is number two – coming a close second behind DraftKings. When combined, both FanDuel and DraftKings dominate over 90% of the daily fantasy market share. Other small players in the DFS scene include Yahoo DFS and FantasyDraft.
Latest happenings with FanDuel DFS
Covid-19 made many sporting bodies either postpone or cancel their tournaments and sporting activities. Since FanDuel DFS majorly depends on the real-life gameplay of athletes, the company's revenue was drastically affected. Thankfully, sports season is back, and FD is set to continue providing top-notch daily fantasy services with fantastic prize pools for its DFS fan base.
Conclusion
If you're looking for a DFS site that will offer you one of the biggest thrills and payouts in daily fantasy gaming, then FanDuel will give you everything you need right on your computer screen or on the go. This year alone, FanDuel will be offering over $1 billion in payouts – you should definitely stake your claim in this one. You also don't have to bother yourself about how to access your money – the site provides different avenues for you to get a hold of your cash. Overall, this is one fantasy sports provider you should never miss out on.
FAQ
Is FanDuel DFS legal in the US?

Yes. The fantasy sports provider is permitted to operate in the US according to federal legislation.
In which states is FanDuel DFS legit?

You can legally play this DFS in every state in the US except Washington DC, Nevada, Idaho, Montana, Iowa, Arizona, Alabama, Louisiana, and Hawaii.
How to download an app for FanDuel DFS?

You can download the FanDuel DFS Android app directly from the FD website. The iOS version is available for download on the Apple App Store.
How can I know that FanDuel DFS is safe?

FanDuel has been in existence for over ten years in the DFS industry, and they understand the importance of your account safety. They have the second biggest DSF fan base in the US, which means that customers are happy with their safety policies.
Can I win real money on FanDuel DFS?

Yes. You can earn real money by participating in any of the freeroll tournaments or paid entry contests provided by the site.
What contests are available on FanDuel DFS?

These are some of the most popular contests you can find on the DFS site: Guaranteed Prize Pools, 50/50s, Head to Heads, Groups, Multipliers, Beat the Score contests, Full Roster games, and Single games.